Homemade Soaps Make the Perfect Holiday Stocking Stuffers — And You Can Make Them in 8 Easy Steps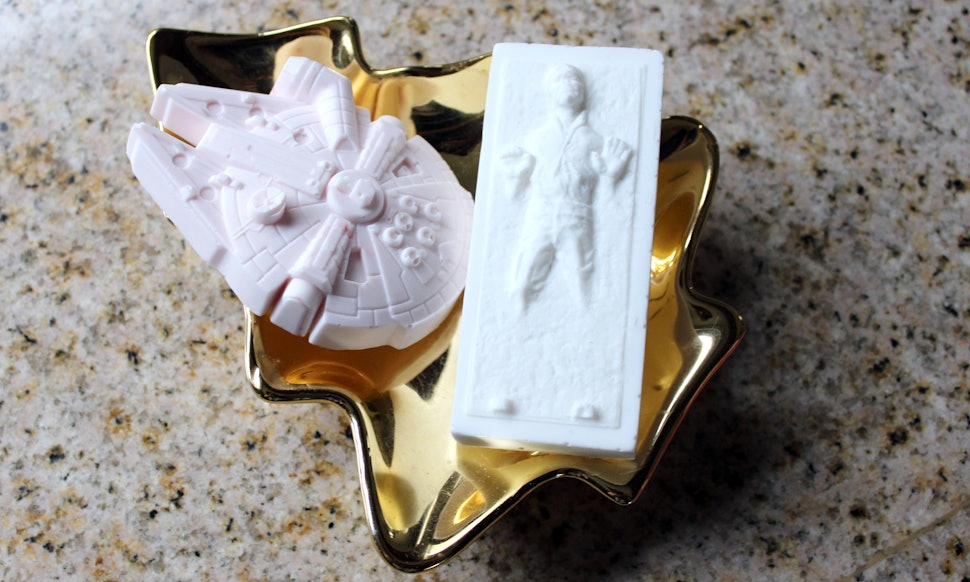 With the holidays upon us, you'll probably be entertaining a few guests. Your parents, siblings, friends, co-workers, and that weird neighbor who comes over to borrow milk but then ends up inviting themselves to dinner will probably all be making an appearance in your home soon enough. So you'll probably be doing a lot of cleaning in preparation — and nothing says "I take pride in my home" quite like custom DIY soaps. The approving look you'll get from your mother-in-law will be way worth the effort. Plus, they're super easy to make, and make great stocking stuffers to boot. Seriously, you can't go wrong.
Images: Emily Kelley
Step 1: Gather Your Materials
I chose to use a soap making kit from Michael's, because it already comes with everything you'll need: melt-and-pour soap base, fragrance oils, coloring, and molds. You can also use dried flowers and herbs to add some texture or color. Since I try to keep my home looking geek chic, I decided to use my Han Solo and Millennium Falcon ice trays instead of the ones that came with the kit. Feel free to do the same (cookie cutters also work)!
You'll also need a microwave-friendly container. Coffee mugs or microwave safe measuring cups are good.
Images: Emily Kelley
Step 2: Cut the Soap Base into Squares
The kit's melt-and-pour base was conveniently sectioned off into squares, and it took about one row to fill one mold. You may have to do some trial and error depending on the size of your mold.
Images: Emily Kelley
Step 3: Microwave the Soap
Place the pieces in your microwavable container, and set it for 20 seconds on high heat. This should be enough to melt the soap completely, but if it needs a bit more time, stir it and put it back in for 5 seconds.
Images: Emily Kelley
Step 4: Add the Fragrances/Coloring/Herbs and Pour
Drop some of your preferred fragrance (three to six drops is plenty) into the melted soap base, and add any coloring or herbs you wish. The kit I used came with a pink coloring and some apricot seeds for exfoliation, so I added a little of both to my Millennium Falcon mold. If you want the herbs or dried flowers to show, make sure you fix them up with the soap before pouring.
Images: Emily Kelley
Step 5: Let the Mold Set
Now you wait. It takes about 30 to 40 minutes for the soap to completely set — just enough time to catch up on Arrow !
Images: Emily Kelley
Step 6: Remove the Soap
The mold should be set by now (Arrow was great, right?!), and you can remove it. Luckily, the rubber molds I used made it super easy to get the soaps out, but hard plastic ones are a bit more difficult. Just be careful not to snap your lovely little soaps while wrestling them out, and you'll be fine.
Images: Emily Kelley
Step 7: Wrap Up the Soap
Unless you plan to use the soaps immediately, wrap them in some plastic wrap so they don't lose any of their moisture. I'm also keeping mine in the fridge until I'm ready to set them out.
Images: Emily Kelley
Step 8: Keep Your Guests from Stealing Them
Let's face it: You made some kick-ass soaps. Better keep an eye on them to make sure your guests don't try to take them for themselves. But since they're all going to want one, you might as well make a few as gifts!
Images: Emily Kelley