These 11 YA Stories Turn Classic Tales Upside Down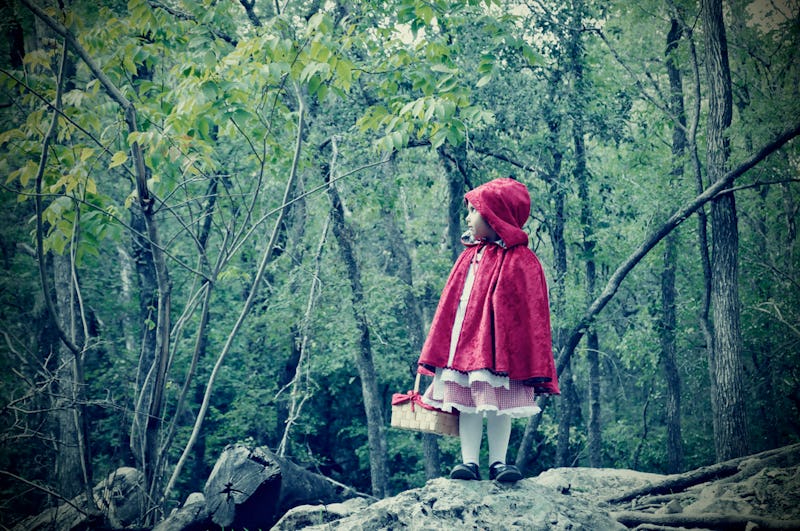 Tons of classic tales have stood the test of time. Look at Hollywood, for instance — they reboot these stories all the time (with mixed results, true, but at least there was Maleficent). And, just like Tinseltown, books also tend to recycle. We see a lot of fairytales and folklore spun in different webs, again and again. But when you take the unlimited creativity of an author and give her a framework of a tried and true tale, the results can be pretty fantastic.
One of the best parts of the lingering power of these stories is that they can grow up with you. The terror of the witch lurking in the forest can be turned down a bit for 5-year-olds, as it should be. But then another version of the story can claim your imagination when you've grown a bit older, and more able to fathom the rich implications of storytelling. That's why YA rehashings of classic tales are so awesome — because they take the stories you know and love, and hit them out of the fantasy ballpark.
Think about it: Cinderella as a cyborg? Rapunzel as a satellite pilot? Beauty and the Beast featuring a sorcerer's daughter and a demon king? These are just a few of the wild, out-of-the-box retellings that re-imagine classics in a big, bold way. These 11 need to go on your reading list if any of this sounds up your alley — especially if you still have that Sleeping Beauty dress from childhood in the back of your closet.
Cruel Beauty by Rosamund Hodge
Nyx has been betrothed to a demon from the moment of her birth. She has also been in training to kill him from the moment she could walk. She's due to arrive at his castle on her 17th birthday, and it changes everything. This retelling of Beauty and the Beast is a mix of action, Greek mythology, and epic romance, combining to make an amazing read.
The Glass Casket by McCormick Templeman
A girl named Rowan Rose, a beast in the forest, a wicked stepmother, and a casket made of glass. It sounds like a retelling of Snow White, but it's really a remix of that and the lesser-known classic Snow White and Rose Red, with a dash of Red Riding Hood thrown into the mix. Confusing, right? It's actually a premise that pays off immensely well in this dark, gothic retelling.
Scarlet by A.C. Gaughen
It's Robin Hood, but with a different starring character. Will Scarlet is part of the Hood's merry band of men, but in this version Will's got a deep, dark secret — he's a woman in hiding from the notoriously evil Guy of Gisborne. Oh, and she's in love with the Hood, but can't bear to tell him. It's a rollicking ride.
Winterspell by Claire Legrand
Inspired by the Nutcracker, this story takes us to a steampunk version of New York. Clara has been trained in self-defense and is off on a mission to find her missing father, accompanied by a dark and brooding dethroned prince. Sounds like magic? That's because it is.
The Lunar Chronicles by Marissa Meyer
In Cinder, Cinderella is given life as a cyborg mechanic who finds out she's a Lunar princess, able to access special powers and topple the government of the moon nation with just her existence. She's on the run from the powers that be, and that leads her to meet Scarlet, who enacts Red Riding Hood with a wolf-hybrid-human guard sent to kill her. They in turn rescue Cress from the desert, where's she's landed after her satellite, the solo space station she's been playing the role of Rapunzel in all her life, was toppled from the sky. Meyer weaves together all the elements of our most popular fairytales to create a sci-fic epic of strong heroines.
This Dark Endeavor by Kenneth Oppel
The brothers Frankenstein are inseparable twins. But when one of them falls ill, the other decides to do whatever it takes to save him... even if it means creating a monster.
Impossible by Nancy Werlin
Inspired by the ballad of Scarborough Fair, this is a story of a generational curse and one girl's desperate attempt to break it. It's dark and twisted at times, but ultimately inspiring.
The Looking Glass Wars by Frank Beddor
Alyss escapes Wonderland and lands in Victorian London, fleeing from her murderous aunt who wants to kill her, as she's the rightful heir to the kingdom. The royal bodyguard Hatter Madigan is searching for her to bring her home to lead the uprising against the evil Red Queen. It's an entirely original world, built from the concept of Wonderland, and it's enchanting to behold.
Peter and the Starcatchers by Dave Barry and Ridley Pearson
The question of how Peter Pan became the boy who never grew up is what this series tries to answer. With fantastic new elements tied into the story we already love, this is a wholly entertaining and emotional journey.
Stitching Snow by R.C. Lewis
It's Snow White meets Star Wars in this re-imagined fairytale. Snow is living in hiding on a mining planet, away from the machinations of her wicked stepmother. She's an engineer and a fighter, but that changes when someone comes hunting for her.
East by Edith Pattou
A retelling of the classic tale East of the Sun, West of the Moon. It has a mysterious journey, a figure cloaked in darkness, and an impossible curse. All the combinations for a delicious story.
Image: amboo who/flickr