10 Times Jana Duggar Was Completely Ignored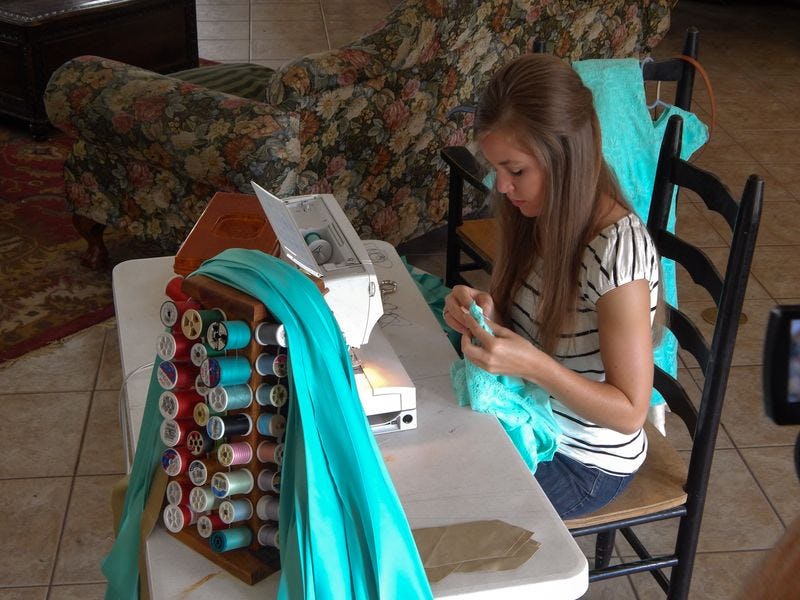 What may have looked like a sweet first family road trip for Josh Duggar's clan turns out to be reality TV fakery. Apparently, 19 Kids and Counting is not above editing things to tell a certain story, which is why Jana Duggar was cut from a recent episode. According to OK! Magazine, fans of the TLC show noticed that while Jana appeared in photos of the road trip on social media this summer, she was absent from the November 11 episode. A source told OK! they made the decision to edit Jana out because "the producers wanted to showcase the way Josh and Anna interact with their kids."
That's all fine and dandy, but making it seem like Josh and Anna were braving the road trip alone with no help is pretty lame. Also, this isn't the first time Jana's been given the short end of the stick. She's even been given the nickname "Cinderella" after fans witnessed that she's often doing all the chores while everyone else hangs out and has fun. An insider even told OK! that "Jana has simply become an invisible babysitter."
Harsh, but kind of true. Here are 9 other times Jana was totally ignored.
WHEN HER DAD DIDN'T MAKE AN EFFORT TO FIND HER A SUITOR
Although Jana is the eldest Duggar daughter, she's had to watch her two younger siblings Jill and Jessa get paired off before her. Since patriarch Jim Bob demands that he be the one to find his daughters suitors, it seems pretty unfair that he's neglected his oldest daughter in favor of marrying off his younger ones. According to the Inquisitr there are rumors floating around that Jim Bob and Michelle don't want to lose their live-in nanny and are therefore not really trying to find her a courtship.
WHEN SHE'S HARDLY FEATURED IN ANY EPISODES DOING ANYTHING OTHER THAN WORK
Forget the fact that she's getting cut out of the show all together now, but even when she is shown it's for like one second and she's always doing some kind of chore.
WHEN SHE WAS BLURRED OUT OF THIS SELFIE
How convenient that the camera happened to focus only on Jessa and her husband Ben Seewald.
WHEN SHE HAD TO DO ALL THE BRIDESMAID DRESS PREP
All of the Duggar ladies know how to sew, but for some reason they immediately think of Jana anytime mending needs to be done. Jill's wedding was no different as she chose the hardest bridesmaid dress design and then made Jana get to work on them.
AND THEN EVERYONE ELSE WENT OUT TO TEA
Not only was Jana tasked with the needlework, but then the rest of her family went out to have tea. They could have at least kept her company while forcing her to work.
WHEN HER FEELINGS DIDN'T MATTER
The mistreatment of Jana stems far back into her childhood. According to a passage she wrote for their book Growing Up Duggar, she and Jessa didn't always get along. To help them work out their issues, Jim Bob and Michelle made the girls share a bunk bed (because the surest way to love is through spending forced time together, duh). Jessa got the bottom bunk and would kick her sister's bed throughout the night and laugh. Mama Duggar's solution to the problem? "Jana, if you really want your sister to be nice to you, make it a point to be nice to her, even when she's mean to you."
I mean, it seems that the Duggars raised Jana to be a doormat and never speak up for herself. They just wanted her to be nice no matter what.
WHEN SHE'S BASICALLY A THIRD PARENT
Radar Online reports that she's always in charge when Jim Bob and Michelle go on a date, whether she wants to be or not. I hate the idea of siblings raising each other because it's not Jana's fault the Duggars decided to populate a small town, and she shouldn't be punished for it.
WHEN SHE HAS TO ROOM WITH THE LITTLE KIDS
Jana may be 24, but she shares a bedroom with ALL of her younger sisters. Jill revealed that sometimes the younger ones even pile in bed with the older ones. Now that Jill and Jessa are gone, I'm betting Jana's bed is the one they're all treating as their own.
I think sharing a room out of necessity makes sense. But I think if you have the space and the money you should at least let your older children have some space. She's an adult bunking with her four-year-old sister. Poor Jana.
WHEN SHE WAS THE LONER AMIDST THE COUPLES
Whoever staged this photo made Jana the fifth wheel by sticking her in between the two happy couples on the left side of the picture. I get it, she's single, but did they have to make it so painfully obvious? I think Jana deserves way better than how she's currently being treated by her family. I hope one day she stands up to them and makes them do their own sewing, baby sitting, cooking, and tutoring for once. I think we need a Free Jana campaign because when fans start calling you Cinderella, there's a problem there that needs to be fixed.
Images: TLC (2); ohduggarmyduggar (2)/Tumblr; Jana Duggar (2)/Facebook; wifflegif