Meet the 'Redneck Island' Season 4 Cast, Who All Have 1 Thing in Common: They Love To Party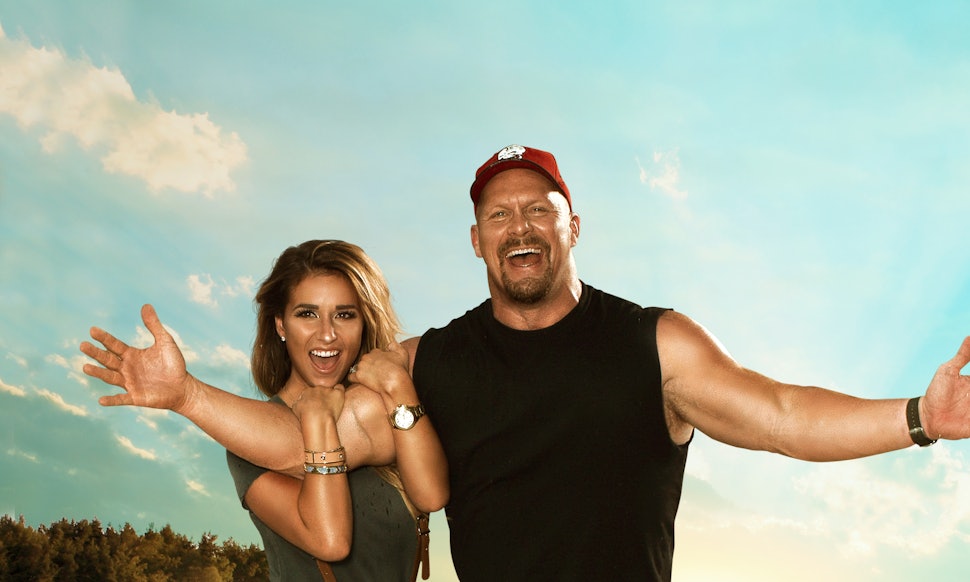 There's a reality show for everything, y'all. Strap on your cowboy boots, because if you're looking for a new competition to follow now that a lot of TV shows are going on winter hiatus, CMT has one ready for you. Redneck Island is about to kick off its fourth season on Thursday night, and as someone who has never seen the show, I've found out it's basically what it sounds like — a down south version of Survivor. Hosted by Steve Austin and Jessie James Decker, the show puts a group of self-proclaimed rednecks together in a house, where they're required to compete in challenges in the hopes of winning $100,000.
Quick PSA before I continue: Although this season of Redneck Island is filmed in Georgia, as someone who's spent the majority of her life in the peach state, I can assure you that the show is about to give you a terrible representation of what Georgia is really like. Most of us are just boring suburban folk who drive SUVs, eat a lot of Chick-Fil-A, and try to avoid running into Kim Zolciak at all costs.
This season brings in a brand new crew of rednecks who will be competing for the cash prize, and from where I'm standing, it definitely looks like it's about to be an entertaining season. Let's decode CMT's bios for each contestant, and figure out where on the island they'll find their place.
Image: CMT
Anthony Parigi, 31
Anthony, from Elkin, N.C., has a crazy specific job — party bus owner. Obviously, this guy likes to have fun and CMT already dubs him "the life of the party." This means it's not too surprising to find out that he's a big fan of alcohol and flirting with women. I can totally see Anthony being the first guy to suggest they should abandon their challenges in favor of beer.
Image: CMT
Blake Wallace, 25
According to CMT, Blake hails from Atlanta and works as a DJ, and like Anthony, he loves to party. He's also admittedly not too good with relationships, and in reality show world, that means he's probably going to be a solid source of romantic drama on the island.
Image: CMT
Bradley Turner, 23
Bradley — who's from South Carolina — has been nicknamed "Tank Diesel," because apparently, he's known for his keg stand skills. His claim to fame is that time he got kicked out of a strip club for "getting drunk, naked, and dancing on stage," so expect exactly that to happen at least once this season.
Image: CMT
Cody Davis, 21
Cody Davis, a handyman from Alabama, definitely sounds like he's going to come with some serious anger issues, so his temper on the island may end up being his downfall. His CMT bio mentions how much he loves attention twice, so could that have something to do with his whole yelling problem?
Image: CMT
Corey Cotten, 26
Since Corey's a personal trainer, it's no surprise that he's totally ripped. He loves hunting but hates camo — a combination that I'm not sure would actually work. He's also been picked on in the past for his race, which is a mix of white, black, and Native American. Let's hope he's treated with respect on the island.
Image: CMT
Hali Droddy, 22
Hali, a cocktail waitress, says she loves "drinking beer and kissing boys." Oh, Hali, don't we all? She sounds like a ton of fun, though, especially since she's up for anything.
Image: CMT
Heather Lynn, 24
Although she's from Kentucky, Heather has recently been named 2014's Miss Harley Davidson of Florida. Like her fellow cast mates, she's also always up for a drink, and her aspirations in the future include becoming a helicopter pilot.
Image: CMT
Hunter Larsen, 23
Wait, is it just me, or does CMT describe every cast member as "the life of the party"? Hunter's another who falls into that category, but with a softer side — because he really loves his mom. All together now: Aww. Now a drilling fluids engineer, he used to serve in the Navy, and loves playing rugby and riding motorcycles.
Image: CMT
Jami Henderson, 25
Jami's known for getting blackout drunk, and has a penchant for twerking — and anyone who's ever gone to college or been to a college party knows what a combination that can be. She's hoping to win the cash so she can get breast implants.
Image: CMT
Jeremy Morris, 34
Jeremy's another party boy who likes to flirt, drink, and has quite a temper, so he should get along with his fellow male cast members just fine. A vacation consultant, he wants to use his winnings to buy a vacation home of his own.
Image: CMT
John Tart, 28
Duct tape-obsessed John is a former 4H president and currently works on his family's farm in his home state of North Carolina. He comes with a pretty sad story — last year, his parents' home caught fire and they lost all of their possessions.
Image: CMT
Jorden Estis, 22
Jorden's a pageant girl who likes to fish and hunt, but can also appreciate the value of a good nail polish. She says she's sweet until you cross her, so Jorden is probably terrifying.
Image: CMT
Josh Varnado, 29
Josh is a total gym rat and loves sports (especially boxing). He's famous for drinking so much that he literally paralyzes his face, which is probably really, really dangerous. He also says he has big plans to "talk trash nonstop." Oh boy.
Image: CMT
Katie Taft, 26
A restaurant manager from North Carolina who grew up on a farm, Katie loves music festivals and "bad biker boys." Guess she better watch out for Hunter Larsen, who loves motorcycles, right?
Image: CMT
Lucas Albert, 26
This divorced horse trainer loves cowboy boots, playing pranks, and using ridiculous pick up lines that somehow manage to work.
Image: CMT
Margaret Wood, 22
Margaret, a model who's finishing college, has an impressive resume that includes posing for Playboy. In her free time, she likes eating fried chicken and hitting parties at the Playboy mansion.
Image: CMT
Nicole Bass, 22
Nicole, a former Hooters waitress, is a bartender from Texas who doesn't mind getting muddy — or being drunk while she's getting muddy, either. She loves line dancing and fishing, and is hoping to buy a new truck if she wins.
Image: CMT
Becky Andrews, 25
Becky grew up on the bayou, so she loves anything involving water, even fishing. She also says she "uses her sex appeal to get her way," so I have feeling that method is going to come into play when she's in the competition.
Image: CMT
Riley Green, 25
Nicknamed "The Panty Dropper," Riley's a country singer from Alabama who "has so many girls he can't keep track of him." Don't mind me, I'll just be over here rolling my eyes. Not that Riley would care — he's too busy fielding a never ending barrage of text messages from women to notice.
Image: CMT
Rocky Davis, 21
Here we have yet another self-proclaimed mama's boy. Rocky's a stand up comedian who, like every other dude on this show, loves flirting and drinking. By now, you know the drill.
Image: CMT
Sarah Mullins, 23
Sarah — another girl who was raised on a farm — has quite a list of interests: bull riding, barrel racing, and cussing. She's hoping to win so she can buy both breast and butt implants.
Image: CMT
Shelby McConnell, 21
Shelby has a boyfriend back in South Carolina, where she's from, but she made an agreement with him that she's allowed to hook up with guys while she's on Redneck Island — yikes. Shelby loves drinking Fireball and starting fights, so she's going to be an interesting addition to the cast.
Image: CMT
Taylor Anderson, 24
Taylor loves being outdoors, drinking, and dancing — that last one's not a huge surprise since she's a cheerleading coach.
Image: CMT
Tessa Moss, 23
Tomboy Tessa grew up in Texas and now works as a manager at Saks Fifth Avenue. She loves fishing and hanging out at the shooting range, and she can't wait to go on new adventures on Redneck Island.
Image: CMT