Why The New UK Porn Laws Aren't Feminist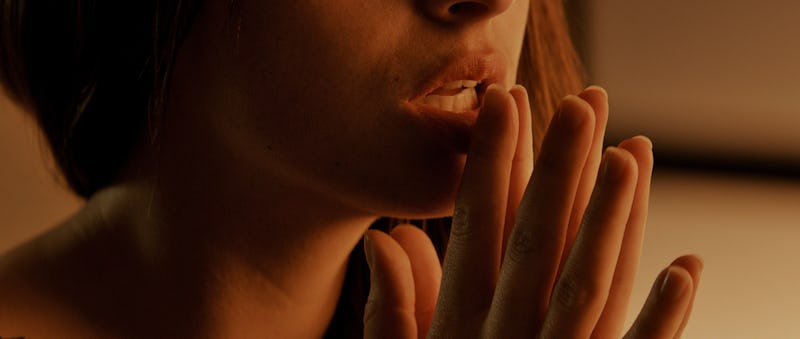 As sexual misdeeds go, face-sitting, wrestling, and spanking are some of the lighter-edge kinky activities many women love. They jostle the power balance and help both viewers and performers alike explore our sexuality beyond the standard "Penis, meet Vagina" dynamic. And when we're partnerless, or not in a place to play, there's always the porn view to help us get our fantasy fix. But Brits have just been excluded from the play party. As of December, UK porn producers who make and host sexually explicit video-on-demand content are no longer allowed to make and upload content showing face-sitting, now reclassified as a "life-threatening" activity — nor depict spanking above a "gentle" level. Nor caning. Nor golden showers. Nor fisting. Nor wrestling, and certainly not any bondage in which the participants are bound and gagged.
In fact, under the new Audiovisual Media Services Regulations 2014, not only are most of the core sex acts of BDSM porn prohibited in video-on-demand content — but so is female ejaculation. Talk about an assault on female sexual liberty.
What's more, the regulators ATVOD plan to block non-UK porn sites from receiving payment from Brits who want to view the contraband content. They also want to stop sites that offer free content alongside paid content (that's more than half of the world's porn sites) from collecting UK credit card payments unless they obtain a special license to prove they can age-verify all their visitors.
"Porn is the last glass ceiling for women. The way these new laws curtail the expression of female sexuality is so damaging, so depressing."
Either way, the American industry will soon see its British fan base and UK revenues decline, with sites from Kink to James Deen's personal site affected. "I get a lot of traffic from the UK," James Deen told Bustle when I spoke to him this week. "Or at least I did ..."
Speaking to James Deen about the new regulations, I asked him what he thought about the relative harm of face-sitting v. cock-gagging. "Oh, cock-gagging is definitely more difficult to perform — for both parties. Of course you can do it safely, but you have breathing issues, the gag reflex, teeth … meanwhile face-sitting, which I absolutely love, is much more straight-forward for both me and the lady."
Of course, not I, nor Mistress Nikki, nor James Deen were consulted by ATVOD on the likelihood of harm by muff-crush. Instead, the decisions are largely guided by a survey of public attitudes and the potential for "moral harm," as the BBFC guidelines put it. And it's the same logic that applies to the UK's "extreme porn" legislation which makes acts such as fisting and golden showers perfectly legal to do with a consenting partner — but not legal to view. 5,500 prosecutions have been brought since the law came into force just under a decade ago.
It's a dark day to be British. Almost overnight, the restrictions on our porn viewing now rival those of Saudi Arabia or China. The only difference is that it is not a criminal offense for viewers to access the newly outlawed content — well, not yet. But it's a particularly dark day to be a porn-viewing female anywhere. After all, how can women benefit from no longer being able to view female ejaculation? What about all the women who were awoken to kink after reading 50 Shades? What about LGBTQI women for whom kink sex acts are often central to their non-phallocentric sexual pleasure?
As Diane Duke, Head of the Free Speech Coalition, tells Bustle, "Porn is the last glass ceiling for women. The way these new laws curtail the expression of female sexuality is so damaging, so depressing."
The rules, the regulators ATVOD claim, are needed to protect under-18s from "material that might seriously impair [their] development." Never mind that OFCOM's own research back in 2011 found that there was no conclusive evidence that viewing sexually explicit material harmed minors in the first place.
But more confusingly, the decision as to what content is deemed harmful just seems so arbitrary. What kind of harm can come from viewing a semi-sexy wrestling video, whatever your age? And on what basis can ATVOD, on behalf of the UK government, decide that wrestling and face-sitting constitute "potentially life-threatening" acts?
As a former pro-domme, I know a thing or two about face-sitting — as does Mistress Nikki Whiplash, who sells videos on Clips4Sale and will be subject to the new statute.
"People who have gone to the trouble of sending me their photographic ID to prove they are adult and enable themselves to access my videos aren't as 'uninitiated' as the regulators think they are," Whiplash tells Bustle.
"The idea that seeing a clip of one of my little models supposedly controlling the breathing of one of my big strong boys (who could fairly obviously breathe at any time he desired) in a clearly acted fantasy scenario could then go off, copy the act and somehow smother themselves to death as a result is pretty patronizing. It would take two of these presumed idiots getting together to result in any kind of face-sitting accident."
Meanwhile, there are more inconsistencies. Plenty of us know there are plenty of liberated women who would argue for their right to perform in and watch so-called "face-fucking" or cock-gagging content (Belle Knox being one). Yet ATVOD chief Pete Johnson has repeatedly condemned the "misogyny" of porn and cited acts such as spitting, striking, and gagging as evidence of this. You would think in his logic that would mean a ban on face-fucking or cock-gagging videos — but it hasn't.
We've long known that governments the world over make decisions about what porn is good for us that have nothing to do with evidence of harm or scientific reason. I had the privilege of meeting free-speech legend Larry Flynt this week and told him what was happening. "Well, it's as I always say, the politicians can't keep our streets clean, but they try and keep our minds clean, " he told me. "What the people of Britain need is a legal challenge."
That is coming. But in the meantime, the good news is, there are ways to get round the new laws, and Brits are going to use them. For a start, as the campaign group Sex and Censorship has explained, a UK site producing the newly outlawed content needs to be proved "TV-like" — and in significant competition with a TV service — for the regulator ATVOD to have control over it.
This has already been challenged several times, including by dominatrix Itziar Urrutia. Supported by sexual civil liberties campaign group Backlash, Urrutia successfully argued in court that her Urban Chick Supremacy cell site website was not pseudo TV, but an art project. So while English pro-dommes and other performers posting videos to a personal site will need to vanish (or quickly get their site up and running off-shore), anyone who can prove their non-TV-like credentials will be spared the scrutiny. What's more, many savvy performers and producers gave the editorial control of their sites to other countries a while back to get round the UK porn regs.
As for the idea that the UK can block foreign companies receiving British credit card payments and force non-UK porn stars to obtain a license? It's such a ballsy disregard for international trade relations, it would be almost admirable if it weren't so undemocratic. But even if UK regulators could pull it off, it's also a pretty stupid way to protect minors, as per ATVOD's mandate — because it wouldn't apply to solely free content. Given that children don't have credit cards and only stumble across the free-to-view stuff anyway, it's as rational as making alcohol available in public drinking fountains while maintaining the age restrictions on sale and purchase. At least there's a discernible health risk for kids — and the rest of us — who booze.
In the meantime, UK porn advocates are planning a protest outside Parliament and will research the best proxy server options to help subvert the new regulations. If the statistics above from PornHub on British viewing habits are anything to go by, we Brits have just lost some of our favorite content.
Images: Nichi Hodgson, PornHub