12 Chapbooks That Make Excellent Greeting Cards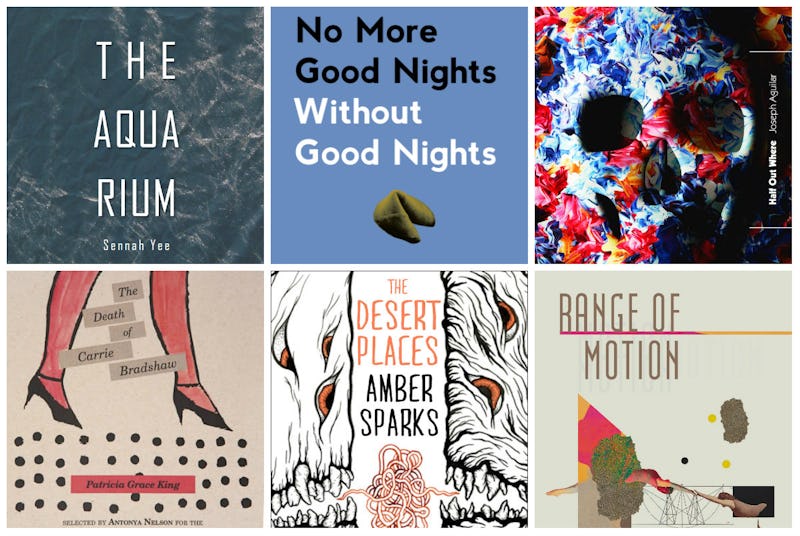 If you really want to send a memorable and thought-provoking greeting this year, put down the ennui-inducing Hallmark card. No, seriously, put it down and take a step backwards. Embrace the literary chapbook instead. Usually handmade and always insightful, small press chapbooks cost little more than greeting card — and will a way more welcome. Trust me.
The first time I encountered a well-made chapbook, I didn't know the chapbook's long legacy (peddled by European chapmen in the 16th century) or its current revival among small poetry presses (which I encountered last year at AWP's massively epic bookfair). I was at a book-release party at Club Congress in Tucson, where, to my right, a punk band yowled on stage as a few indifferent patrons stood motionless on the dance floor. To my left, the editors of Spork Press sat in a red, patent leather corner booth, puffing on cigars as they exchanged handmade chapbooks for cash.
Holding my first chapbook in my hands, its beauty totally floored me — its letter-pressed cover; its hand-bound pages; its custom illustrations; its compact size. That night, as drums blasted and cigar smoke wafted, chapbooks and punk rock fused in my mind. And I still think chapbooks are totally punk rock. They're independent, experimental, effusive, profitless, and kinda hardcore.
Even if your uncle or grandmother sports a "what the?" look after receiving your chapbook greeting, you can still be satisfied in knowing that small presses, artists, bookmakers, and writers alike will be grateful for your support. Who knows, you might even usher in a new family tradition, or be the harbinger of your great aunt's next favorite author.
"An Inventory" by Joan Wickersham
What it is: Every 3-4 weeks, One Story publishes a single short story in an "artfully designed, lightweight, easy to carry" chapbook. The latest issue showcases award-winning author (whom I recommend highly!) Joan Wickersham's short story, "An Inventory."
Why you should send it: Wickersham's story, like the holidays, evokes nostalgia for times past, while its simplicity and accessibility make it enjoyable for anyone. Plus you'll be endorsing a flagship nonprofit press devoted to supporting emerging writers.
Where to get it: One-story.com, $2.50
Two Mini-Chapbooks by Dawn Pendergast
What it is: I picked Two Mini-Chapbooks by Dawn Pendergast from dozens available in the Little Red Leaves Textile Series partly because they're cost-effective, but also because one of the chapbooks (a love story with alligators and crocodiles) uses paint from the skin of an alligator carcass (!).
Why you should send it: Eschewing mechanical reproduction, the Little Red Leaves editors use a single sewing machine and recycled fabric to sew these plush, pocket-sized chapbooks into works of beauty and brilliance.
Where to get it: Textileseries.com, $6
The Aquarium by Sennah Yee
What it is: Recently published, The Aquarium by Sennah Yee blends poetry and narrative to tell riveting stories about family and loss. Even if your greeting card-ees don't read poetry, they'll find this collection accessible and wonder-filled.
Why you should send it: Based in Chicago, Dancing Girl Press has published more than 200 limited-edition, handmade chapbooks (mostly poetry) by innovative female authors, meaning every dollar spent goes to helping up-and-coming female writers.
Where to get it: Dancinggirlpress.com, $7
There Will Be No More Good Nights Without Good Nights by Laura van den Berg
What it is: According to reviews, Laura van den Berg's newest chapbook, There Will Be No More Good Nights Without Good Nights, will "quietly open you up and fill you with light." Read the story "Parakeets" from the book online to fall in love with van den Berg's humor and imaginative prose.
Why you should send it: Origami Zoo features chapbook-length fiction by absurdist or fabulist authors, who are often marginalized in "traditional" literary circles. Support them, and such great authors as Kate Berhneimer, Brian Oliu, and BJ Hollars, with your purchase.
Where to get it: Oragamizoopress.com, $6
The Other Hand by C.D. Wright
What it is: A poetic tour de force, C.D Wright's The Other Hand (2012) will enliven any relative's reading list with its playful language and vivid details. Check out one of the book's poems, "Obscurity and Selfhood," to see if this gift is right for your list.
Why you should send it: Genre-bending and award-winning authors find homes for their work at Rhode Island-based Horse Less Press. As a bonus, the press also offers "bundles" of two chapbooks for $14, five for $30, or 15 for $75.
Where to get it: Horselesspress.org, $8
Half Out Where by Joseph Aguilar
What it is: The winner of Caketrain Press' 2013 chapbook contest, Joseph Aguilar's Half Out Where, a collection of short stories and poems, is described as "beautiful, lyrical, and strange."
Why you should send it: Caketrain offers a chapbook contest that rotates between fiction and poetry, with famous authors like Claudia Rankin and Tan Lin judging each year. Their custom-designed cover art ensures every Caketrain Press title is beautifully packaged and high quality.
Where to get it: Caketrain.org, $9, or two chapbooks for $13
The Death of Carrie Bradshaw by Patricia Grace King
What it is: Winner of the Kore Press 2011 Short Fiction Chapbook Award, The Death of Carrie Bradshaw by Patricia Grace King explores the intricacies of relationships across a complicated past and present.
Why you should send it: Since its founding in 2003, Kore Press has been steadfast in its mission to publish diverse and innovative female writers. Since then, they have brought more than 127 literary women to print, "including those traditionally underrepresented in the cultural mainstream."
Where to get it: Korepress.org, $10
Children of Another Hour by Mara Pastor
What it is: Published by Argos Books and translated from its original Spanish by Noel Black, Mara Pastor's Children of Another Hour is a collection of 20 post-futuristic, imaginative poems that romp across space and time.
Why you should send it: Publishing work that crosses genres, cultures, and national borders, Argos Books focuses on building diverse literary communities and "facilitating critical dialogue" across genders and languages.
Where to get it: Argosbooks.org, $10
Range of Motion by Maegan Cass
What it is: Suburbia is turned on its head in Meagan Cass' Range of Motion (Magic Helicopter Press, 2014), which uses everything from landlocked Martians to exercise machines to convey how families hold themselves together against all odds.
Why you should send it: Magic Helicopter labels its chapbooks "collectible art items," and with specially designed covers and custom stitching, each chapbook makes a thoughtful, visually stunning gift for book-loving family.
Where to get it: Magichelicopterpress.com, $8
In Absolutes We Seek Each Other by Jessica Johnson
What it is: Winner of the 2014 Diagram/New Michigan Press Chapbook Contest, Jessica Johnson's In Absolutes We Seek Each Other is a collection of linked poems that balance science and lyricism to paint an intimate portrait of the natural world.
Why you should send it: New Michigan Press and its online counterpart, Diagram, have been publishing striking, elegant, and generally awesome chapbooks by cuttings-edge writers since 1999. They credit their continued success to writers and readers "who frequent the off-roads and byways of literature."
Where to get it: Newmichiganpress.com, $9
The Third Elevator by Aimee Bender
What it is: With her newest chapbook, The Third Elevator, Aimee Bender lives up to her reputation for surreal plots and characters. Her masterful blending of the magical and the everyday will appeal to realists, fantasy-lovers, and everyone in between.
Why you should send it: Dedicated to recommending, publishing, and promoting authors of all genres and styles, The Lit Pub is quickly becoming a hub for new writers to get the recognition they deserve.
Where to get it: Thelitpub.com, $8
Desert Places by Amber Sparks and Robert Kloss
What it is: A collaborative, hybrid, and pocket-sized text created by artists Amber Sparks and Robert Kloss, this chapbook "explores the evolution of evil in worlds both seen and unseen" and features illustrations by Matt Kish.
Why you should send it: This chapbook is DARK. Send it to your best friend, analyst, or mentor — anyone with whom you discuss the nature of evil or alternative perceptions of Christmas.
Where to get it: Curbsidesplender.com, $6
Animal Collection by Colin Winnette
What it is: Colin Winnette's Animal Collection (Spork Press, 2013) is a postmodern, mold-breaking mix of hilarious fables and flash fiction with baby cheetahs, foxes, and 23 other animals roaming across its pages.
Why you should send it: An oasis for experimental fiction writers and poets, Spork Press creates some of the most visually stunning chapbooks — featuring full-color, letterpress-printed covers and hand-bound pages — at its small workshop in Tucson, Arizona.
Where to get it: Sporkpress.com, $12
You can also check your local indie bookstore for these titles. Though if you order directly from the small presses who toil endlessly to bring these chapbooks into the world, you can (and should) request a personalized greeting to your recipient. Happy chapbooking!