A Holiday Nail Art Tutorial That Anyone Can Do — Because We Can't All Perfect That Glittery Nativity Scene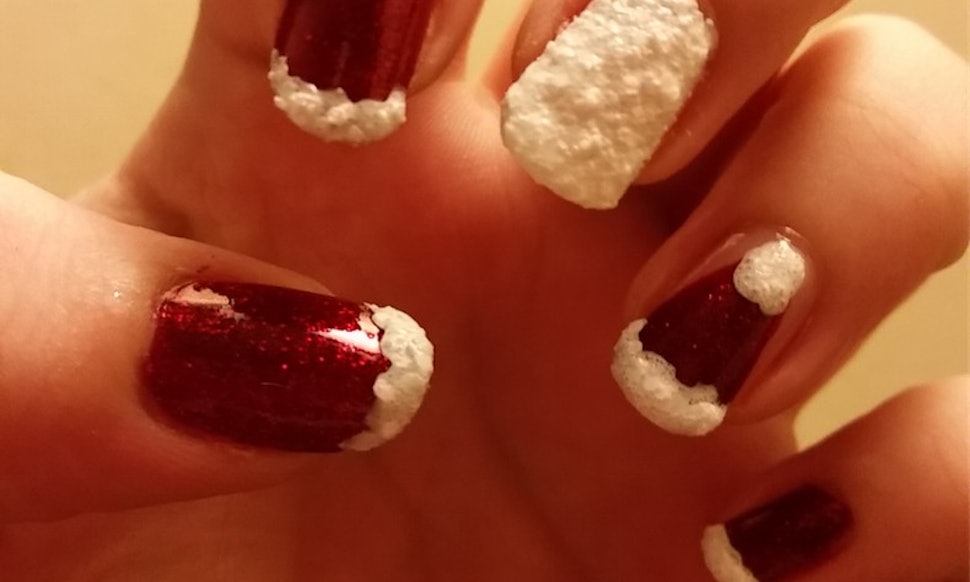 Holiday season is officially in warp drive and we're all getting used to seeing a plethora of beautiful holiday nail art all over Instagram, Tumblr, Pinterest, Twitter — well, you get the idea. Let's be honest, though. Most of these stunning designs fill us with delusions of grandeur regarding our nail polish application abilities that result in hours of trying (and usually failing) to emulate their lacquered glory. Let me save you some time — it's not going to happen. You made a noble attempt but, trust me, that stunning, swirly, perfectly-lined winter scene, complete with a Nativity scene (in which glitter is used for baby Jesus's tears) is just not within your grasp. I know this. I have tried it.
So if, like me, you dream of pretty and festive nails but lack any real skill, then this tutorial is for you! You don't need a dotting tool, toothpicks, stripers, tweezers or any other hazardous appliance. You don't need a steady hand, and you especially won't need nail polish remover and two dozen cotton wool pads on standby for that moment when you decide to start from scratch (or moments when you decide to start from scratch).
Whatever holiday you celebrate, be it Christmas, Hanukkah, Kwanzaa, Yule, Solstice or anything else, this is my gift to you. And if you try it yourself, please feel free to tweet me pictures!
Prep Your Nails
First thing's first. You'll need to prep your nails by removing any nail polish you'd previously applied, and then put on a base coat. The base coat will protect your nails from staining from the previous polish, as well as help fill in some of the ridges you may naturally have. This will provide you with a smoother surface to work on.
Apply the First Coat of Red Polish
For this manicure, I'll be using China Glaze Ruby Pumps (I just love this red glitter!). But any red polish will work just fine. Apply the polish to your thumb, index and pinky fingers, leaving your middle finger clear. Then paint a V-shape on your ring finger, with the bottom point of the V meeting near your cuticle. Don't worry if your lines aren't perfect or if the point isn't actually pointy. This won't be a problem.
Apply the Second Coat of Red Polish and Add Top Coat
Once your first coat of red is dry, apply your second coat. Continue to leave your middle finger clear, and this time fill in the center of the V on your ring finger with more red polish. Once this is almost dry you can apply one layer of top coat.
Add the White
Now's the time to apply white polish (it doesn't have to be a textured one, but it helps!) to the tips of your thumb, index, ring and pinky fingers. Think messy french manicure! You will also apply a blob of the white on the point of the V you painted earlier on your ring finger. Finally, add a coat of the white to your middle finger. too. I applied two coats of white to build up chunky texture, but that's really your call.
That's All Folks!