Where Can You Buy Shark Tank's Biaggi Luggage?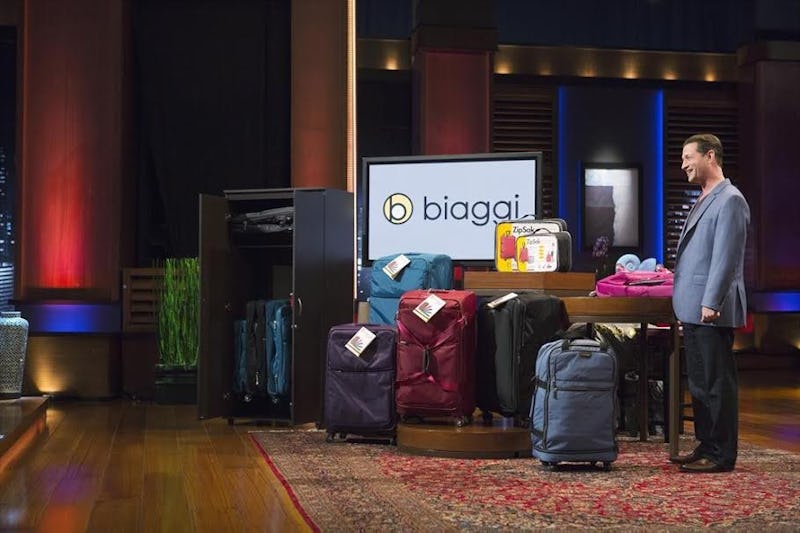 There has to be a bag that I can pack everything in for traveling, but with an easy option for storage when I'm not using it. This is where one of Shark Tank 's latest items, Biaggi luggage, steps up to the plate. Biaggi will bring the simple, yet genius idea four-wheel luggage that is both durable enough to make it through travel and easy to fold up neatly for convenient storage, to Mark Cuban and the rest of the team on the Dec. 5 episode.
This idea is intriguing to me because there is no way I would be able to travel without luggage on wheels. I am not one of those people who understands what it means to "pack light," making those wheels essential for moving along with my bag. Furthermore, I have always felt that the phrase "the bigger, the better" applies to bags and suitcases. I like to be prepared for every possible situation with extra outfits, accessories, and even emergency supplies. The only problem is that I am not exactly a jet setter. More often than not, my gigantic rolling suitcase is just sitting there collecting dust and taking up useful space, but I refuse to compromise and just use a smaller bag. I literally shutter at the thought. If you're like me, Biaggi's foldable luggage on wheels is the perfect solution. Biaggi also has other foldable travel accessories including totes, carry-ons, and zipsacks that can be purchased.
So where you do you purchase them? There's a couple places so far.
Biaggi.com
Well this seems obvious, but not all company sites have online stores. You can check out the collections and colors in addition to purchasing on Biaggi's site. You can even get 10 percent off using their "Shark Tank Special" when you register your email address with the site.
Overstock.com
Overstock.com is a good place to purchase a Biaggi suitcase if you're looking for a discount and you're not in urgent need. If you are on your game and check out the flash deals, you can try to score the luggage at a reduced price. Plus, many of the Biaggi products come with free shipping. Gotta love that.
Images: Adam Rose/ABC; Biaggi.com; Overstock.com (1)