Dazzling Hair Inspo for Your Holiday Festivities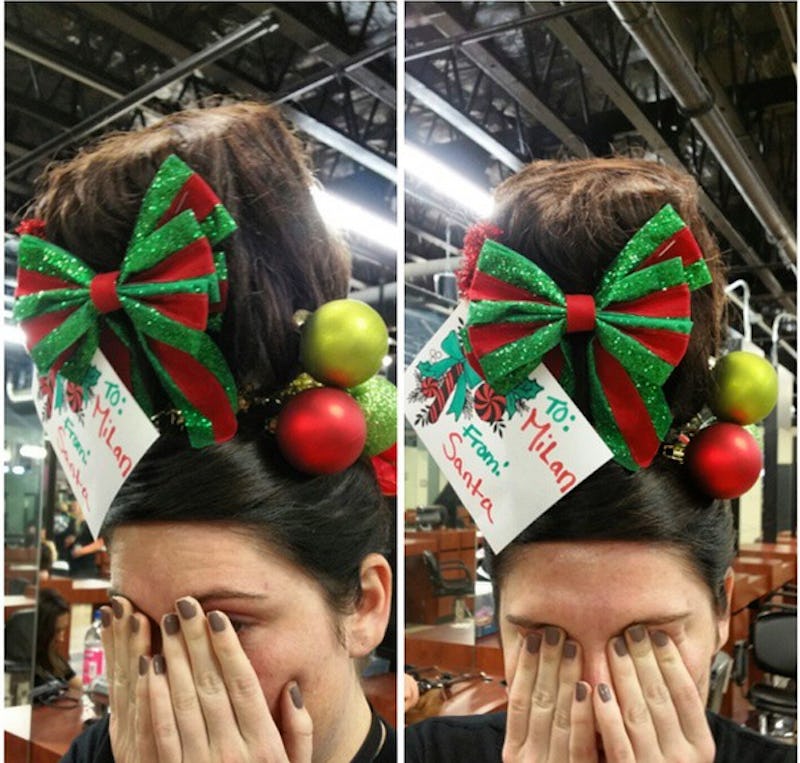 It's December, which means the odds are that at some point this month you will be attending a party! You will possibly have already found the perfect party dress, plus a beautiful pair of shoes to go with it. You may have even decided on your makeup look! But what about your holiday hair ? I mean, there is a reason that hair is sometimes referred to as your "crowning glory," after all.
No matter how beautiful my dress is, or how flawless my lipstick and eyeshadow look, if my hair is not done I just don't feel finished. That's why getting it right is so important! Just like a rug can really tie a room together, a great hairstyle can truly tie an outfit together as well.
Many (or is it most?) of us struggle to achieve great hair without the help of a talented stylist, and there is no shame in that. Hair is a difficult beast to tame (mine especially, trust me!) and getting a "do" that is party-fabulous is particularly tough. I know. Oh, how I know. When all else fails, there is at least the classic braid. Braids have been a Big Deal this fall anyway, so if in doubt, you can always go the Mata Hari route.
If you are feeling confident and in need of a challenge, however, you can give some of these styles a try. And if all else fails, call your stylist and pray for a last-minute appointment.
Soft Curls Piled High
This would look stunning with a pair of simple stud earrings and just about any neckline.
Victory Rolls with Curls
For all you retro and vintage-loving babes, you could add a poinsettia to this for extra festive goodness.
Classy Curled Bun
I can see this paired with some sparkly, dangling earrings and a sweetheart neckline.
Bouffant with a Twist
I think this may be my favorite — it would literally look amazing with just about anything.
Braid-Wrapped Bun
If you like braids then you'll love this: French plaits on both sides working back to wrap around a bun. So simple and so pretty!
Wrap it Up With a Bow
Give the gift of cute hair with this adorable bow up-do. This is one you could definitely attempt yourself if you have a little time (and perhaps, a lot of patience).
Big Beehive
This gorgeous look is achieved by beginning the beehive way back at the crown. It is pure elegance and would be perfect for a black-tie event.
Chunky Braid with a Messy Chignon
This simple look is so soft and so pretty! Wear it with a long dress and basic accessories for utter perfection.
Waterfall Braid
Not everyone likes to wear their hair up; some of us prefer the security of knowing our faces are fully framed. So this stunning waterfall braid is the perfect way to add some style to your hair-down look.
Ringlets on Top
If you were blessed with gorgeous ringlets, pile them up (whilst exposing your neck) for an unfussy yet striking style.
Perfect Pleat
For formal events, this beautiful style could be just the thing. Simple, classic, elegant, plus sparkles.
Images: Instagram/tiffytaffys; Instagram/courtesy users