The Sweet Story Behind This Proposal Photo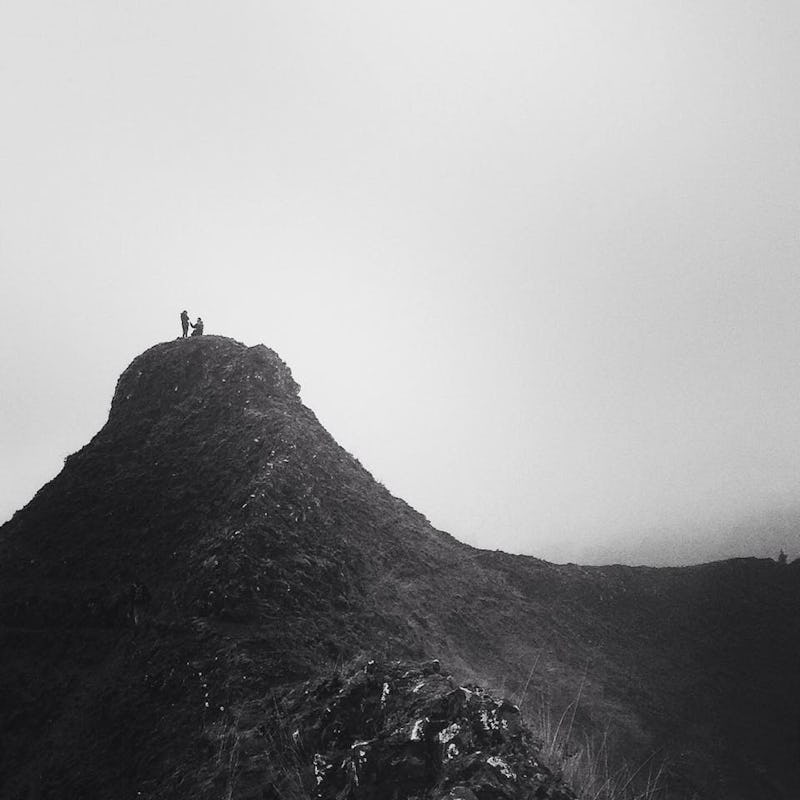 On Thanksgiving day, Paul Wolfe was hiking a ridge in the Columbia River Gorge in Oregon when he spotted a mountaintop proposal, which he quickly took a photo of with his cellphone. The amateur photographer then posted the pic online in hopes of actually tracking down the cute couple, who were total strangers to Wolfe.
The shot quickly made the Instagram, Facebook, and Reddit rounds (check out Wolfe's original post on this Portland subreddit). "I am trying to find the couple who got engaged Thanksgiving Day on Munra Point (in Oregon) to give them this photo," Wolfe wrote earlier this week. The response "was lightning fast," Wolfe told The Oregonian. "Within an hour or so, the post was No. 1 on the front page of Reddit and had thousands of views in Imgur. Within five hours, the best man messaged me."
A friend of Alex Gensitskiy spotted the pic online and called him. "And he was like 'Dude, this is crazy,'" Gensitskiy told KATU, a Portland television station. "Like, 'there was a picture and it went viral and people are looking for you.'"
Katie Verkovod — the gal in the photo — did say yes (otherwise, how awkward would this whole search have been?). Gensitskiy shared the viral photo with his fiancée, who was blown away. "It was just beautiful," said Verkovod, "It brought back so many good memories." Gensitskiy added, "It was truly a capture of an authentic moment. It wasn't something that I tried to make happen. It was something that happened so naturally." Here's the original pic posted to Imgur:
The soon-to-be-newlyweds are planning a honeymoon in Southeast Asia, where they're hoping to get in some volunteering. Their gofundme campaign definitely got a boost from their newfound Reddit popularity — Wolfe himself donated to the couple who, just a few days ago, were total strangers to him.
"We're hoping to partner with indigenous non-profits in those countries who focus on community development, by volunteering our time and donating to their efforts," wrote Gensitskiy. "It is customary in America to give gifts to a couple as they start their journey together, but I'm ok with the idea of returning to an apartment empty of things, as long as my love is with me."
A million thumbs-up for Wolfe, the sweet folks on Reddit who helped out, and the adorable lovebirds themselves.
Image: Paul Wolfe/Imgur