You're Applying Your Foundation All Wrong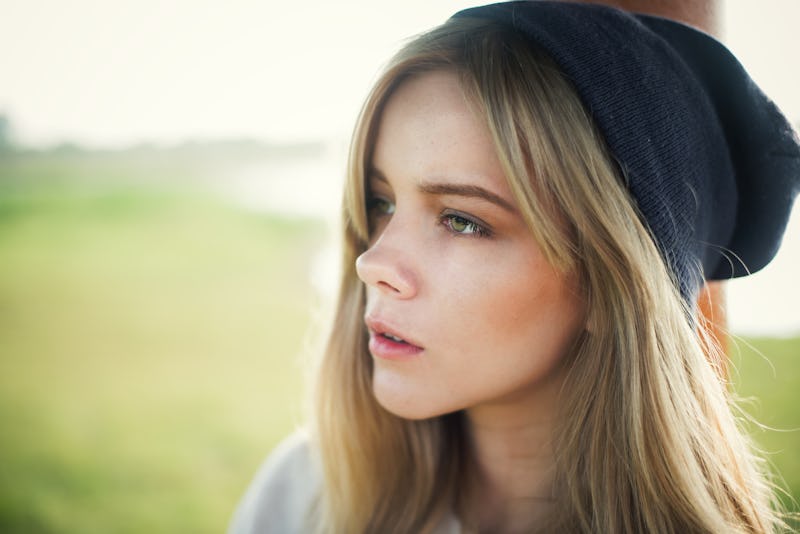 One of my least favorite makeup items to shop for and apply is foundation. Finding the right one and applying it correctly seems somewhat more of a science than an art. It's not like eyeshadows, where you can pick whatever looks pretty and experiment with different color combinations. No, it's a little more about perfection, so making foundation mistakes is far too easy. And although shopping for and applying foundation becomes less of a struggle after some trial-and-error of learning what shades and formulas work best for you, it can still be a stressful situation.
To make the shopping a little less frustrating, there are a few things you can do before you purchase your foundation. If you're testing some out in-store, make sure you step outside to check the color match. Sometimes the lighting in a store is different from natural light, and the color of your foundation might not match as well as you thought it did. You can also ask for samples (of higher-end foundations) to test out before you buy. Make sure you really love it before investing (those high-end foundations can be expensive).
And remember that even if you happen to choose the wrong shade, there are ways to fix it instead of struggling with returning. You can always mix with shades that are lighter or darker to achieve your perfect match. Besides, your skin tone doesn't stay the same all year anyway. By having slightly darker and lighter versions of a formula you love, you'll be set even when you lose your summer tan.
Just make sure, when you are testing and applying foundations, that you're not making these nine common mistakes:
1. You're Not Using a Primer
Always make sure to at least moisturize before applying foundation, as it will help it go on more smoothly. Using a tinted moisturizer or BB cream under foundation will help it go on better while also providing extra coverage. A silicone-based primer will help your foundation adhere better to your skin and last longer.
Aveeno Clear Complexion BB Cream, $13, Amazon
e.l.f. Mineral Infused Face Primer, $8.99, Amazon
2. You're Using the Wrong Formula
Generally speaking, if you have oily skin, you'll want to look for matte formulas. If you have dry skin, you'll want to look for dewy-finish formulas. By making sure you have the right type of finish to suit your skin-type, you can reduce the amount of other products you might use to achieve the skin-look you want (e.g. less powder for oily skin and less illuminator for dry skin).
L'Oreal Infallible Pro-Matte Foundation, $12.99, Amazon
Maybelline Fit Me! Dewy + Smooth Foundation, $5.59, Amazon
3. You're Not Using the Right Tools
If a certain type of foundation works best with a certain application method, it will usually say so on the packaging. Otherwise, Beauty Blender-type sponges and Kabuki-style blending brushes will give a more flawless application. And remember: If using a sponge, dab product into the skin rather than swiping, and if using a brush, buff into the skin using small, circular motions.
Pro Beauty Foundation Makeup Sponges, $9.99, Amazon
EcoTools Retractable Kabuki Brush, $6.49, Amazon
4. You Don't Wet Your Sponge Before Application
If you prefer to use a sponge to apply your foundation, make sure you properly wet it and squeeze out the excess water first. A sponge will suck up the moisture from your foundation if it's dry, causing you to need more product, and leading to cake-face.
Aesthetica Beauty Sponge, $12, Amazon
5. You Apply Concealer First
By applying foundation over concealer, you're actually rubbing away some of the product in the process, which defeats the purpose. If you want your concealer to be more full-coverage and actually, well, conceal, make sure to apply after foundation.
6. You Buff in Your Setting Powder
When you make buffing motions with a brush or puff over your foundation, you end up moving product around and even removing some. Instead, press in your setting powder with your brush or puff. You should be making blotting motions, not swirling or swiping.
7. You're Not Properly Testing Shades
Don't test on the inside of your wrist, as the only place to really tell if your foundation will match your face is, unsurprisingly, your face. Make sure to test along your jaw, around your nose, and under your eyes to find the best match possible.
8. You've Picked the Wrong Undertone
It's important to know whether your skin is warm-toned, cool-toned, or neutral. Foundations also have undertones, and even if the lightness or darkness matches your skin, if the undertone doesn't, it will be very obvious you're wearing foundation. Cool-toned foundation will lean pink, warm-toned foundation will lean yellow, and neutral foundation will fall somewhere in between.
9. You Don't Apply Foundation to Your Neck
No matter how well it might seem that your foundation matches your skin, don't stop application at your jawline. Make sure to drag some product down your neck so there's no telling where it ends and your natural skin begins.
Images: aleshin/Fotolia; Giphy (9)