9 Non-Samberg Reasons to See 'Brooklyn Nine-Nine'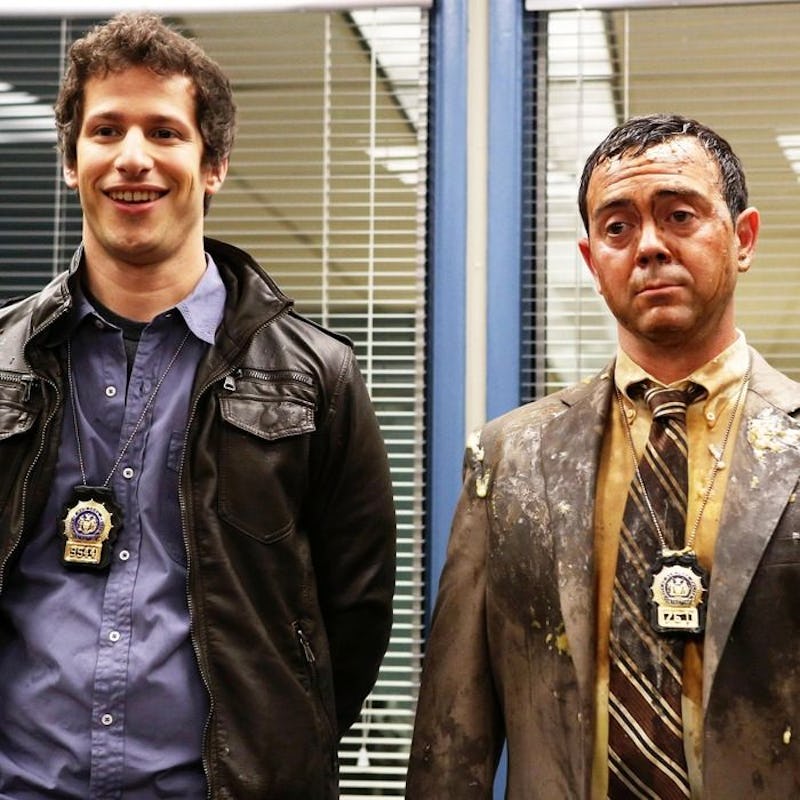 Here's the thing: I don't really like Andy Samberg. Sure, I enjoy "Dick in a Box" as much as the next guy (or lady), but to me, Samberg will always be a poor man's (or woman's) Bill Hader. But hey, maybe you love him. Maybe you don't. Either way, you should consider giving his new sitcom a try. Aside from their star, here's what the officers of Brooklyn Nine-Nine have going for them:
9. Chelsea Peretti. If you're not familiar with this woman, get your life together and look her up immediately. Peretti's an awesome stand-up comic, writer, and actress who's previously appeared on Louie and The Sarah Silverman Program. She plays Gina, the department's civilian administrator.
8. Joe Lo Truglio. An alum of The State and Reno 911!, this guy is basically comedy royalty. His neurotic but well-meaning character, Boyle, has an unlikely crush on the scary-tough Detective Diaz. I look forward to seeing where that goes, though I'm slightly concerned that she'll murder him.
7. Terry Crews. The former NFL star—also, more importantly, the dad from Everybody Hates Chris—plays Sergeant Jeffords, who used to be fat, once shot a mannequin to death, and has twins named Cagney and Lacey. Delightful.
6. This line, said by a stoner apartment dweller when the cops knock on his door: "Are you smelling that weed smell? Because some dude broke in, smoked weed, and bolted."
5. Andre Braugher. I love this man. Braugher—who you might recognize from Homicide: Life on the Street, Glory, and Men of a Certain Age—stars as Captain Holt, the new commanding officer. Possible highlight of the episode: a flashback to Holt's arrest of the so-called Disco Strangler back in 1981.
4. Michael Schur and Dan Goor. Brooklyn Nine-Nine's creators are no strangers to the municipal government workplace comedy—they're veteran producers of the wonderment that is Parks and Recreation. Samberg's character, Jake Peralta, is basically the hypothetical offspring of Leslie Knope and Jean-Ralphio.
3. This exchange, between Jeffords and Holt: "They called me Terry Titties because I had—" "Titties. Yes, I remember."
2. Fred Armisen. Unfortunately, the Portlandia star won't be a regular cast member, but believe me when I tell you that his 30-second cameo appearance is by far the funniest scene of the pilot episode.
1. Andy Samberg. Okay, okay—hear me out. Samberg's Peralta, the precinct's best detective, can be a little annoying. The captain insists that he wear a tie, but Jake doesn't want to (because of course he doesn't want to), so he knots one around his belly! What?! When he finally does put on a tie, he wears it with a Speedo! Double what?!
A dark, dirty TV secret of mine is that I didn't like the early episodes of Parks and Recreation when I first watched them. It took time for the show to establish Leslie's credibility, and the writers of Brooklyn Nine-Nine face the same challenge with Jake, a talented investigator beneath his goofy facade.
And I'll admit that Samberg does have legitimately excellent comic timing. Peralta shares a deadpan moment with an old lady in a store who blanks him out while he attempts to arrest a suspect: "Ma'am, if you could just get down... or ignore me and continue shopping." I'll give him—and Brooklyn Nine-Nine—the benefit of the doubt.
Image via FOX