This Alabama Sorority Has Lost Its MInd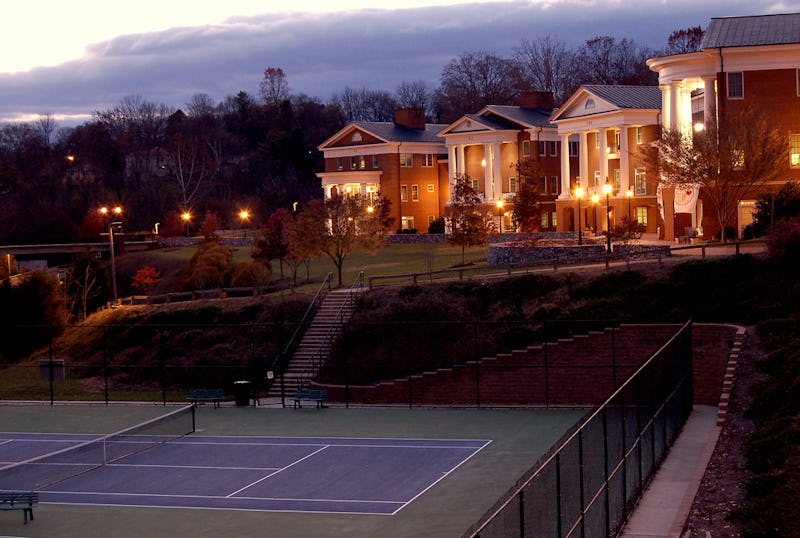 Students at the University of Alabama are protesting their school's sorority system Wednesday, alleging that the organizations are downright racist.
The controversy erupted last week, when the University of Alabama's student newspaper ran an article claiming that segregation is still alive and well in the college's Greek sorority chapters.
At least one girl, they said, was rejected by sororities across the board this fall on grounds of being a black woman — which, according to the chapters, was a threat to their "traditions" and "policies." The article went viral, and commentators nationwide slated the college, prompting its president to instruct sororities to "remove barriers in order to increase diversity in our sororities." Which is a fancy way of saying stop being racist.
The New York Times reports that "basically the same story" appears in the college paper each year — but last week's piece really hit home, namely because sorority members of at least one chapter were appalled by their high-ranking sisters' behavior. Melanie Gotz, a member of Alpha Gamma Delta, spoke out about the rejection of one black woman. During candidate consideration, Gotz raised her hand and asked: "Are we really not going to talk about the black girl?" Most agreed with her. "The entire house wanted this girl to be in Alpha Gam," Gotz told the paper. "We were just powerless over the alums."
Said the Crimson White newspaper:
The recruit, who asked to remain anonymous, seemed like the perfect sorority pledge on paper, yet didn't receive a bid from any of the 16 Panhellenic sororities during formal recruitment. Gotz and others said they know why: The recruit is black. She and at least one other black woman, who wished to remain anonymous for fear of personal safety, went through formal recruitment this year, but neither was offered a bid.
Like other black women before them, these two students tried to break what remains an almost impenetrable color barrier. Fifty years after Vivian Malone and James Hood became the first black students to desegregate The University of Alabama, there remains one last bastion of segregation on campus: The UA greek system is still almost completely divided along racial lines.
The university's sorority chapters hit back, calling the rejection "policy procedure" and stating that they oppose all forms of discrimination — you know, because that's generally the law and all. Nobody familiar with the university's sororities bought it: a team of students and faculty wrote an open letter to the newspaper begging for new policies, and one rush counselor penned a blog post about having to reject a girl based on her dark skin:
I had been given the task of telling one of the girls in my group that she would need to drop out of rush immediately. They told me that she would certainly "not be receiving any invitations back," and that basically the sooner she was gone the better for all involved, including herself. This girl was bright, attractive, and had an absolutely wonderful and infectious personality. She was also African American. And they were worried that if she was not invited to pledge a sorority, that there could be a huge backlash from the black community.
I remember hearing her tell us she wasn't interested in the "black" sororities. I recall her explaining this, but I don't think I listened. For some reason I have never thought back on that day without remembering a tear that had run down her cheeks and fallen onto her thigh. It broke my heart in a way I can't fully describe here... We left her there, crying softly. I did not look back.
As the case gained traction in the media, the university's board sat up and took notice. On Monday, they announced that sorority leaders across the board had been summoned to meet with the college president, and instructed to open up their sororities to new and "diverse" candidates. The specially-commissioned "rush" system, reported Higher Ed, would require the sororities to — direct quote here — "quickly admit some black members."
To the surprise of no-one, commentators everywhere pointed out that the emergency damage-control measure wasn't going to solve the issue. The university's former sorority director noted that undergraduates don't tend to be racially-biased against potential members, but sorority alumni refuse to admit the minority girls past "rush" due to concerns for what that'll mean for the sorority. "There's definitely some fear, whether real or imagined, that there would be some repercussions if a sorority took an African-American member," he added.
The open letter in the Crimson has some ideas about going forward: they offer an eight-point plan for increasing minority presence and acceptance within the university's Greek chapters, and furthermore, the university itself. (Some comments have drawn attention to the small number of minority students at the university.) The suggested policies would include transparency when it comes to sorority admission, penalties if any proof of racial segregation comes forward, and an firm and public policy of inviting diversity.
In the last few years, the university has upped its academic standards to include more high-scoring students from outside the state, which now makes up more than half of the student body. Now more diverse, they're focusing on changing those "traditional" policies: their first black student-government executive was nominated last year, and the Old South parade was ended in 2010... after one frat showed up in Confederate uniforms. Still, the crazy fact remains: only ONE black woman has ever made it into a sorority on campus.
(Image: Flickr/Taber Andrew Bain)