5 Ways to DIY Wrapping Paper, Because Store-Bought Holiday Gift Wrap Can Be So Boring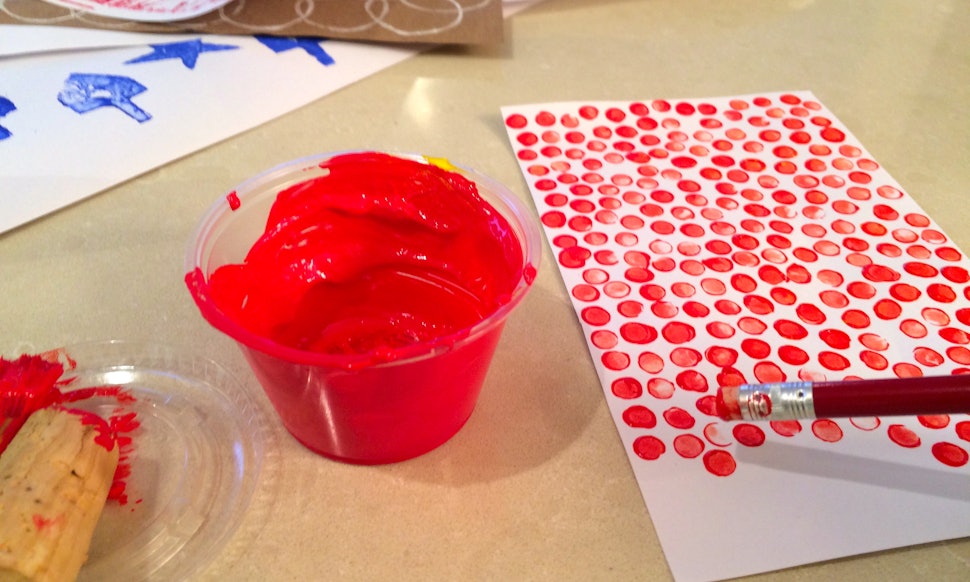 It may seem easier to go the store-bought route, but custom-made gift wrap just seems more personal, don't you think? And churning out some one-of-a-kind gift wrap is a surefire way to get you in the giving spirit. Virtually any type of artists' paper (kraft, construction, crepe, woven) can be transformed into an inimitable piece of artwork that a giftee just might see as gift No. 2.
Images: Allegra Muzzillo
The Sky's the Limit!
There is (almost) no limit to the types of objects that create awesome prints — anything that holds ink on its surface is capable of transferring its shape to paper. That said, a scrapped woodblock, a pencil eraser, Styrofoam, a kitchen sponge, fruits (citrus and otherwise), other vegetables (cabbage, celery), and more can all be used to create stunning patterns on paper. So cut, stamp, and color your way to easy, colorful DIY gift wrap this season, to ensure all your holiday gifts are, er, covered. Here's how…
Retro Block Shapes
Here, two russet potatoes make four stamps. Remember: The larger the vegetable, the larger the stamp. Decide which shapes you'll make beforehand. Choose a shape that isn't too detailed or thin-lined — smaller aspects either won't show up or will look super-blobby. We chose to make a couple of non-denominational organic/retro shapes: a seedpod and a leaf. Festive or not-so-much, it's all up to you.
Step One: Prepare the Potato
Rinse potatoes and pat dry. Otherwise, dirt might transfer onto paper. (Apples work, too!) Then, slice each spud in half, horizontally. Let it sit for a couple of minutes so the cut surface is able to dry out a bit.
Step Two: Choose a Shape
Use a Sharpie or another thick marker to draw a shape onto the surface. Or work freehand, like we did.
Step Three: Make it 3-D
Cut away negative space with an X-Acto knife or razor blade. Then, let the spuds sit for about five to 10 minutes to dry out again.
Step Four: Add color
Dip the stamp in your medium — or apply a thin layer onto the stamp with a paintbrush — and stamp away. Experiment with patterns and direction to add interest. Acrylic, watercolor, crafter's paint, and block printing ink all work well for this project. (Block printing ink dries slowly but is water-soluble and nontoxic.) Want to change colors? Just wipe down the surface with a damp paper towel.
Pretty, Airy Bubbles
Ah, the lone piece of cardboard that's inspired a million DIY holiday projects, from goofy reindeer dolls to winter wreaths and even advent calendars. It's the toilet paper roll! This is quite possibly the single, easiest DIY holiday project you'll ever execute. Just dip one end in paint, and get going.
See?
These pretty, simple white bubbles look so pretty when overlapped on a plain brown backdrop.
Small Circles
In bold orange, smaller, looser circles are fresh twists on Maija Isola's 1960s Kivet pattern for Marimekko. Made with a simple pencil eraser (that had hardened due to lack of use), the dots are mesmerizing and highly stylized. Again, mistakes made here are sweet and endearing, rather than sloppy-looking.
Quick, Linear Effect
We don't bake much, so when we found our rolling pin in the back of our cabinet last week, we knew this project was kismet. So while a rolling pin might be the tool of choice for the Christmastime Betty Crocker, for us, it's a nifty way to roll out some linear goodness — and quickly, too.
Step One: Cover Pin with Paper
Easy: Just cut a piece of kraft paper to size and tape. Plastic wrap works, too.
Step Two: Apply Bands
Thread rubber bands around the pin. The more sizes you use, the more interesting the pattern will be. Remember: It's OK if they're not perfectly straight, but make sure they're lying flat on the pin — it's just easier to roll that way.
Step Three: Prepare Paint
Spread paint in an even layer over a piece of plastic wrap (like we did), a piece of glass, or a washable crafting mat.
Step Four: Roll it Out
Roll the pin back and forth through the paint, and again, over the paper itself.
The Result?
Bright yellow lines punctuated with pops of green dots — from the end of a wine cork. (Fortunately, we had plenty of those on hand.) We stuck the stakes of a cute little corncob holder into its top for added control and dexterity.
Repeating Graphic Print
Graphic. Textured. Classy! Try this with strings of different thicknesses: yarn, baker's twine, jute, etc. The result will always be slightly different and amazing each time.
Step One: Choose String and Plate
This step also involves choosing the object you'll tie string onto. We chose to use simple cotton twine and a tiny cardboard matchbook (matches removed). We taped the matchbook's ends together so it kept its shape. A plain wood block, cardboard box, or thick piece of acrylic would work well, too.
Step Two: Wrap String
Wrap it tightly so it doesn't slip off — and tie off its ends when finished. Crisscross and overlap the string. Don't make it too perfect: The resulting pattern will look richer and really graphic. Trim excess string.
Step Three: Apply Paint
Try stamping in different directions for added depth and interest. It's OK if not every fiber, hill, and valley shows up on paper — that's the beauty of something handmade.