The Return of the Smart Adult Rom-Com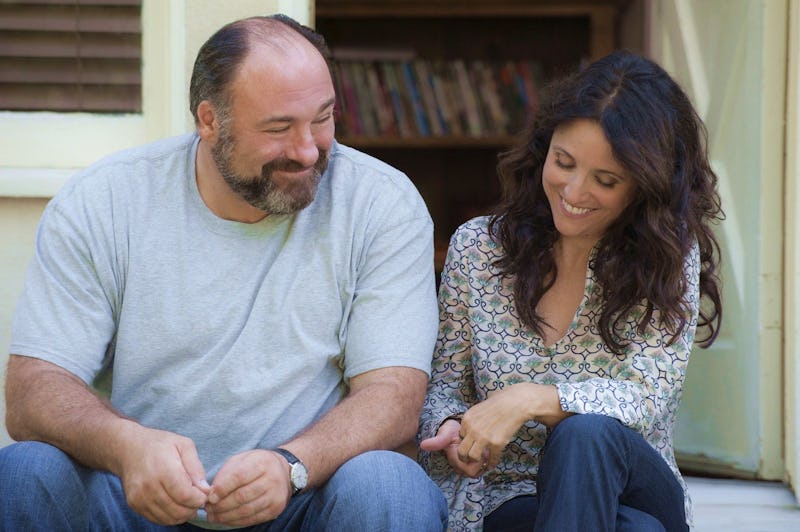 Enough Said, a romantic comedy starring Julia Louis-Dreyfus and the late James Gandolfini, hits theaters this weekend, and the positive reviews are pouring in faster than you can count. The film is holding at an incredible 100 percent score on Rotten Tomatoes, with critics raving that it's "perceptive and engaging," "dead-on honest," and "a small miracle of a movie." Said USA Today: "With its heartfelt performances, intelligent writing and subtle humor, this is easily one of the most perceptive and engaging movies of the year."
With reviews as good as these, you'd think that studios would be itching to make more movies just like Enough Said, right? Wrong. Enough Said is a romantic comedy about adults in their 50s, and if there's any kind of movie that Hollywood shies away from more than ones made by women, it's one featuring middle-aged women.
Despite glowing praise and what's sure to be an impressive box office for a limited release, Enough Said will likely be the only movie in its small genre to make it out of development for a long, long time. That's a real shame, because adult dramadies are often some of the best movies in theaters; they're smart, funny, and grounded in reality. Yet the film industry chooses to ignore them in favor of superhero blockbusters or teenage thrillers, because they're under the impression that those are guaranteed box office draws. A movie about a 50-something woman falling in love post-divorce? Not so much. Here's the thing, though — that's simply not true, and it never has been.
Earlier this summer, Before Midnight, the last in Richard Linklater's critically acclaimed romantic drama trilogy, earned over $20 million at the box office, almost six times its budget. Last August, Meryl Streep's Hope Springs, about a long-married couple's quest to revive their romance, brought in $114 million. In 2009, It's Complicated took in $219 million and Up in the Air got $166 million. The movies may have been as different as they come, but they both had one important aspect in common — their protagonists were over 50, and so were their love interests.
There's About a Boy ($130 million), Sideways ($109 million), Kissing Jessica Stein ($10 million, from a $1 million budget), As Good as it Gets ($314 million), You've Got Mail ($250 million) ... the list keeps going. You can go as far back to Annie Hall ($38 million), and see a very clear pattern: adult romantic dramedies are, by and large, financial successes.
Yet Hollywood continues to ignore this, only greenlighting a handful — at most — of films aimed at adults each year. Studios have no problem producing a few dozen movies about 20-somethings and under every month, but for those over 30 hoping to find realistic films about their lives, they're out of luck. And it's not just the adults that are suffering — I'm 19, but the vast majority of my favorite movies aren't the ones marketed towards the 25 and under set.
I'm drawn to smart, entertaining dramedies, and most of those just happen to star people my parents' age and older. There are so few of them available, though, that I often find myself forced to re-watch Sleepless in Seattle for the thousandth time just to get my adult-drama fix. Maybe "forced" is too strong a word, but you get the point — I want to watch good movies, but the choices are frustratingly limited.
Perhaps the all-but-certain success of Enough Said will change things, but it's doubtful. The criticism over Hollywood's reluctance to make movies for middle-agers has existed for years, re-appearing practically every time a film in the genre is released. People act shocked when a Meryl Streep rom-com does well at the box office, as if the fact that she's 64 means she's suddenly incapable of leading good movies.
They're slightly less stunned when Jack Nicholson brings financial success to About Schmidt or As Good as it Gets because he's male, but they're still pretty surprised that a 60-something-year-old managed to make a number one movie. It's ageist and, as the earlier list of movies proved, unjustified, but unfortunately, it's the truth. Movies about older men and women simply don't have the support they need, despite them often being some of the best films out there, regardless of the age of their demographic.