This Is Our New Favorite Christmas Cookie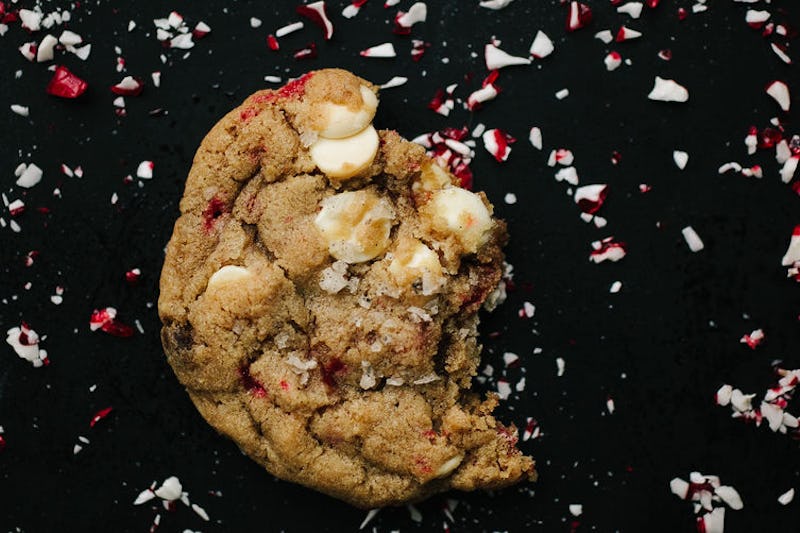 This recipe is essentially my chocolate chip cookies, all dolled up for the holidays. Though my original cookies — with their deep toffee flavor, gentle showering of salt, crackling edge, and gooey center — don't need any dolling up, the holidays bring out the festiveness in us all (even cookies).
It is so unlike me to use anything other than bittersweet chocolate, and even more unlike me to replace it with white chocolate. I've even made fun of white chocolate because of its sad pleading to be considered chocolate when it's actually only sugar and cocoa butter. But here is where I apologize to white chocolate and thank it for making these cookies so wonderful. These are the kind of cookies destined to become a new holiday tradition.
The sweetness of this cookie is tempered with a vanilla-scented salt, which is easy to make (just mix flake salt with vanilla beans). You can also find it in stores (I use Jacobsen).
Makes 18 to 24 cookies
1/2 cup unsalted butter, room temperature
2 tablespoons granulated sugar
2 tablespoons turbinado sugar
3/4 cup plus 2 tablespoons dark brown sugar
1 egg, room temperature
1 teaspoon vanilla extract
1 3/4 cups all-purpose flour
3/4 teaspoon baking soda
1/2 teaspoon kosher salt
1 cup white chocolate chips
2 tablespoons crushed peppermint candies (or candy canes)
See the full recipe (and save and print it) here.
(And if you want to give these cookies as a gift without lifting a finger, you can buy them in mix form).
Photo by Ashley Rodriguez