A Hanukkah Tree Topper Is Perfect for Chrismukkah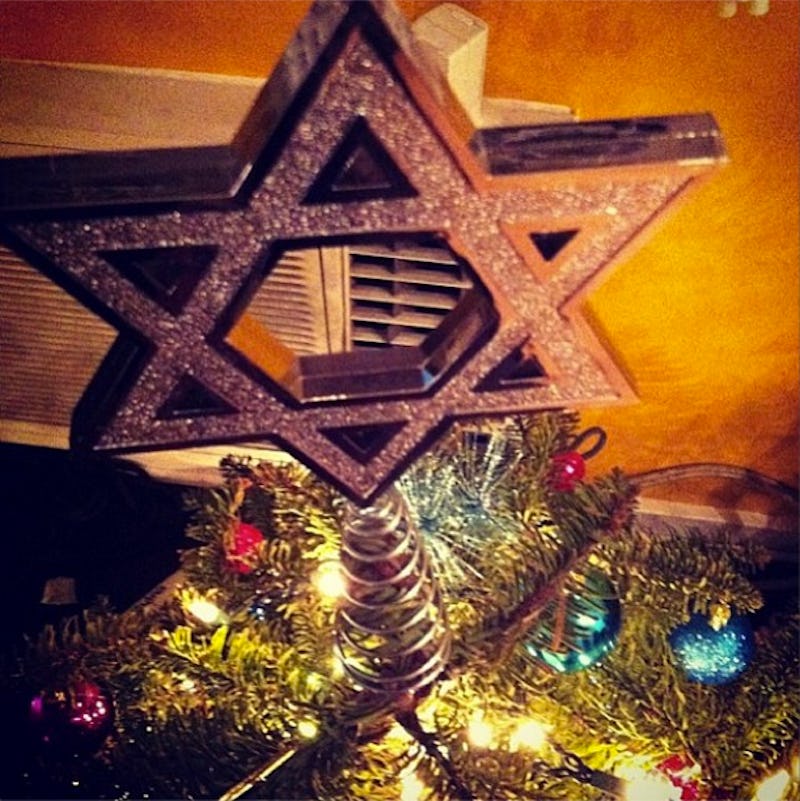 Christmas has its trees, wreaths, and lights. Hanukkah has its menorahs, dreidels, and gelt. But the two holidays had never really mixed their traditions until the Hanukkah Tree Topper appeared on Shark Tank during Season 5 of the ABC reality show.
This Star of David holiday decoration is meant to sit atop your Christmas tree in the place of a golden star or angel as a way for interfaith families to celebrate both Christmas and Hanukkah during the holiday season. When the Hanukkah Tree Topper appeared on Shark Tank, it was the first time I had ever seen a decoration like this, and as someone who comes from an interfaith family myself, I definitely feel like I would've heard about something like this before if it wasn't one of the first of its kind.
When Morri Chowaiki appeared on Shark Tank to pitch the product, the business wasn't in a great place. He desperately needed help from the sharks to keep it going, basically. The Hanukkah Tree Topper's low sales after three years in business turned four of the sharks off pretty quickly, but Daymond John wasn't deterred. He offered Chowaiki the $50,000 he was seeking but upped the equity to 35 percent instead of the 15 percent originally offered, revealing he wanted to license the product. With little hesitation, Chowaiki made a deal.
The Hanukkah Tree Topper will be featured in the Shark Tank Update of the Dec. 12 episode of the show. So one would assume that since the show is doing a follow-up with the product, it must have been pretty successful after its time in the Tank, right? Let's see if that's really the case.
The Shark Is Still Involved
It looks like Daymond hasn't given up on the Hanukkah Tree Topper just yet, at least according to social media. The company has posted plenty of pics of Chowaiki with Daymond, singing his praise for having the shark in his life. The jury is still out on whether or not Daymond has a Hanukkah Tree Topper atop his own Christmas tree this year.
It's Raking in the Gelt
As it turns out, the Hanukkah Tree Topper is a bona fide hit with the kids these days. Sales for the product are expected to increase 150 percent from last year, according to Orange County Jewish Life. True to his word, Daymond also helped license the Hanukkah Tree Topper's trademark and patent to Kurt S. Adler, one of the world's biggest importers of holiday decorations. You can now get your hands on one of these babies in Bed, Bath & Beyond (though it had been sold in this store pre-Shark Tank) and Toys "R" Us. It's also sold on the company's official website at a sale price of $19.99 and on Amazon for $14.99. The company is apparently almost out of Hanukkah Tree Toppers this year, too.
The Hanukkah Tree Topper Might Need Another Miracle
Clearly, Shark Tank has helped pull the Hanukkah Tree Topper out of its rut and give it a taste of real success. However, I'm concerned that it might just be a flash in the latke pan. Of course, the added publicity of appearing on Shark Tank has helped the company a lot, in addition to Daymond's help. But once the novelty of the product wears off, will it be able to survive? I'm not so sure. The company really only sells two products right now, a blue and a silver Hanukkah Tree Topper, and seemingly has nothing new in the works. I think if it wants to survive and become a truly special part of people's holiday celebrations, it's got to do something more.
But I sure do hope this week's update on the company proves me wrong.
Image: mytreetopper/Instagram