13 Gifts for 'Once Upon a Time' Fans So Magical, They'll Make Anyone Believe in Fairy Tales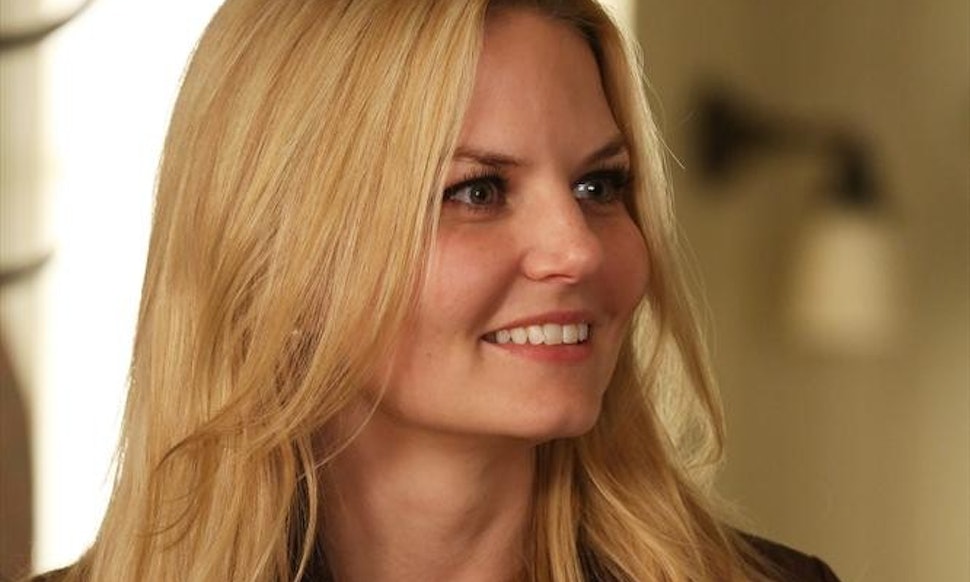 Do you know someone who's been wishing upon that one star to receive any and every gift related to Once Upon a Time ? Dearies, gather 'round, because this gift guide doesn't come with a price, unlike magic. Here are 13 magical gifts for any OUAT fan that will make them believe in fairy tales even more than they already do!
Image: Jack Rowand/ABC
Watch the Fairy Tales Come to Life
You can't enjoy Once Upon a Time without watching the cast, characters, and stories in action. Thankfully, we have the first three seasons on DVDs for doing just that.
OUAT Seasons 1-3, $80, Amazon
Read Your Tablet Like Henry's Storybook
This is a Tablet cover! It's the spitting image of Henry's storybook, so every time you're reading your iPad (or whatever kind of tablet you own), you'll feel like you're at Granny's Diner in Storybrooke working on Operation Cobra or Mongoose.
Henry's Storybook Tablet Cover, $60+, Etsy
Wear a Piece of Emma Around Your Neck
Want to feel like the Savior? This swan necklace is a great way to embody Emma Swan, her goodness, and her magic.
Emma Swan Necklace, $10, Etsy
Slip Into Emma's Read Leather Jacket
There's no Emma without her famous red leather jacket. Now you can really feel like Snow White and Prince Charming's daughter.
Emma's Leather Jacket, $69.00+, Etsy
Hang the Cast on Your Wall
Keep track of those very important dates with this OUAT wall calendar. It's extremely helpful in maintaining schedules, like when the next town curse is coming.
OUAT Calendar, $10, Amazon
Invite the Evil Queen Into Your Home
Who doesn't want a life-sized version of Regina Mills aka the Evil Queen in their home? As the best character on the show (IMHO), this cardboard standup will surely put a spell on anyone. FYI: poisoned apples not included.
Evil Queen Cardboard Standup, $39.69 on Amazon
Drink With a Dashing Rapscallion
Whether it's rum, coffee, or tea, this "Dashing Rapscallion" coffee mug will make you feel like you're chilling with Captain Hook and his dashing good looks.
Captain Hook Mug, $16, CafePress
Dagger Yourself With Rumplestiltskin Earrings
This dagger can be purchased as either a pendant or earrings. If this doesn't say Mr. Gold aka Rumplestiltskin, I don't know what does. Warning: whoever's in possession of these items will have complete control over the jewelry's owner.
Dagger Earrings & Pendant, $10, Etsy
Tell Stories With Snow White
This "Wanted" Snow White journal is very helpful in taking notes and keeping track of important items, especially the last time you and Charming had a date.
Snow White Journal, $10, CafePress
Fall Under the Spell of the Classics
OUAT all started with classic fairy tales, so why not reacquaint yourself with some, including Cinderella, Rumplestiltskin, Snow White, and many others.
Classic Fairy Tales, $6 (Hardcover) or $10 (Kindle), Amazon
Your Very Own Glass Slippers
They aren't made of glass or transform you when the clock strikes 12, but these OUAT shoes will make your feet feel like they're in their very own glass slippers.
OUAT Shoes, $65, Etsy
Frost Yourself With Some 'Frozen'
Do you wanna wear a necklace? Great! Then this piece of jewelry will frost anyone's neckline with the love of Anna and Elsa.
Frozen Necklace, $10, Etsy
Fall in Love With Snow & Charming
Snow White and Prince Charming's love runs throughout the show and fans' hearts. This poster will fancy up any wall and surely bring the hope of true love to anyone who looks at it.
Snow and Charming Poster, $9, Etsy