Multicultural or Insanely Offensive?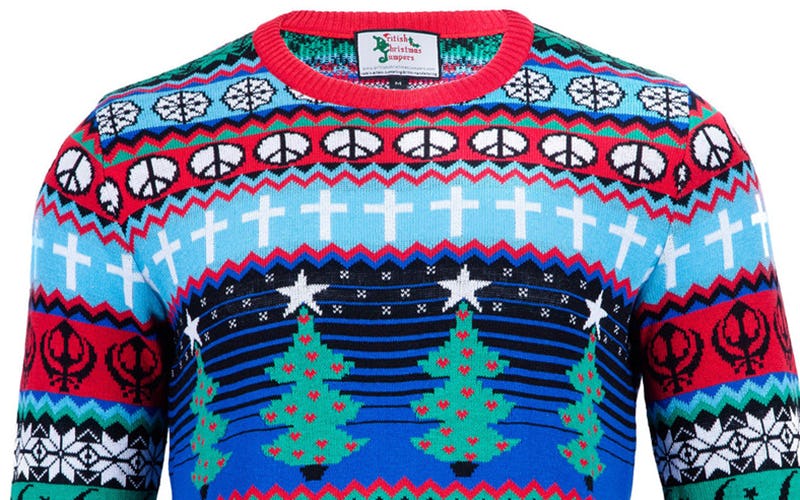 I know you're all probably pumped about the ugly Christmas sweater parties heading our way, either dusting the moth balls off of your great aunt's reindeer crocheted masterpiece or heading to Urban Outfitters to purchase a brand-new hideous hipster holiday pullover. However, you just might want to stay clear of this particular ugly sweater, because there's a crazy amount of controversy surrounding it. British Christmas Jumpers, a branch of the U.K. clothing company Leicester, has released a multicultural holiday sweater...and people are pissed.
At first glance, the cozy and colorful sweater looks totally perfect for all of your ugly Christmas sweater needs. And in the company's opinion, the fact that it features symbols from a ton of different religious denominations, makes it representative of "modern Britain." Unfortunately, not everyone feels that way.
People from all over the world have taken to their Twitters and blogs to complain about the Star of David, Christianity crosses, yin-yang symbols, and peace signs plastered on the fabric. To some, the representation of Christianity, Hinduism, Islam, Sikh, a form of scientific atheism, and Chinese philosophy on a holiday sweater is "political correctness gone mad." To others, including several religions on a decidedly Christmas sweater takes the focus off of the Christian holiday. But to BritishChristmasJumpers.com, it's simply a celebration of a festive time for many denominations and people for a variety of reasons:
"Britain has never been more multicultural, so we thought we'd create a Christmas jumper with a twist — something that brings people from all walks of life together in the spirit of love, joy and festive cheer. We think everyone should be able to wear a British Christmas Jumper and celebrate the festive season — however they wish, no matter what their colour, creed or culture."
I'm not saying people's personal opinions of the controversial knit aren't valid, as long as they're not anti-Semitic, anti-Islamic, anti-ANYRELIGIONBESIDESMYOWN. But the sweater wasn't created to offend nor be overtly politically correct; it was made for good, old, holiday revelry that everyone can participate in. Personally, I don't see this as an attack on a religious occasion, but simply a way for tons of people to get in on the ugly holiday sweater party fun. And what's so offensive about that?
Images: BritishChristmasJumpers.com