Where To Find 'Shark Tank's' Q-Flex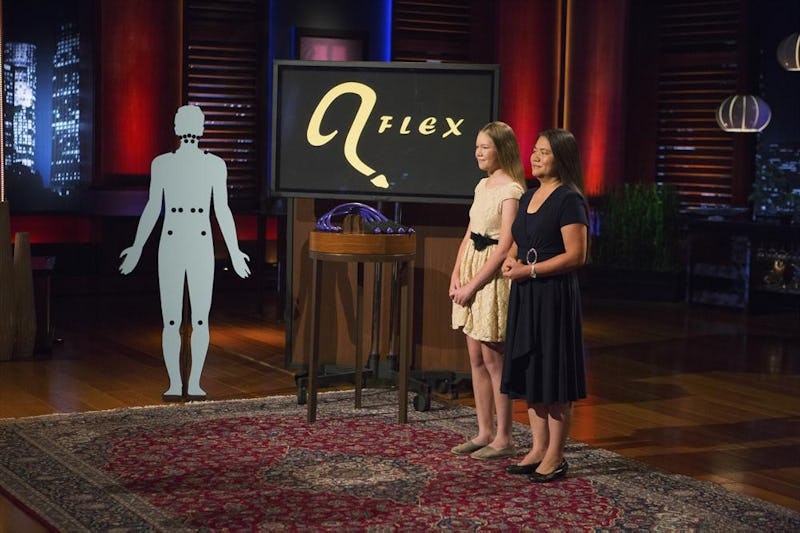 A few days ago, when deciding which Shark Tank product to shine a light on this week, I watched the submission video sent in by the inventors of Q-Flex, and decided it stood out from the various other holiday-centric products appearing on Shark Tank on Friday. In the video there was a 13-year-old girl, and her mother who immigrated to the United States from China, talking about how they came up with the Q-Flex together. It was an impressive product with charming creators, but now that video has vanished from the internet. And I'm a little concerned for the Q-Flex.
Q-Flex is a "personal acupressure system" invented by 13-year-old Andrea Cao with the help of her mother, Hong Cao, according to the video that has disappeared. The technology for the one-of-a-kind acupressure therapy wand comes from ancient Chinese tradition, the ancestry of the Cao family. It is currently a pretty grassroots product: Andrea and Hong make all of the Q-Flexes by hand from their home, and as of May, their website still used a free hosting service and didn't have any available products for purchase. The old website is still up, though it was replaced by a newer website — qflexacupressure.com — that was just replaced again on Wednesday. Replacing a weak website is a smart move to accommodate for all of the traffic Shark Tank will surely bring the Q-Flex site, but it's still pretty difficult to track down, and seems a little... elementary.
Q-flex Acupressure Back and Body Massage Tool, $25, Amazon
So, this isn't your typical smooth-operating, "Yeah, we did OK last year, and by 'OK,' I mean $2 million in sales" Shark Tank product. This is old school Shark Tank — inventor with a dream and a mission Shark Tank. Now the question becomes, without sales or branding, is the product itself good enough?
What It Does
The Q-Flex really is an innovative product. I'll wait for the Sharks' judgment of its effectiveness, but I know my sore back is up for a little muscle therapy experimentation. The Q-Flex is a curved acupressure wand ergonomically designed to apply pressure to precise points on your body, listed on the Q-Flex site. The pear-shaped tip gives the effect of a self-administered deep tissue massage to, according to the website, "promote circulation and health, boost immune ability, balance body energy, and enable deep relaxation." When the handle is pulled forward, the Q-Flex aligns perpendicularly to the problem area, applying pressure to specific points to release endorphins.
Where To Get It
The Q-Flex is currently only available on its website, where it's going at a special Shark Tank rate: down from $29.99 to $24.95.
Q-flex Acupressure Back and Body Massage Tool, $25, Amazon
Will Anyone Invest?
The Q-Flex ladies need an investment. Even if they have the business know-how and ideas to expand their brand, they simply don't seem to have the capital or investment to get started in a big way. The Q-Flex's success in the Tank will be entirely dependent on Andrea's pitch, and ability to sell the Sharks on the product's potential. It probably also wouldn't hurt if the Sharks suffer from some mild to moderate back pain.
Image: Michael Desmond/ABC