Sloths Modeling Bags is the Best Thing Ever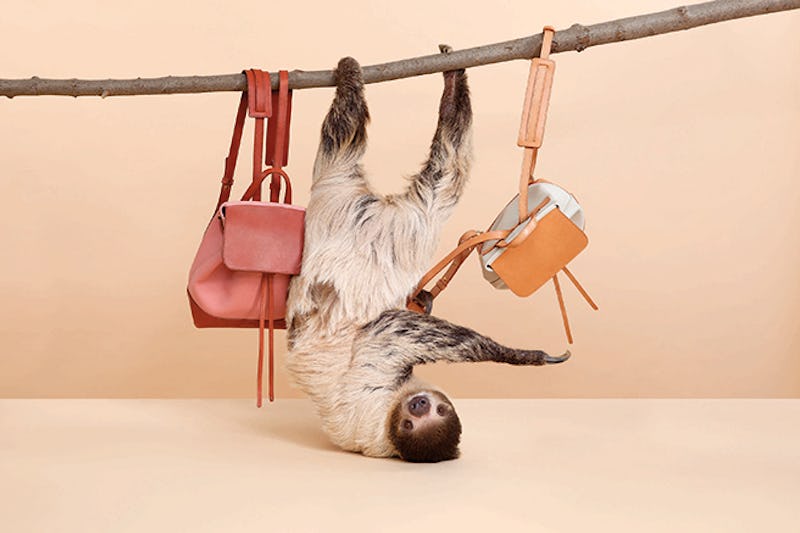 Move over Choupette, (and maybe even Cara Delevingne), because this is how all fashion ads should be, forever. Mansur Gavriel used sloths in their ad campaign. Clearly, there is no longer a need for models.
Mansur Gavriel's latest ad images have been released, and they are filled with your daily dose of cuteness. The images feature sloths alongside the famous bucket bag, as well as totes and backpacks. I mean, it's pretty much genius, because if anything is going to get me to drop a grand on a bag, it's these fluff bunnies.
Though the sloth is the clear star of the campaign, Mansur Gavriel also included a myriad of other adorable creatures for the Spring 2015 lookbook. We've got a hedgehog crawling out of a tote, a kangaroo gazing at some blush pink bags, and a white barn owl taking flight. The photos are all real, said designers Rachel Mansur and Floriana Gavriel, and were intended to evoke playful and warm emotions — and they accomplished that. I feel so warm and fuzzy inside while looking at them. So FYI designers, if you want to sell pricey merchandise, use adorable animals (obviously sloths). Or cupcakes. But, you know, one step at a time.
Images: Mansurgavriel/Instagram