8 Nude Nail Polish Shades That Are Ridiculously Flattering, Because Neutrals Are The New Reds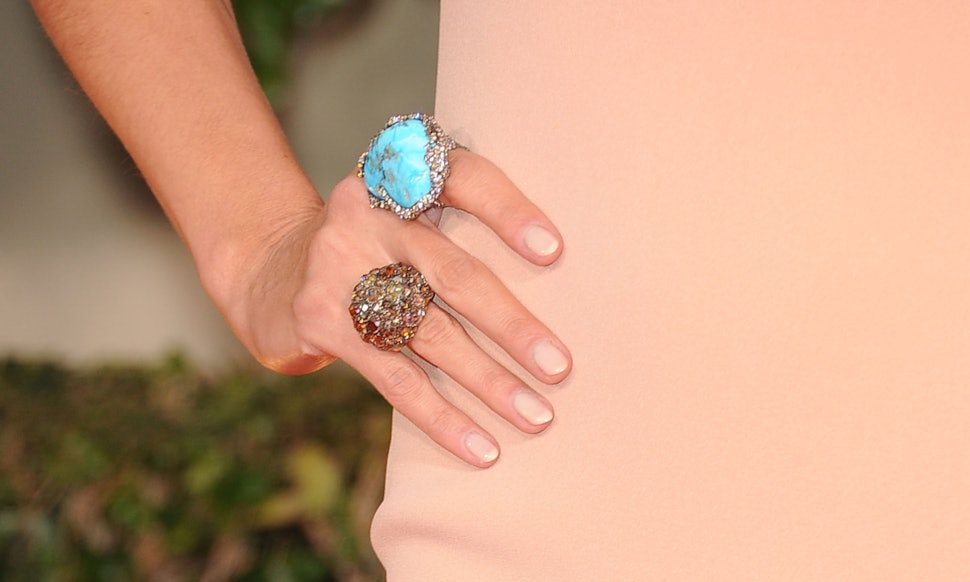 Jason Merritt/Getty Images Entertainment/Getty Images
One of the most underrated things about a new season or fun, upcoming holiday is the plethora of complimentary nail polish shades that come with it. It sounds totally silly, I know, but there's nothing like the look of a hot pink neon polish on your toes as they're poking out of the sand or sipping hot coco with your deep, Christmas burgundy colored nails.
I'm always excited to dig out the deep charcoal colors or the bright shimmery shades from the bottom of my drawer when the proper season rolls around. But there's something to be said about the always flattering and perpetually appropriate nude polish.
Boring? Never! Chic anytime of the year and as classic as your favorite LBD, nude nail lacquers will forever be my go-to color for easy and effortless elegance and a feminine, clean look. But with literally thousands of barely-there hues on the market, which one do you choose? Check out some of these awesome nudie finds in a variety of pretty shades and tones so you don't get stuck with just a boring beige.
Ciaté Mini Paint Pot in "Members Only"
This nude polish has a little sultry kick to it, with the lightest of shimmers that offers a pretty wash of warmth to the color.
$8, Sephora
HIPP X RGB Nail Foundations
All your problems (well those concerning nude nail polish…) have just been solved! I guarantee that this nail brand has your perfect shade for your unique skin tone. Since these nail colors were inspired by all the different foundation shades out there, they have tons of options to compliment your digits.
$18, RGB Cosmetics
OPI's "Chllin' Like A Villain"
This is my personal favorite (NEVER LEAVE ME, OPI!). Its creamy undertones are warm and flattering and I love that it's opaque enough that I'm not stuck doing 12 billion coats to get just the faintest wash of color.
$9, Ulta
Formula X in "Evocative"
This coco mocha is neutral, cool, and looks positively luminescent on deeper skin tones.
$10, Sephora
Julep's "Rooney"
For deeper skin tones that are on the warmer side, this rich nude shade is the stuff of dark chocolate dreams.
$14, Julep
Tom Ford Beauty Nail Lacquer in "Sugar Dune"
Super pale skin could always use a hint of pink to warm it up. A creamy blush nude shade can work wonders!
$32, Neiman Marcus
Illamasqua Nail Varnish in "Purity"
Olive skin tones, with their warm undertones and year 'round tan (my pale butt is jealous…), can look even more warm and glowing with a pretty and peachy nude shade.
$23, Lllamasqua
Sally Hansen Complete Salon Manicure Nail Color in "Sheer Ecstasy"
For a sheer, barely-there blush, Sally Hansen is your go-to gal. The milky shade will have your nails looking totally natural — only so much prettier.
$8, CVS