These Disney Princess Glasses Are Actually Cool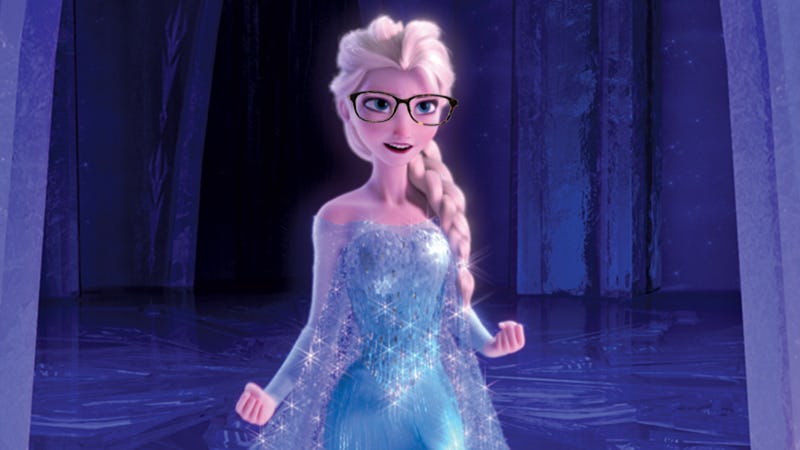 I've always been sort of confused by Disney princess merchandise marketed towards adults (and, yes, that includes the Frozen wedding dress). While I loved Ariel and Belle and the like as a little kid, that obsession has definitely not followed me into my early twenties. I just don't have the impetus to dress like a princess. However, these Disney eye glasses by Japanese brand Zoff, pointed out by The Gloss, just might be the exception.
The Disney Collection features styles based on five of the major princesses — Ariel, Belle, Rapunzel, Princess Aurora, Cinderella, and, naturally, Elsa. Each pair of glasses has a color scheme and metallic silver accents that subtly nod toward the individual princess's motif without being super heavy-handed. In other words, perfect for adults who don't want to look like they shop at the Disney Store. The Rapunzel frames, for instance, are dark pink with an accent bar modeled to look like braided hair (but, like, in a cool way). The glasses also come with a matching case and cloth wipe decorated with a silhouette.
You'd probably think the mark-up on these would be insane, but they're actually super inexpensive as far as glasses go — just 9000 yen, or approximately $75 a pop. Given that my own significantly less "novelty" glasses cost like three times that much, I'd say they're worth it.
Ariel
Cinderella
Belle
Aurora
Rapunzel
Elsa
It's hard to pick a favorite, but I'm partial to the Elsa frames. I love the square lenses and the etched snowflakes on the ear bars, plus they sort of remind me of those super hipstery clear plastic glasses everyone in Bushwick was sporting for awhile. Who says Disney princesses need to be basic?
Images: Zoff