Incredible Photos From The Justice For All March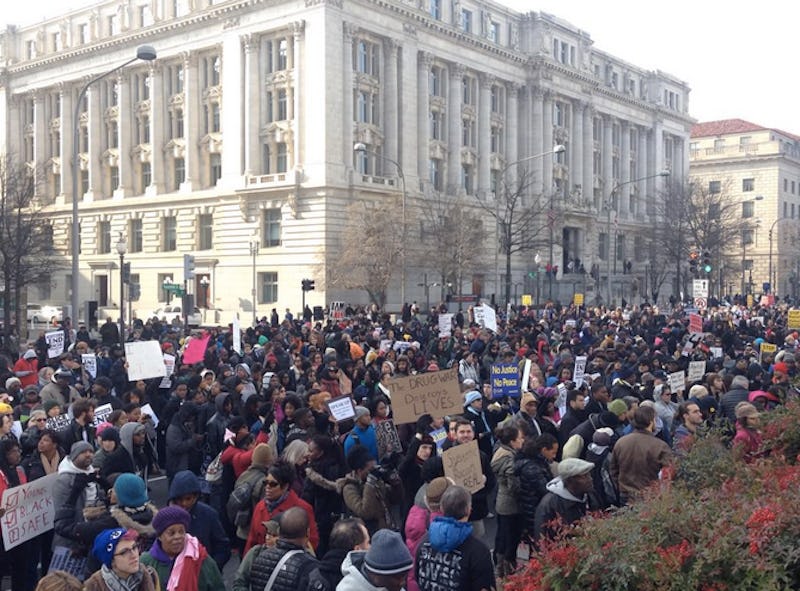 After weeks of protest and centuries of discrimination, demonstrators have gathered in Washington, DC to participate in the "Justice For All" march, organized by Reverend Al Sharpton. Following a walkout by congressional staffers on Thursday and statements from city, state and federal officials criticizing the criminal justice system and police brutality in the United States, protestors are hoping that this march may finally spur governmental action against systemic injustices against black, brown, yellow and minority bodies. The families of both Michael Brown and Eric Garner are expected to participate, and thousands more are ready to join as they move towards the steps of the Capitol.
According to MSNBC reports, the march is slated to begin on Saturday at noon at the Freedom Plaza, and will culminate in a rally at the Capitol, where leaders of the march will present a "legislative agenda" for Congress to address the ongoing issues in police departments across the nation. In a statement, NAACP President and CEO Cornell William Brooks said, "This march is one of many demonstrations to show Congress, the country and the world that we will not stand down until systemic change, accountability and justice in cases of police misconduct are served."
Reverend Sharpton, who has been a vocal ally of the families of the slain, unarmed black men in the months following the tragedy, told the Washington Post that he wanted to use his platform and his influence to give a voice to those whose narratives would otherwise go unnoticed. Said Sharpton,
We're like the union for families because they want an infrastructure to fight an infrastructure. You can't sit up in your living room and fight an institution unless you have institutional support.We do not want this to be an episodic movement. We want it to be real change.
On Saturday morning, the reverend addressed a growing crowd in DC, saying, "Why are we going to Washington? Because all over the country we all need to come together and demand this Congress deal with the issues, that we need laws to protect the citizens in these states from these state grand jurors."
In addition to the march on DC, protestors across the country are expected to gather for a National Day of Resistance, with demonstrations expected in San Francisco; Lexington, Kentucky; Austin, Texas; and Kansas City, Missouri.
While the "Justice For All" March has not yet begun, the event has already drawn incredible crowds with incredible messages and stories to share, breathing life into the hope that just maybe, institutional change is on its way.
Images: Twitter