10 Photos Of Children Participating In The Justice For All Marches Underline The Movement's Importance — PHOTOS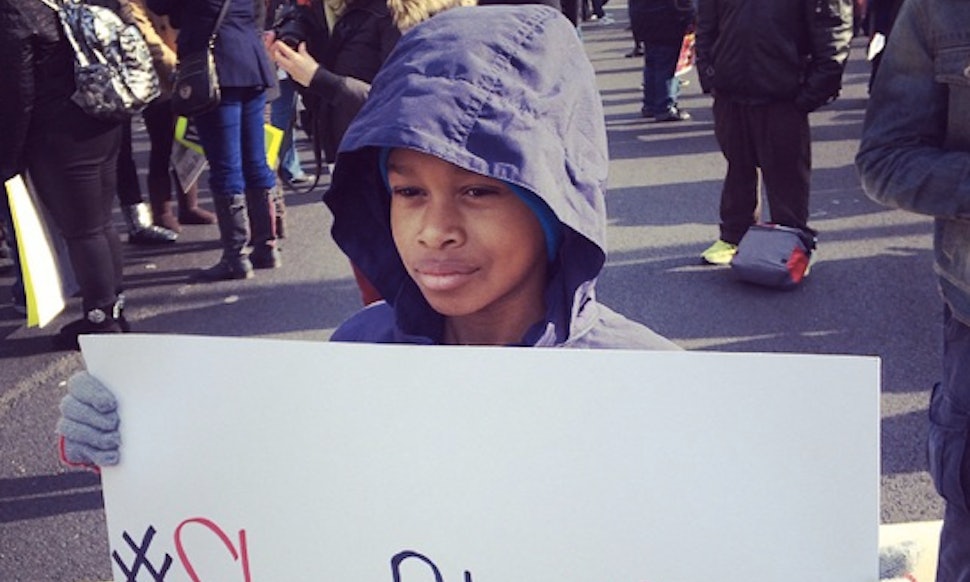 Saturday's Justice For All March drew tens of thousands of protestors from around the country, uniting the nation in a collective cry for change. But beyond the sheer size of the demonstrations, it was the demographics of the marches that spoke loudest about the necessity of reform — photos of children who participated in Justice For All marches alongside their parents, with an equal if not greater stake in the cause, served as an incredibly powerful and moving sign of the importance of the movement. Black, brown and minority parents should not have to live in fear that their children will be killed because the color of their skin makes them suspicious. And black, brown and minority children should not exercise extra caution when going about their daily lives because the color of their skin makes them an easy target or a likely suspect. We do not live in a post-racial world, and our children are paying the price for our ignorance.
Streets from California to Washington, DC to New York were lined with the bodies of Americans who have withstood systemic injustice and historical oppression for centuries, and can no longer stay silent. Their message was loud and clear — we are here, we have been here, and here we will stay. And no American is too young to fight for his or her rights, and unfortunately, no American is too young to be exempt from the evils of racism. When our children must hold signs that prove their worth as a human being, we as a nation must be troubled. When our children are victims, we are no longer safe. Here are 10 of the most moving photos of children who participated in the Justice For All marches across the nation, who have reminded us all of our responsibility and our humanity.
Images: THEAlleyeceeing, TJMShow, AV_Julian, sherwiebp, ndiblasio/Twitter; rmazzaro, oneshow1, andrekearns, christianhall40, marykatedc/Instagram
"I'm a good boy who will grow up to be a good man!"
An assurance no child should have to make.
Babies For Justice
Because they will grow up to inherit the world we created for them.
Our Lives Matter
And they shouldn't have to tell us so.
#FromPalestineToFerguson
Justice is a universal human right.
We Can't Breathe
Solidarity from the start.
Know Justice Know Peace
It's a cross-generational thing.
End Racism Now
What more is there to say?
No Justice No Peace
My Skin Is Not A Crime
And we should prove to her that it's not.
I Can't Breathe.
Sophia Lafargue, Rep. Gregory Meeks' (D-NY) Chief of Staff, and her 4-year-old daughter, Zora.