The 15 Best TV Quotes of 2014 That You Need To Remember Forever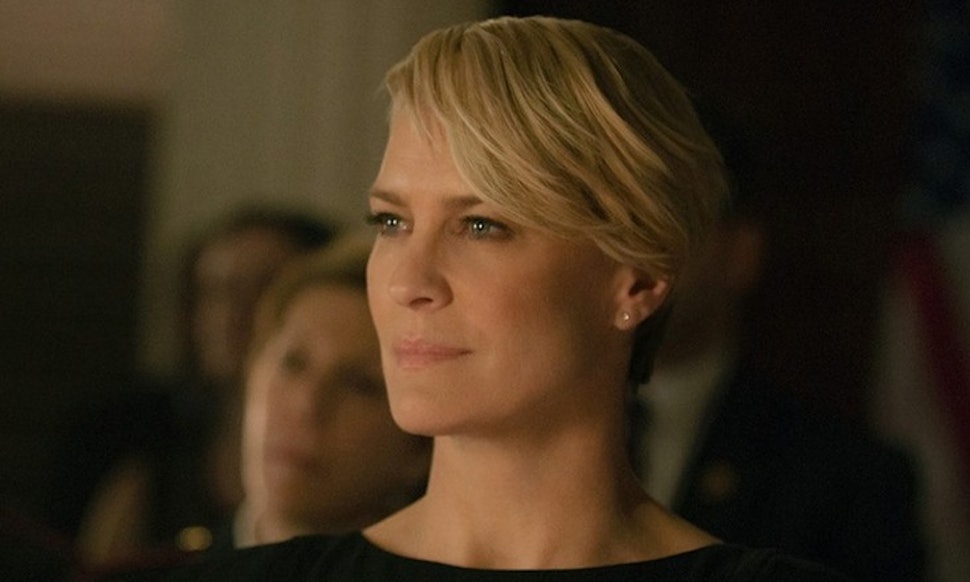 The end of the year is always bittersweet. And that sentiment counts for TV as much as, you know, real life. We lost some good shows this year. Suburgatory, Sons of Anarchy, Boardwalk Empire, you'll all be missed (certain others, not so much). But along with these farewells, we also got some great television moments — scenes that made our pulses race and our hearts soar. We got an epic trial defense from a falsely-accused dwarf, awards show speeches that brought together a comedy dream team, and the most brilliant dick joke of all time. This year was definitely a good time to be a television fan, especially for women who, as you'll see, got some of the juiciest quotes on this list. So let's say goodbye to the past 12 months by remembering, in no particular order, the 15 best TV quotes of 2014.
Image: Netflix
'True Detective'
"Time is a flat circle." - Rust Cohle
True Detective was a head scratching, mind-boggling mystery hit that combined Americana and religious imagery with Rust Cohle's disturbing nihilism. When he shared his thoughts on the nature of humanity and time itself, it wasn't always agreeable, but it always left us thinking.
Image: Lacey Terrell/HBO
'Silicon Valley'
"Optimal tip-to-tip efficiency." - The guys of Silicon Valley
It's hard to make a clever joke about male anatomy. Most of the time you end up in the realm of middle school bathroom humor. But writing a clever joke that also includes mathematical algorithms? Only a genius like Silicon Valley creator Mike Judge (the guy behind Office Space and King of the Hill) could pull it off — and make the scene the climax of his show's entire first season. It's worth watching the whole clip.
Image: Jaimie Trueblood/HBO
'Parks and Recreation'
"Dear frozen yogurt: you are the celery of desserts. Be ice cream, or be nothing. Zero stars." - Ron Swanson
With the final season of Parks and Rec nearly upon us, I'm already getting nostalgic for the Pawnee numbskulls who've made Tuesday nights hilarious for the past six years. Bless Ron's libertarian, government-hating heart.
Image: Colleen Hayes/NBC
The 2014 Academy Awards
"When I look down at this golden statue, may it remind me and every little child that no matter where you're from, your dreams are valid." - Lupita Nyong'o
When Nyong'o broke out in last year's 12 Years a Slave, she brought an easy grace and elegance to awards season, which is too often bloated with big dresses, big egos, and big speeches. Her speech when she won the Best Supporting Actress Oscar earned her a standing ovation, and brought a little humanity to the Academy Awards.
'Big Brother 16'
"Frankie! That's a nice tan… But I'm surprised you get any sun at all… considering how much time you spend in your sister's shadow!" - Zingbot
Thank God for Zingbot. On Big Brother, the houseguests are isolated from the outside world, and have no idea how their behavior is playing with the audience. That is, until a certain robot lets them have it. Months after Season 16 ended, and Arianna Grande is still on top of her game. And Frankie? Nowhere to be found.
Image: CBS
'Saturday Night Live'
"It's my last show, and I just want to say being out here with my coanchers, and my dear friend, and my husband, is the perfect way to end it." - Seth Meyers
Seth Meyers spent a decade at SNL, and was the show's head writer from 2006 until his departure earlier this year. He'll probably be most remembered for his brilliant Weekend Update bits alongside "City Correspondent" Stefon—whom he married in Bill Hader's final episode on the show.
Image: NBC
'How I Met Your Mother'
"And that, kids, is how I met your mother." - Ted Mosby
Finally: nine seasons, over 100 episodes, and one mysterious pineapple later, and at last Ted's kids — and the entire audience — learned the identity of Ted's wife… only to have her die. Well, the finale wasn't the most loved episode of the series, but it finally confirmed that the architect and Robin do, in fact, end up together. Not perfect, but I'll take it.
Image: Ron P. Jaffe/CBS
The 2014 Golden Globes
Introducing Matthew McConaughey: "For his role in Dallas [Buyers Club], he lost 45 pounds — or what actresses call 'being in a movie.'" - Tina Fey
Introducing Matt Damon: "Matt, on any other night, in any other room, you'd be a big deal, but tonight — and don't take this the wrong way — you're basically a garbage person." - Amy Poehler
Two of the funniest women on Earth, sharing hosting duties, calling out sexism in the movie industry, and rocking our worlds. In 2014, Tina Fey and Amy Pohler proved that they are the reigning queens of comedy, and that's not likely to change anytime soon. They'll be back hosting the Globes again on Jan. 11, 2015.
'How to Get Away with Murder'
"Why is your penis on a dead girl's phone?" - Annalise Keating
Nine words that shocked How to Get Away with Murder viewers, and proved that, on this jaw-dropping show, no one can be trusted. As Annalise, Viola Davis is giving one of the best performances in all of ShondaLand, and we're only nine episodes into the show. How soon until Jan. 29 again?
Image: Nicole Rivelli/ABC
'Saturday Night Live'
"This week, Amal Alamaddin, a brilliant Oxford-educated human rights lawyer and former U.N. advisor, settled for a 52-year-old man." - Cecily Strong
Strong covered George Clooney's marriage exactly how every other media outlet should have.
Image: NBC
'House of Cards'
"I'm willing to let your child wither and die inside you if that's what's required." - Claire Underwood
House of Cards ' second season upped the ante on just how corrupt and devious the Underwoods could become. Claire says this quote during the premiere (while explaining to a pregnant employee how she'll terminate her healthcare). During the same episode, her husband Franks pushes his ex-girlfriend in front of a train. And still Claire emerges as the crueler spouse — just from her dialog alone.
Image: Netflix
'Scandal'
"I'm the thing that needs to be fixed. I'm the thing that needs to be handled. I'm the scandal, and the way to deal with a scandal is to shut it down." - Olivia Pope
Oh Olivia. For three seasons we've watched the fixer handle political scandals and crises with style. So it was utterly heartbreaking when she finally cracked, especially because it was Papa Pope who broke her.
Image: ABC
'Game of Thrones'
"I wish I was the monster you think I am. I wish I had enough poison for the whole pack of you. I would gladly give my life to watch you all swallow it." - Tyrion Lannister
Tyrion has always been the most well spoken character in all of Westeros. When he finally had a chance to give his devious sister and the rest of the court a piece of his mind, he certainly didn't waste the opportunity.
Image: Helen Sloan/HBO
'Saturday Night Live'
"I'm a back home baller." - The ladies of SNL, and Cameron Diaz
Thanksgiving finally has its own anthem, thanks to this hilarious music video that reminds SNL fans of the Lonely Island songs in the best possible way.
Image: NBC
'Jimmy Kimmel Live'
"I know if she was here, she'd want us to be here and be funny, and she'd probably want me to say, like, 'Nice tie. Who made it, Calvin Clown?' 'I like that shirt. Does it come in men's?' 'Oh my God, Jimmy, I love your hair. You have to tell me where you bought it.' That's for you, Joan." - Sarah Silverman
Siverman managed to be sincere, touching, and funny all at once during her tribute to friend Joan Rivers on Jimmy Kimmel Live. It was exactly the type of sendoff the legendary comedian deserved.
Image: ABC