Cleveland Cops Demand Apology From The Browns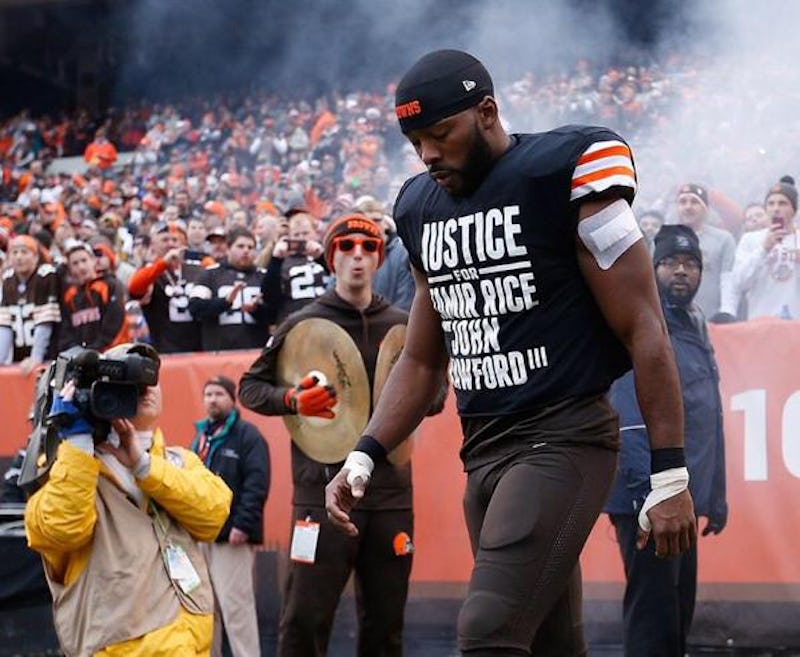 Another day, another police organization making itself look terrible. If you're a fan of the NFL, you may have noticed something before the Cleveland Browns played the Cincinnati Bengals on Sunday — Browns wide receiver Andrew Hawkins donned a shirt for pre-game introductions which read "Justice For Tamir Rice and John Crawford III," a gesture the Cleveland Police apparently didn't like. The chief of the Cleveland Police Patrolman's Association called the protest "pathetic," and demanded an apology, in what might just be the most tone-deaf statement of its kind yet.
Of course, this isn't new territory in the relationship between city police associations and NFL activist players, which is just one reason the brief statement from association president Jeff Follmer makes so little sense, and frankly, is itself so offensive.
After five St. Louis Rams players took the field displaying the "hands up, don't shoot" gesture after the non-indictment of Ferguson police officer Darren Wilson last month, St. Louis Police Officers Association head Jeff Roorda issued some similarly derogatory remarks against them, but it now seems clear that it wasn't a limited phenomenon — there's something about these visible, high-profile athletes voicing themselves that both the St. Louis and Cleveland associations simply couldn't tolerate.
It's pretty pathetic when athletes think they know the law. They should stick to what they know best on the field. The Cleveland Police protect and serve the Browns stadium and the Browns organization owes us an apology.
Now, it's just a matter of waiting and seeing what happens next. The St. Louis Rams famously got embroiled in a social media spat with the SLPOA over whether they actually did apologize for their players' protests, an argument which the association came out looking pretty petty over. The Rams did, however, donate to a St. Louis police charity after the dustup.
So, how will the Browns react? For now, at least, they're not offering that apology, as demonstrated in their statement Monday.
We have great respect for the Cleveland Police Department and the work that they do to protect and serve our city. We also respect our players' rights to project their support and bring awareness to issues that are important to them if done so in a responsible manner.
Frankly, if the Browns want to maintain positive relations with Hawkins and any other teammates who sympathize with his message, they need to stand strong on this. The incredibly rude and condescending tone of Follmer's criticism is hard to overlook, essentially telling Hawkins he's a moron for thinking he can speak to anything non-football related.
It's especially dire considering the unambiguous facts of the Crawford and Rice police shootings that nobody can dispute — both were erroneously shot dead, innocent people taken from their families at horribly young ages. Ultimately, it's an age-old refrain that you often hear when professional athletes delve into the realm of activism or protest: shut up and stick to sports.
Like the SLPOA and Roorda did with the Rams, Follmer also invoked the Cleveland Police's work at the Browns stadium as a reason they were owed an apology. That's not some sort of perk or privilege they're bestowing the Browns or the city of Cleveland, however — the job is to serve the community, and get paid taxpayer dollars to do it, not pitch fits over relatively modest shows of dissent. All around, this was a dismal moment for Cleveland police, and their members should be much more worried about Follmer's representation than disparaging their critics.
Image: RockawayYouth/Twitter