Matt Bomer Says 'White Collar' Isn't Really Over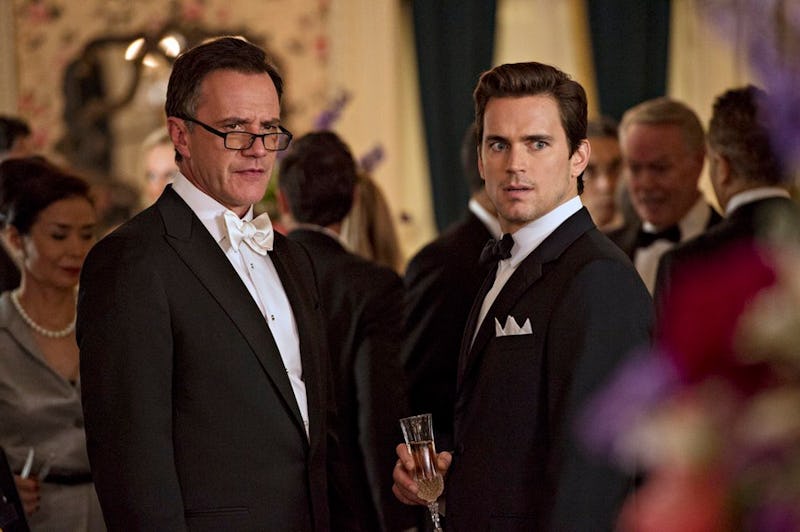 By no stretch of the imagination am I ready for the White Collar series finale, "Au Revoir," on Dec. 18 because, well, after six seasons it's truly hard to say goodbye. Trust me, I feel you on this, White Collar fans. But it does help to know that, when I spoke to series stars Matt Bomer and Tim DeKay during an audio junket, they assured me the White Collar series finale will be exactly what we're hoping for. It's exactly how they were hoping for Neal and Peter to say goodbye to their perfect bromance.
DeKay says about the upcoming finale that fans are waiting on edge to see, "I'm very satisfied with the ending of the series. I feel that we gave a great exciting twist and ending that will surprise, I believe, everyone."
So, how will it end? The actors who make up the series' signature bromance did tell TVLine that White Collar will leave "a lot up to the viewer's imagination," and that many of our long-burning questions would be answered in the show's final hour. And, while Bomer and DeKay couldn't give much away as to what will happen to Peter and Neal once White Collar fades to black on Thursday night, they did chime in on what the future might hold for our beloved Neal Caffrey and Peter Burke. DeKay tells Bustle a little about Peter after the finale, "I know exactly what my character would do right as soon as the episode goes to black," the actor says, "I know exactly what happens the next day for Peter Burke." Maybe quitting his job at the FBI and becoming a full time dad?
And what about the con-artist who won over all of our hearts? Bomer hints that the White Collar ending might be the answer to all of our wildest dreams for Neal Caffrey. "But what if they're the same thing?" he says when asked about how his wildest dreams for Neal's post-White Collar life measure up to the finale itself. The actor also teases what will absolutely be a fitting cliffhanger for the series, "I'll tell you I think the writers did an incredible job creating somewhat of a cliffhanger," Bomer says of the finale.
Bomer and DeKay also weighed in on what's made Peter and Neal's bromance easily the best relationship on television — mutual respect and an attraction to one another's lives. "My favorite thing was that as different as they were, there's always something that Peter had that Neal wanted," Bomer shares about the characters' six-season, inimitable, and evolving friendship. The actor also says of Peter and Neal as a team, "They kind of stretched each other's boundaries but also respected certain aspects of the other person's life." Mostly referring to Neal's unwavering respect for Peter's life outside of his job, even when he doing something a little shady.
For DeKay, Neal and Peter's relationship works because they're both so extremely interested in one another. The actor says, "I think I don't if I've ever said this but it just hit me now listening to Matt is that — and I don't mean this in a certainly a romantic sense — but the two of them were very attracted to each other's lives." On some level, Neal was attracted to Peter's morally standard life and, at the same time, Peter was attracted to the danger and unpredictability of Neal's less-than-legal existence. And that's what kept them together and drew viewers towards them for the past six seasons of White Collar.
The series finale will air on Thursday, but Bomer and DeKay are, unsurprisingly, interested in reprising their roles for a film version of White Collar. Neither of the stars could confirm whether or not there's a possibility for more White Collar in the future, but Bomer offers this much, "If they came to us with the proposition then I would definitely want to do it just to get the chance to work with Tim and Willie and Marsha and Sharif and Tiffani again." So, USA, it's time to ask yourself: What would Peter and Neal do? One last con might be exactly what we all need.
Images: David Giesbrecht, Eugene Gologursky/USA