Jen Posed Topless With Another Man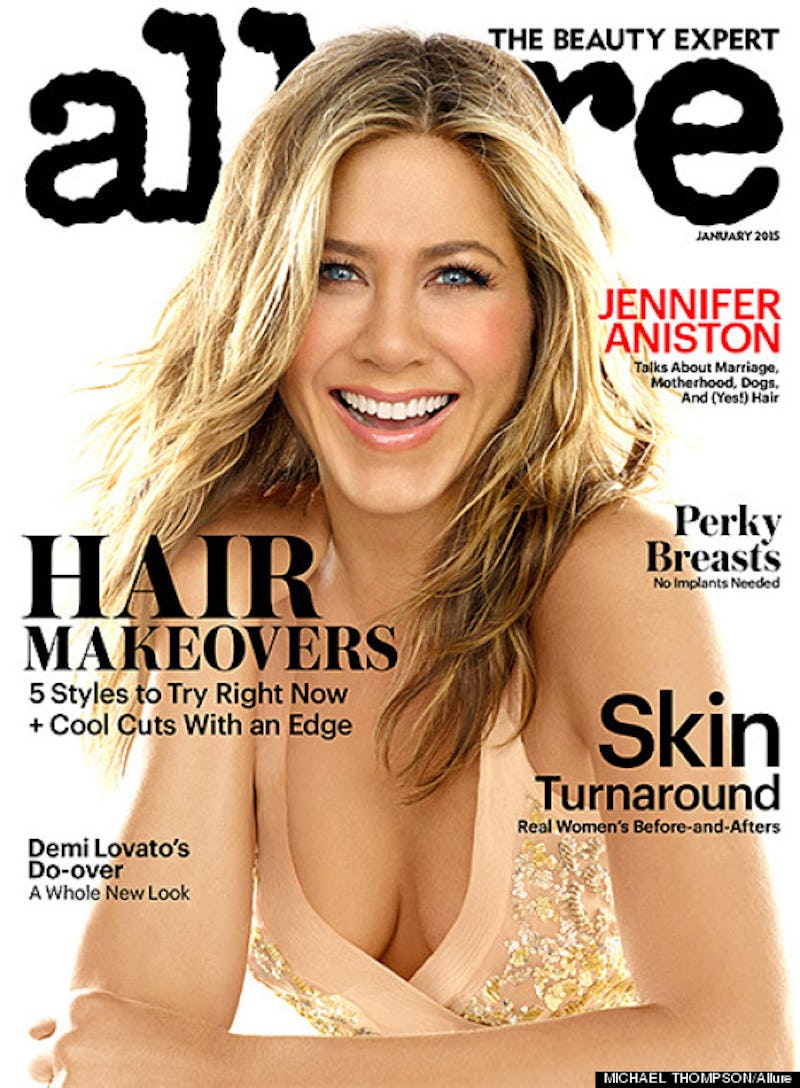 Wait — who's that guy? Jennifer Aniston is on the cover of Allure, and she's not only posing topless in the inside editorial, she's posed with a man who is certainly not her fiancé, Justin Theroux. So what gives?
For the magazine's January issue, Aniston posed topless while embracing another dude who is also without a shirt. But don't worry, all is well in Justin and Jen land. The man in the photo is only her hairstylist and longtime close friend, Chris McMillan (the man who created "the Rachel," in case you forgot). The photo shoot is sexy, to say the least, featuring the Golden Globe nominee in a pair of tight jeans, and rocking some pretty wild, undone hair that, well, let's just say "bed head" would be a classy euphemism to describe it.
Though the cover is slightly more covered up, the Horrible Bosses 2 actress still bares a fair amount of cleavage in a low-cut pink top with glitter detailing, and has her hair in it's signature tousled waves with minimal make-up. Though Aniston's cover has been criticized for being stereotypical and a cover seen a thousand times before according to The Fashion Spot, I personally find it refreshing that Jen always looks like herself and hasn't succumbed to pressure and tried to look like someone she's not. And please, when you're 45 and look like that — you can style yourself any way you darn well want to.
Images: Allure; HuffPoSpoilers/Twitter