The Ultimate Urban Decay Gift Guide — For Every Glitter or "Pulp Fiction" Aficionado Out There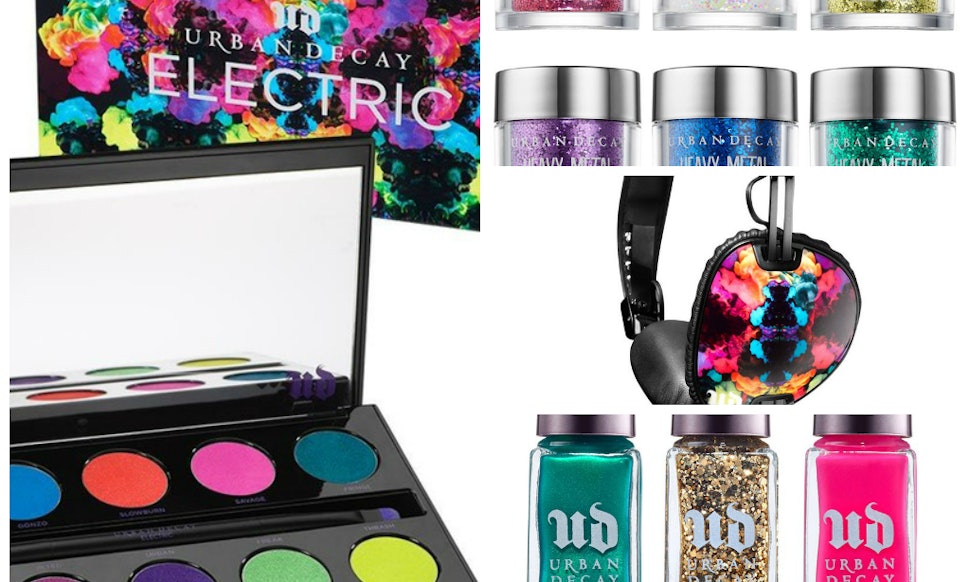 Gift-giving can be super-stressful — trying to find the perfect thing for everyone on your list while battling long lines and hectic stores makes it tempting to just give everyone coupons for a massage or buy the whole lot gift cards. Why fight the crowds at the mall when you can slip into your coziest pajamas, pour yourself a glass of wine and take care of most of your list online right now? Giving beauty products as gifts can seem dicey, but Urban Decay has a little something for everyone from your makeup minimalist mom to your music-obsessed little sister. There are universally-flattering shades for your Secret Santa gift swap and also cost-effective options for the people you want to make think you spent more money on them than you actually did.Swiping left on this list is more effective and productive than (and almost as fun as) Tinder.
For the Woman Who "Has it All"
What better gift to give the busiest woman in your life than the ability to do pretty much an entire face of makeup in a portable square? Laundry, date night, meetings and play dates are no match for the convenience of this little lifesaver.Naked on the Run, $54, urbandecay.com
For the Lipstick Fanatic
I regularly leave the house with my full "look" of mascara and lipstick and nothing else. Up your lip-loving friend's color game this year with a collection of new favorites.Full Frontal Lipstick Stash, $39, urbandecay.com
For the Professional Beauty Daredevil
Is there a more exciting way of playing with color when you have a professional dress code than colored eyeliner?Ten — 24/7 Glide-On Pencil Set, $29, urbandecay.com
For the Color Fanatic
These vivid shades will please even the most demanding color-crazed friends or family members. ELECTRIC Pressed Pigment Palette, $49, urbandecay.com
For the Cat-Eyed Queen
There's no greater gift for a cat eye aficionado than a tool that helps them keep their cosmetic of choice sharp and accurate. Grindhouse Double Barrel Sharpener, $10, urbandecay.com
For the Funnest Babe You Know
The life of the party deserves some equally exciting eyeliner to make their eyes as much the center of attention as they are.Heavy Metal Glitter Eyeliner, $19, urbandecay.com
For the Commitment-Phobe
We all have that person in our lives who just can't stick to a decision — or an eyeshadow. Give them the gift of many choices. Shadow Box Eyeshadow Palette, $34, urbandecay.com
For the Music-Lover
Sure the earbuds that come with your phone or MP3 player are fine, but doesn't your pal who is addicted to music deserve something pretty and functional? Thought so.ELECTRIC Skullcandy Headphones, $100, urbandecay.com
For the Nail Art Artist
They already have a huge collection of polishes and brushes, but help them take their designs to the next level with some loose glitter. Heavy Metal Loose Glitter, $12, urbandecay.com
For the Workout Enthusiast
The only thing better than a personal trainer for your most active buddy is the gift of non-running makeup. Makeup setting spray can help them go from yoga to the office without having to reapply. All Nighter Over Nighter, $32, urbandecay.com
For the Minimalist
Whether they're makeup shy or just don't have an affinity for adorning their face with colorful things, this double-duty lip gloss will mix function and shine.Naked Ultra Nourishing Lip Gloss, $20, urbandecay.com
For the At-Home Manicurist
They love polished nails, but aren't exactly nail art pros. This set of three perfectly coordinated shades will allow them to play with some color without getting too complicated. ELECTRIC Nail Color Trio, $9, urbandecay.com
For the Effortless Beauty
This lip pencil is a personal favorite because it makes applying lip color truly effortless. Give this to the person who makes looking good seem as effortless as this product.Pulp Fiction — 24/7 Glide-On Lip Pencil, $20, urbandecay.com
For the Classic Beauty With an Edge
The shades may be neutral and classic, but the Pulp Fiction edge makes this palette anything but ordinary.Pulp Fiction Eyeshadow Palette, $16, urbandecay.com
For the Friend Who Looks Good Naked
All bodies look good naked! This illuminating powder is perfect for the friend who is always showing off their legs or cleavage and wants to draw a little extra attention to the magnificence. Naked Illuminated, $29, urbandecay.com