Inside The First-Ever Upstart Awards!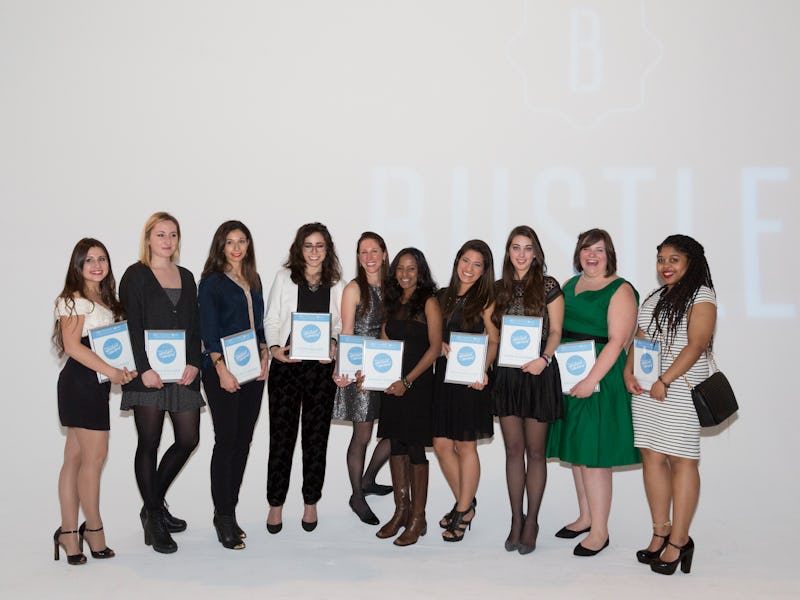 On Tuesday night, Bustle and Microsoft invited friends and partners to celebrate our first-ever annual Upstart Awards in New York (see photos from the night here!). The packed awards event honored 13 2014 graduates who have already made an impact in their respective industries, making us all question our post-college decisions even more than usual. (These women are changing the world after graduation; we barely changed our sheets.)
The winners are: Gina Vasquez and Viviana Bonilla Lopez for photography; Steph Wasser, Kristina Saffran, and Liana Rosenman for non-profit; Julia Wollner for fashion, Indrani Kopal and Janaya Greene for film; Krista LaBella for art; Jess Zutz Hilbert and Tiffany Gaines for entrepreneurship; Charlotte O'Sullivan for performing arts; and Jess Friscia Watkins for science.
Attendees enjoyed passed hors d'oeuvres by Amoraco Catering including chicken empanadas with tomatillo salsa, spinach and feta triangles, sliders on baked brioche with red pepper relish and irish cheddar, as well as desserts by Jars by Dani. Glitter-bedazzled memories were made at the GIF photo booth.
Read more about the awards program in our announcement, and get to know the winners on the Upstart Awards page.
Cocktails for the party were provided by Grey Goose.
Gift bags for winners and attendees included products from ModCloth, Calvin Klein fragrance, Red Duck Foods, Dormify, Olay Fresh Effects, FLOWER, Diane Muldrow's Everything I Need to Know I Learned From a Little Golden Book, and quarterly magazine A Women's Thing.
Thanks to all who came out and celebrated with us, and congratulations to the winners, who are sure to impress us even more in the year to come!
Images: Frances F. Denny