A-Squared's Sing-Off Performance Was Unique Thanks to Their Use of Technology But Could Annoy A Cappella Purists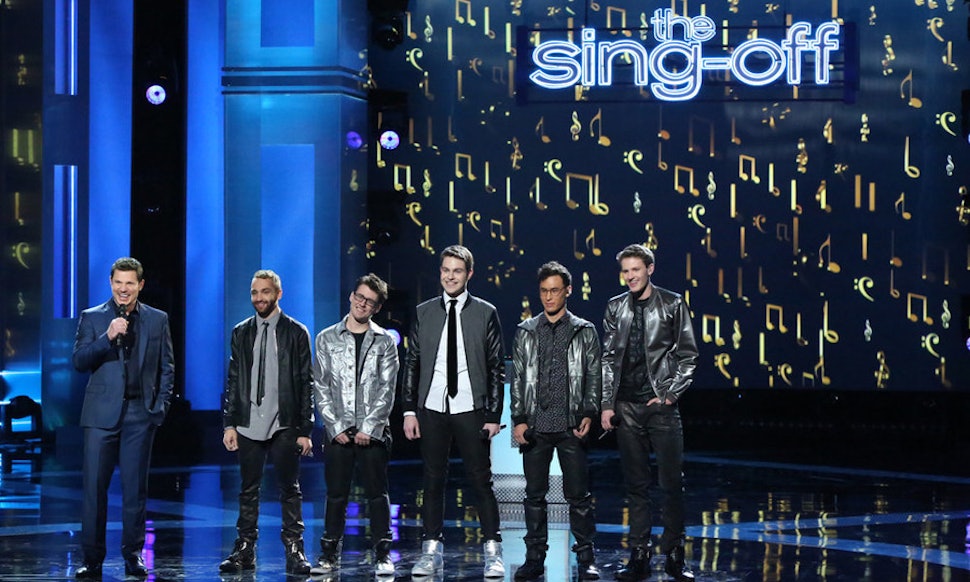 One night only! Much like Dreamgirls and Lil Wayne among others, NBC's a capella competition sensation The Sing-Off is back for Season 5 just in time for the holidays in a one-night, two-hour long special. Unlike previous seasons, Wednesday night's Season 5 of The Sing-Off featured six a capella groups from around the country as they tried to make it through one night of competition to be crowned the winner and join other popular groups like Season 4's winners Home Free and arguably the most memorable group of the show's history, Season 3's winners Pentatonix. Seriously if you haven't heard of them yet, go on YouTube right now. I don't mind waiting. Because this season is so shortened, it seems like the only way to really be as entertaining as the series has been in the past is if the groups are more exciting right? Well that's definitely true of A-Squared an exciting and possibly slightly controversial new type of a cappella group.
So why do I say that A-Squared is controversial? I mean it only the purest sense of the term a capella as the group actually turns the normal, standard of a cappella choirs on its head. The group, which is made up of a bunch of guys who met at Yale, sings into an orb which allows their voices to be looped while they are singing live. So nothing is pre-recorded but sounds like it is thanks to the well-rounded sound being produced by the orb's looping technology. The use of technology can also be a risk because if any of the singers make a mistake pitch or otherwise, the tech loops those mistakes over and over throughout the performance.
a.squared on YouTube
A-Squared performed "Pompeii" by Bastille, and did a pretty great job with the song. They proved that their use of technology was definitely innovative. However, at times the technology was used too liberally, the point of a cappella is to be able to sing choruses, music and all of the repetitive moments of a song. Being able to do it perfectly every time is extremely difficult and impressive when a group is able to nail it. The use of the technology also became overwhelming at times as new judge Patrick Stump from Fall Out Boy pointed out. Unfortunately, the judges all felt this way in the end as the group did not make it past the first round of the competition.
But as Jewel stated in her review of the performance, the group was an impressive bionic one, half man and half machine. If A-Squared is able to use the technology as a novelty, as not their main source of singing but as the enhancement I assume that they created it for in the beginning, there's nothing they can't do in the future. They'll be huge and they'll change the a capella game. This group, along with Pitch Perfect could make a capella cool again.
Images: Evans Vestal Ward/NBC