7 Days of Christmas Socks, Because Nothing Gets You More In The Holiday Spirit Than Red and Green Stockings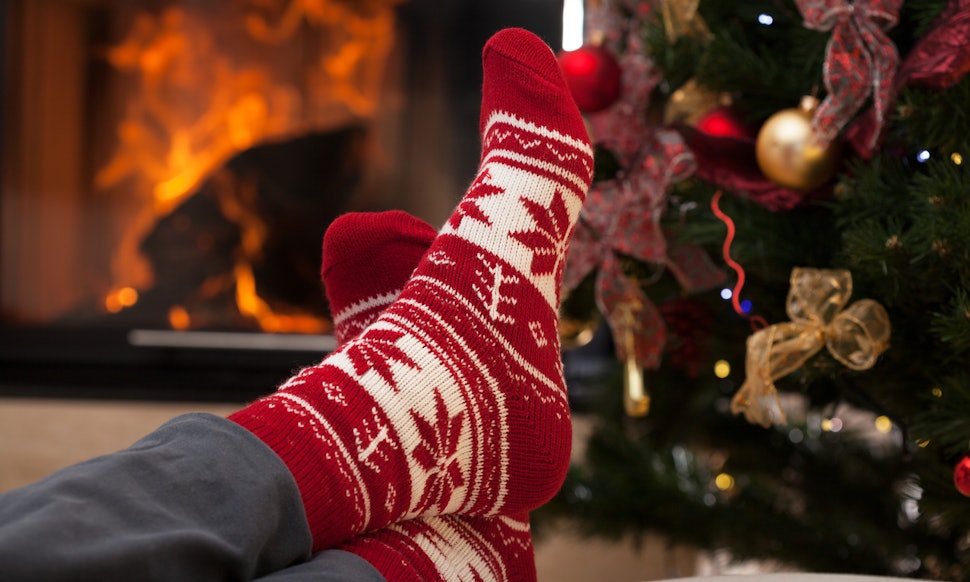 There's only one week left until Christmas and you're still not feeling the holiday spirit — even evenings with ABC's original Christmas movies are somehow not doing it for you. But I know what will get you in the mood: a good pair of Christmas socks.
Months spent saving for gifts, elbowing your way to get the last copy of Taylor Swift's 1989 album combined with the stress of finding the ugliest sweater to wear the office Christmas party tends to distract from the butterflies-the-stomach feeling. Panic no more. There is one surefire way to get in the spirit in the little time left, and that's some red, green, and jingle bell'd stockings.
It has always been an unspoken rule in my family to begin wearing Christmas socks starting December 1. And every year, everyone would expect to get a new pair of Christmas-themed socks in their stockings to add to the collection. We can't be the only ones, right?
I firmly believe, through some sort of magical osmosis, the Christmas spirit travels from your feet all the way up to your heart with each step. Try rocking these affordable bad boys for the week leading up to Christmas and become overwhelmed in the holiday spirit.
Image: Photographee.eu/Fotolia
For the Christmas Cheer Beginner
These socks are a little on the safe side. They say you want to get in the holiday spirit, but are afraid of what could happen when you let go of your inner-Scrooge.
Christmas Striped Lounge Socks, $5, Rue21
For the Office Party
You want these socks to be seen. They're long enough to be worn over tights or leggings and still peek over the top of even knee-high boots. Perfect for an office party, or any other boozy festive occasion.
Charter Club Reindeer Print Socks, $4, Macys
For Christmas Day
Don't you dare cover these reindeer with shoes — and not only because it would be close to impossible. Donner and Blitzen (or whichever combination of Santa's reindeer) from are meant to be seen by all. Wear these socks all day on Christmas Day and expect to be the topic of conversation.
Christmas Socks For Girls, $7, Aliexpress
For the Theme-Driven Family
Each member of my family has a Christmas symbol. And each year, we get presents according to that theme. I have received more snowmen ornaments and socks than I can count on my hands and toes. If you're family is as crazy as mine, stuff each of your siblings stockings with the many themed socks from Absolute Socks.
For the Cat Lover
The love for an cats tends to have no bounds, even when it comes to the holidays. Gift these to your friend who can't seem to walk out of her house without wearing at least one garment with a cat on it. Or if that's you, buy yourself a pair.
All I Want For X-Mas Socks, $11, Sockittome
For the DIY Enthusiast
Oh, how I envy you. If you need another excuse to show-off your talents, or just want to save some money (or, you know, both), knit yourself some themed socks. In fact, knitting your own socks, or gifts for a friend, might help put you in the Christmas spirit.
Image: Meliha Gojak/Fotolia
For the Christmas Spirit Pro
You could literally jingle Christmas' bells with every step. But I should warn you, these are not for the faint of heart. If you're making these yourself, don't stop for anything. Glue ornaments, bells, bows, ribbons and a stale Christmas cookie to some old red socks. Wearing these will get you in the holiday spirit quicker than Clark Griswold's sled.
Image: Wacky Tacky Whoville Inspired Stocking, $35, Etsy