'Smash's 'Bombshell' Musical Will Be Real Soon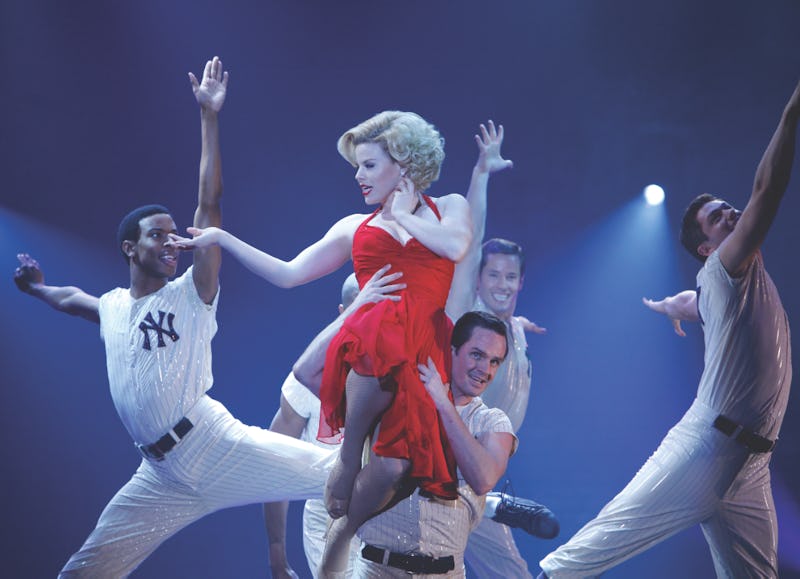 In news that should have happened more than two years ago, Smash 's musical Bombshell is coming to Broadway. Yes, the fictional Marilyn Monroe-centric show is happening in New York City in 2015, but unfortunately, it's for one night only. On June 15, the fictional musical will come to life in a concert benefitting The Actors Fund, and hopefully Katharine McPhee (Karen) or Meghan Hilty (Ivy) will be at the head of the show. On Smash, their characters battled for the part before Ivy ultimately opened the show on Broadway. Season 2 wasn't the best, but it also gave us fictional musical Hit List (starring Karen), which did a one-night concert event with Jeremy Jordan, Andy Mientus, and Krysta Rodriguez in 2013. Since McPhee didn't show up for that one, there's no guarantee she or Hilty will be in the Bombshell concert, but here's hoping.
We heard 22 original songs from the musical throughout the show's two seasons, and it would be amazing to hear all of them in order at the concert. However, if they have to cut it down, "Let Me Be Your Star" is a must, followed closely by "History Is Made at Night," "The 20th Century Fox Mambo," and "Don't Forget Me." And if they can get Bernadette Peters, Christian Borle, Debra Messing, Anjelica Huston, and Will Chase to show up, even better. Here's a Season 1 clip to remind you of what Smash was all about.
Image: NBC