The Sneaky Way to Get SPF This Winter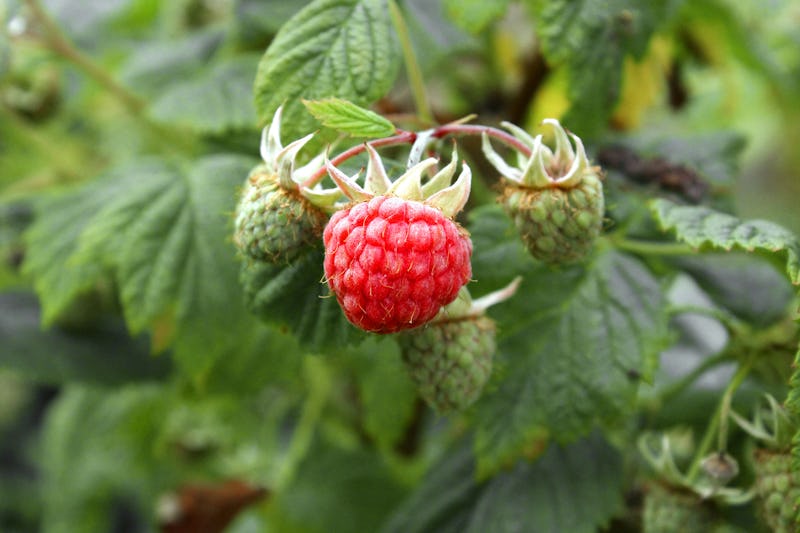 Contrary to popular belief, the winter months shouldn't be an excuse to shed your regular sunscreen. If the idea of slathering on a thick white cream sounds pointless if you're just going to cover everything up, there are lighter alternatives, like raspberry seed oil, that are still packed with SPF. Just because it's cloudy doesn't mean your skin isn't being subject to harmful UV rays — in reality, those sun rays that are damaging to our timeless complexion are present for 365 days a year. I'll be honest with you, as soon as November rears its ugly, rainy head, I'm soaking up all the vitamin D I can since it's essential to my mental health and my skincare. Sunscreen is actually one of the most underrated wrinkle prevention agents we have, which means you definitely want an essential oil that's going to keep you protected all year round without clogging up your pores or making you more oily then nature intended you to be.
Enter raspberry seed oil. I've actually been seeking out the purest form of this oil for several months after using the bottle I had in an emergency sunscreen for my bestie this summer. The thing is, she needs to be protected all year round and there isn't a better way than a light-weight, highly therapeutic oil. That's why raspberry oil is literally one of the best discoveries in my skin care routine that I've made all year.
I'm a huge fan of the rose family — HUGE. So, I wasn't surprised to learn that raspberry seed oil comes from the trustworthy rose family filled with antioxidants and vitamin C that were an effective dream come true for this aging DIY beautician. This winter, I intend to be returning to the slopes whether I'm on skis or a snowboard, which means sludging through harsh winds and high altitude. The only beauty product I'll need while I'm bundled up on the mountains is a moisturizer with a high SPF — and raspberry seed oil is a natural oil with an SPF of 45 (depending on the purity). If I mix it with my fave natural UV protectants? I'll be totally protected from that harsh sun.
Raspberry seed oil has way more to offer than sun protection: It's highly anti-inflammatory, which makes it great for treating acne. Plus, it's got loads of antioxidants, vitamin A, C, and E which are essential in maintaining a wrinkle-free life. Not only can all skin types benefit from that, but your skin will really be stoked when it experiences the fiber, magnesium, and potassium that OTC ingredients tend to lack.
Considering all the nutrients, antioxidants, astringent properties, and salicylic acid found in raspberry seed oil, you won't be shocked to learn that Dr. Oz has named raspberry seed a miracle in a bottle. There are very few products under 10 bucks that can alleviate acne, eczema, rashes, and protect you from the sun like raspberry seed can.
I couldn't wait to incorporate raspberry seed oil into my own skin routine after seeing how well it worked in a sunscreen. If you are looking to truly geek out on an oil, this is the oil to do it with: It's incredibly diverse and great for all skin types. These are just a few ways I'm getting all up on raspberries this winter.
1. Lip Balm
Plant Guru Raw Cocoa Butter, $16, Amazon; Living Foods Coconut Oil, $24, Amazon; Murray's Beeswax, $11, Amazon; Raspberry Seed Oil, $10, BeautyOils
A natural lip balm is essential all year round, but particularly for those dryer months when chapped, cracked lips seem to plague all of us. Raspberry seed oil, being a great healing agent, is an essential ingredient in your DIY lip balm to avoid sun blisters and have a smooth, kissable mouth. Here's what you'll need.
1 tablespoon beeswax
1 tablespoon coconut oil
1 tablespoon of raw cocoa butter
1 teaspoon of vitamin E
4-5 drops of raspberry essential oil
First, I melt down my cocoa butter over low heat in sauce pan. Then I take the rest of my ingredients and blend together off the heat. Store your new lip balm in a sealable container for future use. I like to keep mine in a tin jar so that my essential oil is protected from bright lights and therefore doesn't spoil.
2. Moisturizer with Sunscreen
Plant Guru Raw Cocoa Butter, $16, Amazon; Living Foods Coconut Oil, $24, Amazon; Murray's Beeswax, $11, Amazon; Buckthorn, $14, Amazon; Raspberry Seed Oil, $10, BeautyOils
I'm all about protecting my precious face from anything that's going to age me 10 years. That's why I was stoked to add raspberry seed oil to a natural moisturizer. I use 1/4 cup of coconut oil as my base, one tablespoon of mango butter and one tablespoon of zinc oxide, then I add a teaspoon of beeswax and a few drops of sea buckthorn oil and a few drops of raspberry seed oil. This is definitely a thick enough moisturizer to keep your skin soft through harsh temperatures. Though I wouldn't feel confident in giving you the exact combined SPF of these ingredients, each of these ingredients have their own proven protection from UV rays. Plus, no nasty chemicals!
3. Raspberry Oil Control Mask
Trader Joe's Organic Raw Honey, $14, Amazon; Raspberry Seed Oil, $10, BeautyOils
Don't you love it when the same oil that fights dry skin is also going to help you balance the production of oil? Yup! Take manuka honey and add a few drops of raspberry essential oil and massage into your skin. Leave your mask on for about 10 minutes before rinsing off with warm water. If astringents are more your jam, then add a few drops of raspberry seed oil to witch hazel OR vodka and you'll turn a somewhat harsh astringent into a soothing experience for your face.
Image: Nick Collister/Flickr; Giphy; Kristin Collins Jackson