These Gingerbread Houses Are Truly Epic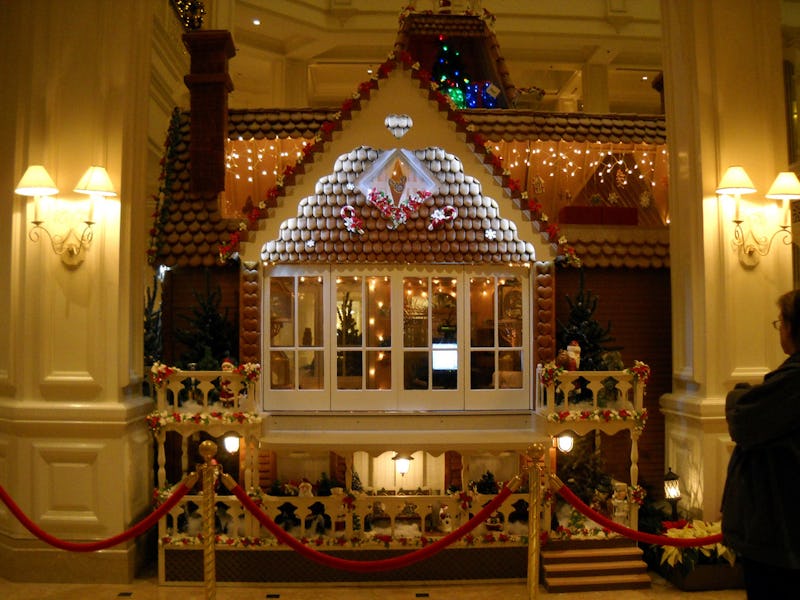 When I was a kid, a truly epic gingerbread house occupied the main atrium of my hometown public library every holiday season. I already loved going to the library — books are one of my favorite things in the world, and always have been — but the gingerbread house? That made my almost-weekly visits even better. It just wasn't the holidays without it, and nothing else made me feel quite so excited about the season.
Even though it's been over 10 years since I moved away from the suburban Massachusetts town in which I grew up, gingerbread houses still fill me with glee. I'm terrible at making them myself — I lack the steady hand and presentation skills required for a successful one — but I remain in awe of those who can. As such, you can probably imagine how excited I was today when I stumbled upon a huge collection of phenomenal gingerbread houses circulating the Internet. It started with an edible tribute to the famed architect Antoni Gaudi; then Martha Stewart took it upon herself to demonstrate how to make a Downton Abbey- themed treat; and when I hit Imgur up to see what sorts of things other people have come up with? Jackpot.
So here. Since we're deep in the midsts of Hanukkah and mere days away from Christmas, have a whole bunch of amazing gingerbread houses that are quite literally too pretty to eat. I applaud you all, gingerbread house makers of the world — you are a truly impressive bunch. May your days be full of gumdrops and joy, both during the holidays and beyond!
1. The Gaudi House
Created by Modern Cuisine, this sugar-and-spiced masterpiece was designed to ape Gaudi's Casa Batlló in Barcelona. The pieces were cut by laser, so it's unlikely your average at-home baker would be able to recreate it — but it's still marvelous, don't you think?
2. The Burrow
I always imagined the Weasley family's home as looking like a giant and slightly unwieldy gingerbread house anyway, so this one is only to be expected.
3. St. Peter's Basilica
For the devout Catholics in your life. Or the lapsed Catholics. Or, y'know, just anyway who appreciates a good scaled-down replica of one of the most famous buildings in the world.
4. The Shire
There are also a few houses that represent Bag End in particular, but I kind of dig this one for the breadth of its design.
5. The Eye of Sauron
Or you could always go with Barad-dur. That works, too. This one won a competition in Finland.
6. Highclere Castle
Martha Stewart teamed up with PBS this year to create a gingerbread house in the shape of Highclere Castle, where Downton Abbey is shot. The video seen here is the final in a series of four; to watch 'em all, head over to Gothamist, who kindly assembled them into one handy post. Mrs. Patmore would be proud.
7. The Millennium Falcon
OK, so technically this one isn't a house… but come on: Is there anyone out there who would say "no" to a gingerbread spaceship? No. No, there is not.
8. The House of the Mouse
I've been fortunate enough to be able to witness the holiday decorations on a couple of different Disney properties over the years; they're always terribly impressive, but the edible creations that adorn the lobbies of most of the Orlando resorts really take the proverbial (and literal) cake. I haven't seen this one, displayed at the Victorian-themed Grand Floridian, in person — but the one at Disney's Boardwalk took my breath away.
9. The Derek Zoolander School for Kids Who Can't Gingerbread Good
What is this? A school for toy soldiers?
10. The Scale Replica
These folks created a gingerbread version of their actual house. There's nothing like an edible version of your own home to add a little something extra to the holidays.
11. The Life-Sized Creation
Apparently this one is from a place in Oklahoma City called Ingrid's Kitchen. It's kind of what I imagine the witch's cottage in "Hansel and Gretel" would look like IRL.
12. Carl Fredricksen
Up seems to be a popular theme. I particularly like the mini-marshmallow clouds on this one.
13. Transformers: Gingerbread in Disguise
More than meets the eye, indeed.
14. Rawr!
And if your gingerbread house kind of falls apart while you're making it? No worries — just add a dinosaur and everything will be fine.
Images: holytoastr/Flickr; Imgur (12)