12 Books You'd Find In the Grinch's Icy Lair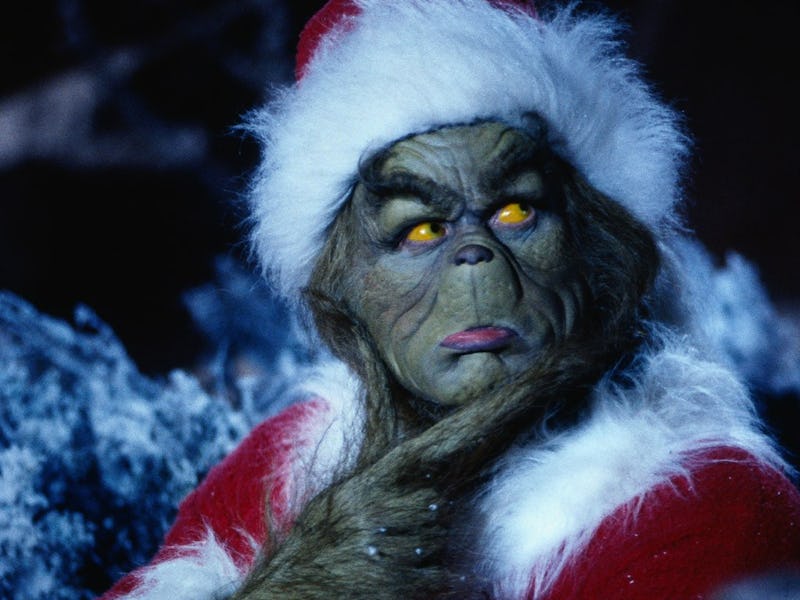 Oh, The Grinch: a staple of all of our Christmases. We know lots about him when it comes to this time of year, right? I mean, let's review: the Grinch is a simple man. He likes the cold, his best friend is a dog, and he enjoys seeing his neighbors miserable. He steals things just to see his victims in pain. The Grinch wants to remove all traces of joy from his community because it annoys him.
Luckily, however, his neighbors, the Whos, take pity on his appalling dump heap of a soul, and they welcome him with open arms. Then — dun dun! — his heart, full of unwashed socks, grew three sizes and everyone lived happily ever after. (I wonder if once his heart grew, the socks were then clean? Doesn't matter.)
Besides rereading The Grinch, which everyone loves doing around this time of year, I always had fun imagining what this man was really all about... y'know, outside of the Christmas season. How did he spend his time when he wasn't stealing wreaths and the roast beast? Did he watch TV? Was he an advanced yogi? He was probably a drinker, right? I can't imagine a man so miserable would refrain from drowning his sorrows in a glass of whiskey. Or maybe he just liked to read, with his dog Max curled up next to him. Yes, I bet the Grinch enjoyed the cozy life.
So, if he were a bookworm, what might we find in his library? And how would the titles change once his heart three sizes? I went ahead and figured it out myself.
The Grinch's Library, B.T.C. (Before THAT Christmas)
Alexander and the Terrible, Horrible, No Good, Very Bad Day by Judith Viorst
The Grinch would get joyfully wrapped up in a story about a boy whose day is a complete and utter disaster. Everything goes wrong, and just when it seems like nothing could make it any worse, somehow even more things go wrong.
People I Want to Punch in the Throat by Jen Mann
Author Jen Mann has no filter in life. She says what's on her mind and she does not hold back, even when it could get her into trouble. The Grinch is the same way and has much respect for that kind of communicative approach.
Game of Thrones Series by George R. R. Martin
He thinks the Starks are pests and he fully supports King Joffrey's reign. He is as depressed after the Purple Wedding as the rest of us were after the Red Wedding.
Bedtime Stories for Children You Hate by Antoinette Bergin
Includes titles like, "Your Upstairs Neighbor Kills People" and "Blood in the Sink." This book is hilarious and not intended for children, which means The Grinch will read them aloud to all the young Who girls and boys he can find.
The 48 Laws of Power by Robert Greene
The binding is worn and several chapters have notes and highlighted sections. The Grinch's personal favorite is Law 15: Crush Your Enemy Totally. He can quote it in his sleep.
Fury by Koren Zailckas
He got this book thinking it was a celebration of inner rage and toxic relationships, and then was disappointed to discover that this was a very real and vulnerable journey from new sobriety to emotional health. He stopped reading once she became self-aware and wanted to be a better person.
The Grinch's Library A.T.C. (After That Christmas)
The Hidden Power of Kindness by Lawrence G. Lovasik
Now that The Grinch is full of feels, he wants to understand how to treat the Whos with the same level of kindness with which they have treated him.
A Christmas Carol by Charles Dickens
The Grinch could totally be twinsies with Ebenezer Scrooge, and his harrowing journey with the three ghosts leading to his ultimate transformation is inspirational to the Grinch. Change IS possible.
The Notebook by Nicholas Sparks
Because Betty Lou Who lent it to him and told him he wouldn't be able to read it without crying a million tears of love. He read it, and she was right.
The Happiness Project by Gretchen Rubin
It's all part of his New Year's Resolution to become a better neighbor, friend, and the best Grinch he can be.
Beauty and the Beast by Jeanne Marie Le Prince de Beaumont
The Grinch is focused on his internal makeover, but eventually he'd like to settle down. He takes comfort in this fairytale of a monster who found someone to love him despite his physical appearance.
How to Win Friends and Influence People by Dale Carnegie
Sure, he's got the extra-large heart now and he carved the roast beast for everyone at the Christmas feast, but old habits die hard and he wants to make sure the evil within him has been fully exorcised.
Image: Grinch/MGM Television