The Nicki Minaj Make-Under Charted in 10 Photos That Show a Serious Transformation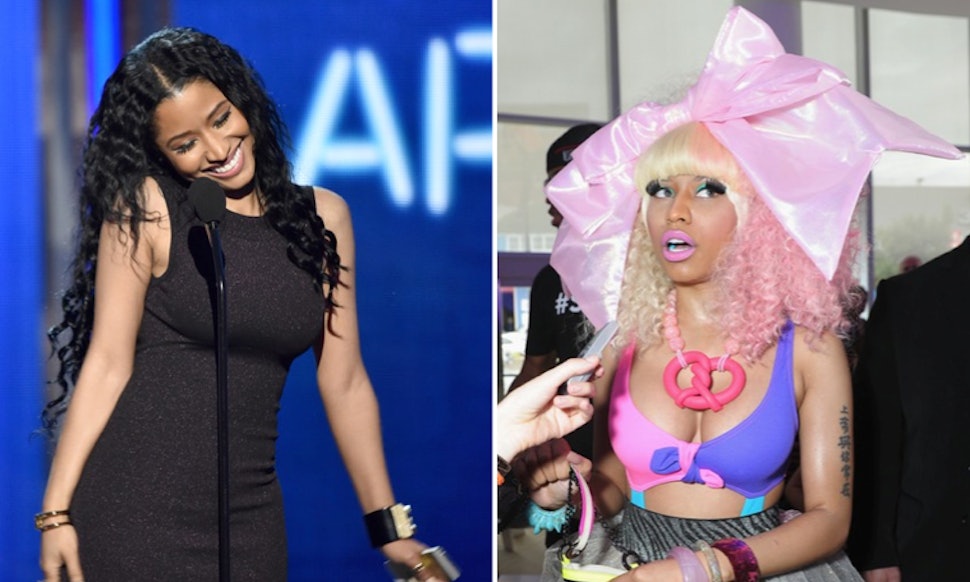 Like a chrysalis of punchlines and flow, Nicki Minaj has metamorphosed from a candy-colored hip-hop zephyr to a magnificently sultry boss. 2014 was unequivocally the year of the Nicki Minaj make-under, an oft-deconstructed and discussed topic. A few short years ago, Nicki could be consistently depended on to show up at a red carpet in a genuinely bonkers outfit. Trading in her glittery tutus and for LBDs, she added a new chapter of to her style autobiography this year. I'd call that chapter: "HBIC:Classic."
With that in mind, I've assembled a series of diptychs comparing Nicki Minaj's previous looks to her fashion this year. Because from Pink Friday to The Pinkprint, Onika's style game has gone through a serious transformation.
Image: Getty Images (2)
MTV VMA's: 2011 vs. 2014
The cyborg bustier and accompanying accessories that Nicki wore to the 2011 VMAs is an ensemble that will live in infamy. Just three short years later, she graced the very same red carpet in an python-print sequin Saint Laurent sheath that was jaw-droppingly classic.
IHeartRadio Music Festival: 2011 vs. 2014
Another hallmark look of Nicki's tchotchke phase is this 2011 getup featuring galoshes, patterned tights, and a fried-chicken necklace (that I would totally wear, to this very day). Her 2014 IHeartRadio Music Festival look incorporates Nicki's signature sense of humor and opulence, but with way, way less hot pink.
American Music Awards: 2010 vs. 2014
I'll always love Nicki's 2010 AMA's dress. It's like an exoskeleton covered in glitter and jewels. Although decidedly less flashy, this year's look was still a home-run: a horsehair minidress that represents the perfect funky spin on the LBD.
Billboard Music Awards: 2011 vs. 2014
Oh, the golden age of the Barbz. From the pink hair, to the sequin-embellished panels snaking up her legs, Minaj was really working the human Barbie conceit in this look. Her 2014 look was more special edition black tie Barbie. That is, if you ignore the underboob.
BET Awards: 2012 vs. 2014
The simple black tank dress that Nicki wore to this year's ceremony was a far cry from the mixed print ensemble she rocked in 2012. "Yowza!" Is what I would say to both of these outfits, if I were a perky cartoon cat.
MTV Movie Awards: 2011 vs. 2014
This year, Nicki made a habit of rocking floor-length black dresses. Her MTV Movie Awards outfit from 2011 at least looks like it would belong to the same person.
American Music Awards Performances: 2011 vs. 2014
Ever the master of theatrics, Minaj took the AMA stage in 2011 in this mecha-jumpsuit. She literally had an outlet in her stomach so that you could charge her. But this year, she wore a stripped-down white gown fit for a jazz singer in a piano bar (or a really stylish bride).
New York Fashion Week: 2011 vs. 2014
The tutu & bikini top combo that Nicki wore to Prabal Gurung's 2011 show and the crop top/ pencil skirt combo from this year's Alexander Wang presentation don't really look like they would hang out. But at least they're both two pieces. They have that in common.
Fashion Week: 2011 vs. 2014
2011 was a great year for Nicki's pretzel necklace which made an additional fashion week appearance at Betsey Johnson's New York show. Years later, the most prominent piece of statement jewelry she is playing with is a black studded bangle. I love you every which way, Nicki. But if you're out there reading, I'd love to see the pretzel one of these days.
Good Morning America: 2011 vs. 2014
From the plastic crinoline, to the printed leggings, to the leopard print wellies, Nicki's 2011 look is about an 11 on the insanity richter scale. In 2014, she opted to relocate the leopard print onto a flouncy little dress. It's Nicki Minaj does Banana Republic.