When Does 'Call the Midwife' Return for Season 4?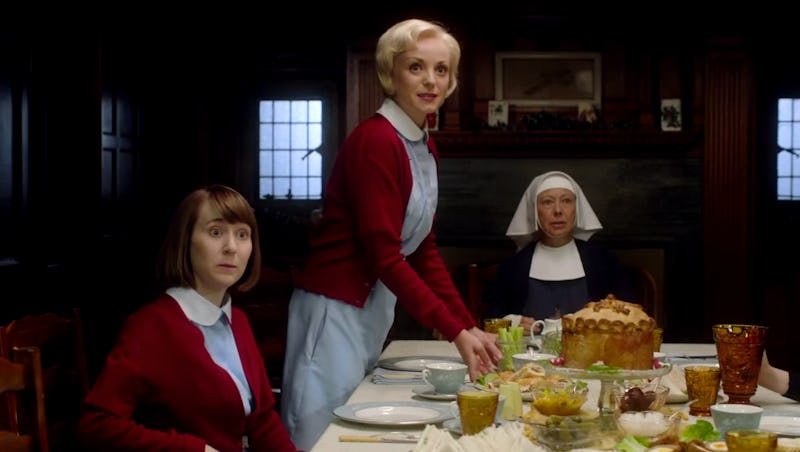 Whether the scandal of Downton Abbey keeps you up at night or you're a Doctor Who fan that knows "Allons-y" is more than just a French phrase, I think we can all agree that the Brits just know how to make exceptional TV. One British import that has received less buzz but that is no less amazing than these two popular shows is Call the Midwife. Right after the aforementioned Downton Abbey returns to PBS on Jan. 4, 2015, the Call the Midwife Season 4 premiere won't be far behind, but when exactly will Season 4 come back into our lives?
Fortunately, we'll only have to wait a few short weeks after Downton Abbey's Season 5 finale on March 1, 2015 to be reunited with our beloved midwives and nuns. Call the Midwife Season 4 premieres on PBS on March 29, 2015.
I have so many questions about Season 4, I don't even know where to start. Will the show be any good now that main protagonist Nurse Jenny Lee has left Nonnatus House? Will things get more serious between Trixie and her reverend beau? Will Chummy be just as funny and delightful as ever? I need answers, stat.
Even though the end of March marks the official Season 4 start date, we all must be on the Nice List this year, because there's going to be a Call the Midwife Christmas special on PBS. And this isn't just some throwaway episode where all of the nurses and sisters get snowed in Nonnatus House and are forced to sing Christmas carols around a grand piano to pass the time. Although, I would totally watch that, to be honest.
No, this year's Call the Midwife Christmas special is going to set the stage for Season 4. Whether you drop everything to watch it on Christmas or make room for it on your DVR to enjoy at your leisure (said in the British way that rhymes with measure, obviously), this is mandatory viewing.
Of course, the backdrop of the Christmas special is, well, Christmas. Nonnatus House will be busy prepping the Sunday School for the annual Christmas concert. The nurses will pay visit to a poorly run home for pregnant women. And Chummy will become the B-O-S-S when she's put in charge of running the clinic after chicken pox breaks out. The Nonnatus community is also quickly approaching 1960, which as we all know, kicked off a world-changing decade. Aren't you just sick with excitement right now? I know I am.
Most of all, the Christmas special is going to be a real treat because legendary actress Vanessa Redgrave, who has provided the narration for the series as the more mature version of Jenny, will be making her on-screen debut in Call the Midwife as an older Jenny reminiscing about her first Christmas away from Nonnatus House. I have high hopes for Redgrave's appearance because it is such a different storytelling device for Call the Midwife. But I fear that it could make an already surely sentimental episode of the series really sappy or cliché.
Instead of older Jenny just remembering her time at Nonnatus House and talking about how much she misses all of the people there, I just really want to know what shenanigans she got into during the time between her exit from the convent to present day. You know she must have gotten into some wild adventures. She lived through the '60s, didn't she? After everything she went through on the show, the girl deserved to have some fun. I just hope she got it.
Image: PBS; atearsarahjane/Tumblr