Jennifer Beals Returns To TV, Thanks To Lifetime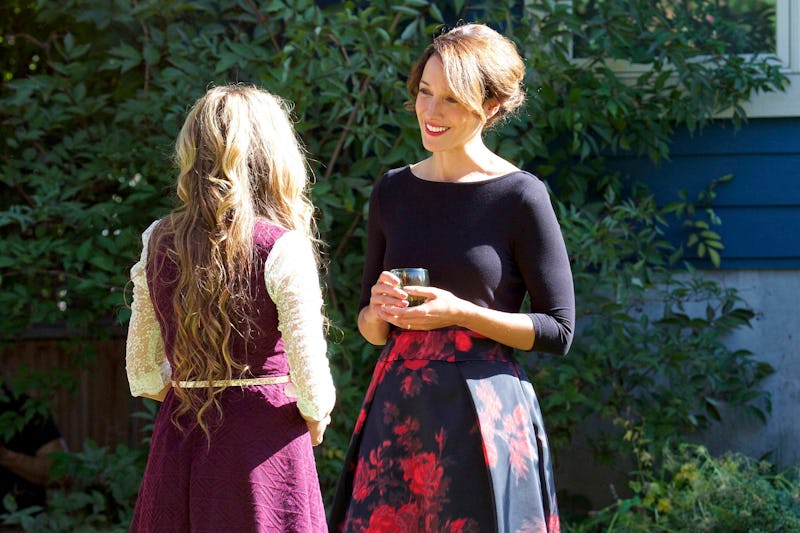 If you're a fan of '80s movies, you will recognize Jennifer Beals as the lead from Flashdance . The actress is making her way back to our screens, this time on television, with the Lifetime movie A Wife's Nightmare, premiering on Dec. 27. With a title like that, the movie can go in a lot of directions. Will it be best watched with copious amounts of wine and a sense of humor? Knowing Lifetime's tendency for the melodramatic and ridiculous, I'd say yes. The film is based on a true story — keep that in mind when I tell you what it's about. A mysterious blonde girl shows up on the doorstep of Liz Michaels, the character played by Beals, claiming to be the long lost daughter of Liz's husband. Things take a turn toward the uncomfortable when Liz starts to suspect that this blonde is not her husband's daughter. Things get even worse as it seems the not-daughter and her husband may be having an affair. Liz starts to doubt her own sanity, but based on how skeezy her husband looks, she's probably right.
While Beals is best known for Flashdance, she's been working steadily since the film's 1983 release. If you want to get your Beals fix before A Wife's Nightmare airs, check out this list of movies and TV shows from her post-Flashdance career.
The L Word
This landmark Showtime drama depicted the lives of a group of lesbian and bisexual women in West Hollywood. The L Word ran for six seasons from 2004-2009. Beals appears as one of the main characters, Bette Porter, for all six seasons. If you're in the mood for something fun, a bit ridiculous, and heavy with drama with a capital "D," then check out The L Word.
Devil in a Blue Dress
Besides The L Word, the 1995 film Devil in a Blue Dress is the major highlight of Beals' post-Flashdance career. Set in 1948 Hollywood, the film follows a private detective played by Denzel Washington who is hired to find the missing wife of a white man. The wife, Daphne Monet, is played by Beals. Like Beals, her character is biracial, which figures heavily into the plot. Like many noir films, this story doesn't have a happy, neat ending, but is definitely what I most heartily recommend from this list.
The Book of Eli
This 2010 post apocalyptic drama actually reunites Denzel Washington and Beals. In the film, Beals is the blind mother to Mila Kunis' character and Gary Oldman's servant. I actually saw this movie in theaters, but seriously can't remember anything besides how dusty everything was and an out of nowhere cameo from Tom Waits.
Lie to Me
Beals appeared on this short-lived Fox crime drama for six episodes as an Assistant District Attorney and ex-wife of the main character.
The Chicago Code
The Chicago Code is another short lived drama series in Beals' career. The show followed the lives of members of the Chicago Police Department with Jennifer Beals playing the city's first female superintendent. Hopefully, A Wife's Nightmare, will prove to have a more lasting impact on Beals' career. At the very least, it'll make for a fun movie to make snarky jokes about with friends.
Images: Darren Hull/Lifetime; WiffleGif; TriStar Pictures; Giphy