5-Year-Old Girl Weighs in on Leia's Gold Bikini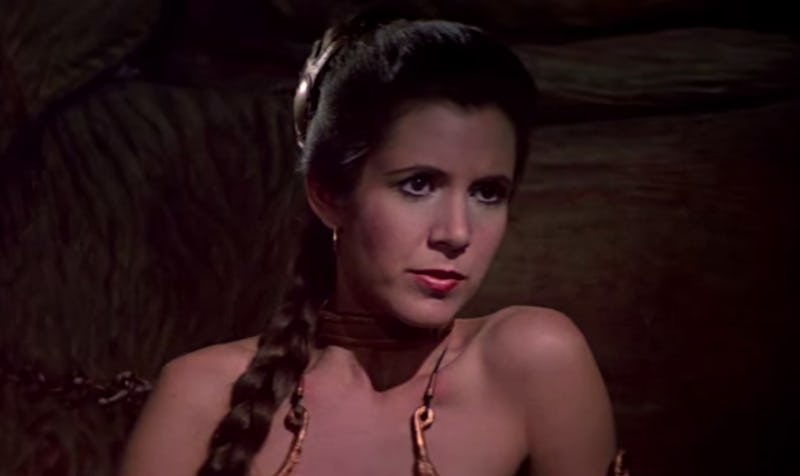 Let's be honest: the Star Wars films are not exactly known for being groundbreaking beacons of feminism. In fact, only two of the six existing movies pass the Bechdel test, which really shouldn't be that difficult. There are lots of things that two women in this universe could talk about! Flying cars! Wookies! Uh, aliens? Magic...? Oops, I think my lack of Star Wars knowledge is showing. I'll admit that I've technically never seen the movies, but I believe I've been thoroughly educated by the master of all things pop culture, Weird Al Yankovic. So I'm no stranger to the infamous metal bikini that Carrie Fisher donned to play Princess Leia in Return of the Jedi. It's an outfit that some call "sexy" and others call "demeaning." But what does a 5-year-old girl think of Leia's skimpy attire?
British comedian Adam Buxton recorded a conversation he had with his 5-year-old daughter discussing Star Wars, and Jabba the Hutt's wardrobe choices for Princess Leia in particular. While the girl is definitely adorable (that British accent is irresistible in tots!), a few of the things she has to say are mildly upsetting. She recognizes that Jabba is a "baddie," but she likes the clothing that he chose for slave Leia—the tiara, the bands, her plaited hair—calling it "a pretty good look for her." Her father suggests that maybe forcing one of the only female characters in the series into the stereotypical role of a sex symbol (ok, I'm paraphrasing/projecting here) is perhaps a bit demeaning, but the girl blows him off, saying:
But it actually is quite nice, I think so. I don't care if people don't think that.
I have mixed feelings about her views. Is it empowering that, at such a young age, she already has a "whatever, I do what I want" type attitude? Or is it frightening that this little girl is growing up in a world where she sees nothing wrong with a slave woman in a bikini? Or am I perhaps making something out of nothing? All interesting points to consider.
Maybe what this series needs is an all-female reboot, à la Ghostbusters. Tina Fey already has the white Princess Leia costume, after all.
Images: SnipsOfClips, AdamBuxton/YouTube; Giphy