These Books Will Help You With Your Resolutions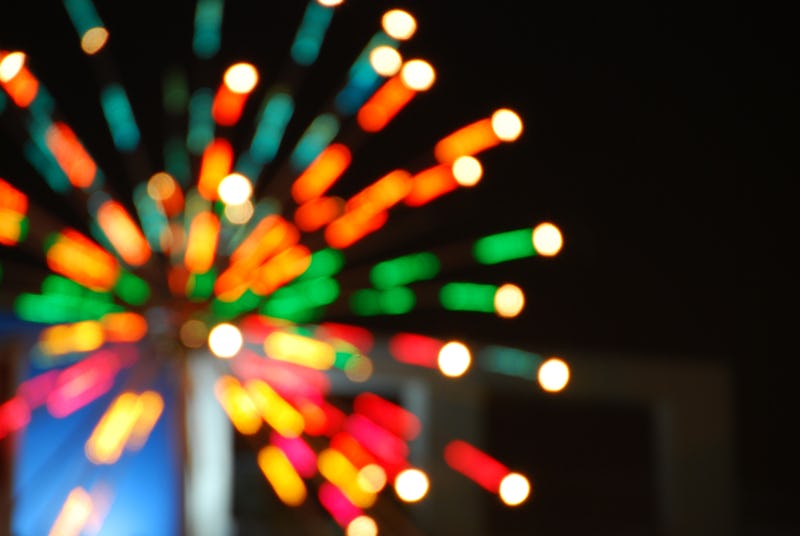 Like brie with chardonnay or gouda with merlot, New Year's resolutions go best with books.
Hear me out on this one. Perhaps there's a reason that our firmest, most white-knuckled of resolutions so often crash and burn — perhaps it's because we as a culture of rugged, stubborn individualists always choose to go them alone. For the good of these resolutions, it's time that we buttress them with some companionship — and what makes a more low-maintenance companion than a book?
And so, as you embark on your latest quest for self-reinvention, consider the sort of cheerleaders you want to bring aboard your team. Spend your hard-earned cash on a trainer, a nutritionist, or a life coach if you so please, but before you do, remember that books can be all of that and more: they can be our greatest teachers, therapists, confidantes, and at a fraction of the cost for the human equivalent to boot.
Whatever your resolution, whether it's losing weight or finding love, there's a book out there to be your companion, your shepherd, your number one fan. And if your resolution is that most eminently noble of vows — to read more books — well, you've certainly come to the right place.
If you want to lose weight...
Read Bridget Jones' Diary by Helen Fielding
Few protagonists know more about self-improvement than Helen Fielding's groundbreaking Bridget Jones, a self-deprecating pre-Liz Lemon iteration of Liz Lemon who's relentlessly seeking to quit smoking, perform better at work, find a steady boyfriend to stick it to her married friends, and drop inches from her waistline. With each daily diary entry featuring documentation of cigarettes smoked and calories consumed, as well as tales of the always-endearing Bridget's daily screw-ups and madcap misfortunes, this sidesplitting classic can make anyone feel better about the bumps along the road to shedding your own bumps.
If you want to volunteer more...
Read This Far By Faith by Faith Fowler
As a reverend and nonprofit entrepreneur, Faith Fowler by definition must know a thing or two about compassion and generosity, but after more than 20 years spent hauling Detroit out of its steady decline, it seems that she could write the book on charity — and so she has. If you're looking to volunteer more, get inspired by Fowler's warm, heartfelt anecdotes about the down-on-their-luck individuals in the despairing community dearest to her, and what she and others did to raise them out of their circumstances. As Mitch Albom says of the book, it proves the commandment at the core of volunteering: "that other people are worth the trouble."
If you want to quit smoking...
Read Cigarettes Are Sublime by Richard Klein
In an effort to quit smoking once and for all, wordsmith Richard Klein eschewed the standard nicotine gum routine and instead chose to swear off the stuff through writing and researching Cigarettes Are Sublime, a plush exploration of cigarettes in literature, on film, and in cultural history, all the way from Sartre to Casablanca. Certainly Klein's sumptuous survey of cigarette culture right down to its dangerous, glorious glamour could just as easily turn one onto cigarettes as turn one off, but therein lies Klein's argument regarding the sublime — it's only because cigarettes can kill us that we find them so alluring. If you're looking to go cold turkey, do it with this book — you'll walk away a much more educated cigarette consumer, if nothing else.
If you want to go back to school...
Read Wonder Boys by Michael Chabon
If you're looking to head back to school, few novels conjure the agonies and ecstasies of university life quite so authentically as Wonder Boys, from whose pages a long-stifled breath of library mustiness and liquid typewriter paper seems to arise. Beneath a haze of pot, satire, and starry-eyed American dreaming, Chabon explores how artistic ambitions and young desire sour with age, and as he does, he'll leave you aching for your college days. Expect to fall in love with the novel's triumvirate of wonder boys: a professor entrapped by his interminable second novel, his randy editor, and a leering student obsessed with Hollywood self-destruction.
If you want to get a better job...
Read This Is How You Lose Her by Junot Díaz
On its effervescent surface, This Is How You Lose Her is a consummate meditation on battered, yearning love from a writer's writer. Yet beneath that simmers a different narrative entirely about the gritty world of the immigrant in urban America; about bruised lives scraping up from poverty and underemployment. Díaz's characters run the gamut from hospital washerwomen to the down-on-their-luck job-seekers, all of them looking to cross into greener professional pastures, and yet they live in a world where hard work and big dreams aren't always enough. There's something to love for all brands of readers here — Díaz pinballs from high postmodern fiction to fizzy urban stories constructed entirely in dialect. So however you take your fiction, surely you can identify with one of Díaz's long-suffering searchers as you claw up the career ladder together.
If you want to save money...
Read Cosmopolis by Don DeLillo
Only Don DeLillo could have written this cold, claustrophobic tightrope of a novel, in which stock tycoon wunderkind Eric Packer conducts a puppet show-esque series of meetings in the back of his Manhattan stretch limousine while his fortune evaporates a few dozen blocks south on Wall Street. As we've come to expect from DeLillo, don't invest in Cosmopolis for a warm and fuzzy read, but if you're looking to hold a little tighter to your money (and rethink capitalism while you're at it), come aboard for a cautionary case study in just how easily those brittle greenbacks can come — and how easily they can go.
If you want to start running...
Read What I Talk About When I Talk About Running by Haruki Murakami
If you're a book-lover looking to literature for fitness advice, you'll find that the well comes up rather bone-dry — we writers are a characteristically unathletic bunch, after all — but leave it to Murakami the reclusive master to answer the call. In his meditation on the glorious solitude of long-distance running and its intersection with writing as an equally solitary pursuit, Murakami can get anyone off the couch and out pounding the pavement.
If you want to eat healthier...
Read The Belly of Paris by Emile Zola
Don't come to The Belly of Paris looking for a lesson in portion control — this politicized tale of wasteful extravagance versus impoverishment with regard to food won't teach anyone to eat in healthful quantities. However, if you're hoping to cut processed foods for a healthier diet, let farm-to-table foodie Emile Zola and his pages upon pages of gastronomic description act as your nutritionist — the glorious, rainbow-toned bounty of produce in Paris' cavernous Les Halles marketplace will surely inspire a trip to the farmer's market. After all, after seven mouthwatering pages of Zola's rhapsodizing about the vividness and succulency of various fruits, you won't be craving Cheetos.
If you want to better manage stress...
Read Pilgrim at Tinker Creek by Annie Dillard
If you're looking to conquer stress, you don't have to retreat Walden-style into the woods for a year of complete reclusion as notorious ascetic Annie Dillard did in Pilgrim at Tinker Creek, yet her enduring classic about introspection, nature, and astonishment has a lot to offer for anyone feeling frayed. Read this one near a window on a rainy day — you'll want to be as close to nature as Dillard is when she hits you over the head with her standard cocktail of glorious rapture and breathtaking prose.
If you want to better manage debt...
Read Payback: Debt and the Shadow Side of Wealth by Margaret Atwood
Whether you're drowning in debt or you just want to do some financial homework, national treasure Margaret Atwood quite literally wrote the book on the subject — or, more accurately, the encyclopedia. From debt in Greek tragedies to 19th century debtor's prisons and somehow back around to Star Trek, Atwood's Payback will be more than your accountant — it'll be your own personal cultural historian, too. There's no easy solution to chasing away the monster that ends in zeroes, but perhaps the first step to banishing debt is getting educated about it.
If you want to travel more...
Read Travels with Charley in Search of America by John Steinbeck
At 58, American master John Steinbeck hit the road alongside his beloved French poodle Charley to fall back in love with the country about which he made his name writing, and so this forceful, guileless travelogue took shape. Whether you're a jetsetter headed for Europe or a daytripper just looking to get out of the city, Steinbeck can scratch the itch of wanderlust in anyone with this memoir about cultural identity, American loneliness, and the kindness of strangers.
If you want to recycle more...
Read Silent Spring by Rachel Carson
Chances are you already have a rudimentary knowledge of recycling, but if you're looking to recycle more, get educated and start at the ground floor of ecologically aware discourse with Silent Spring, the environmentalist shot heard round the world. Rachel Carson's hard look at insecticides and pesticides did what it set out to do in rendering many of those condemned chemicals unlawful, but even if her immediate goal was accomplished, the movement she galvanized is forever a work in progress, and thus Silent Spring remains just as relevant today as it was upon publication.
If you want to drink less...
Read Good Morning, Midnight by Jean Rhys
If you want to cut back on your happy hour imbibing, let troubled Parisian shopgirl Sasha Jensen be a caution to you. Watch her ruinous unraveling over a series of drunken nights, and you'll think twice about splitting that next bottle of vino. Come for the indictment of Sasha's booze-soaked lifestyle, but stay for the masterful work of the always underappreciated Jean Rhys — her gloomy soul-searcher of a novel is a compelling look at the Lost Generation from a rare female perspective.
If you want to spend more time with your family...
Read Dress Your Family in Corduroy and Denim by David Sedaris
If you need some encouragement to spend time with your family, spend some time first with the uproarious Sedarises —strap in for mortifying life lessons from the family patriarch, and for a mother who locks her children out of the house in the cold for some much-needed solitude after one snow day too many. Leave it to the always warm David Sedaris to wipe clean any lingering holiday hard feelings and encourage love for your family in all its glorious, oddball absurdity.
If you want to find Mr. or Mrs. Right...
Read Written on the Body by Jeanette Winterson
If you're yearning to find a special someone, let Jeanette Winterson's beguiling Written on the Body put you in the mood for romance — this erotic meditation on the pain and pleasure of love is a sensualist's dream come true. Tune in also for a front-row seat to the experimental pyrotechnics of one of contemporary literature's finest tinkerers — Winterson masters gender confusion while walking a tightrope of dizzyingly, magnificently plush language. Whether you feel that your love life has stalled or you've been out of the dating game for a while, let Winterson nudge you back into the newly gilded saddle; Written on the Body will leave you burning for someone to have and to hold, so much so that you might just reconsider that set-up with your roomate's friend from the office.
Image: Rangga Chandra/flickr