19 Celebrities Rocking Christmas Onesies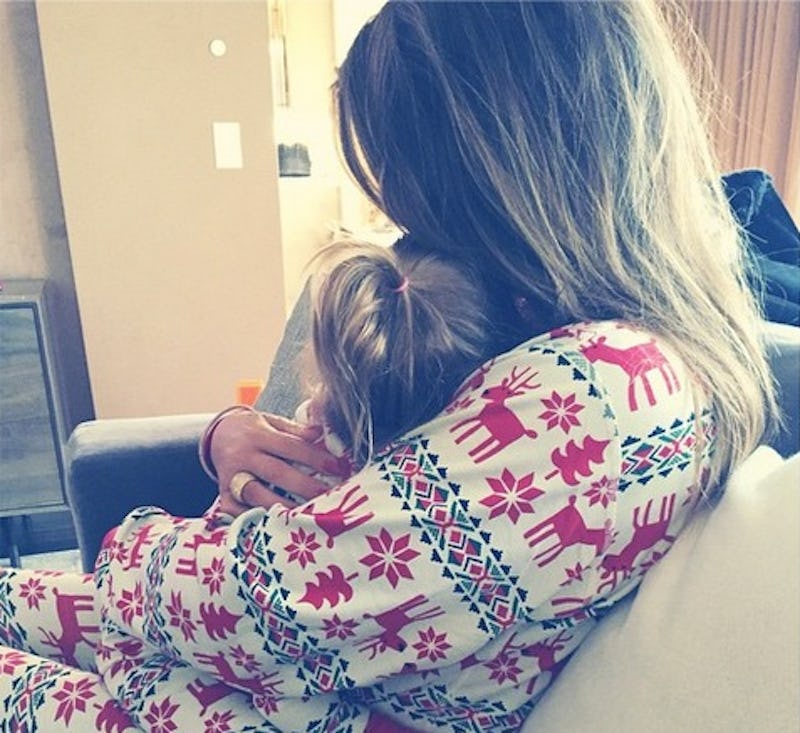 OK, so I know that the holiday season isn't just about the presents, but I have to say that one gift I found under the tree this morning significantly brightened an already great day. In fact, I'm wearing it right now — courtesy of my little brother, I'm the proud owner of one of the best onesies ever made. My pajama game just went up a notch. Um, Christmas made.
I'm pretty in love with my Hoodie Footie, which features cows jumping over the moon and is complete with thumb holes, kangaroo pockets, and convenient zip-off feet, but my sweet new PJs are definitely being challenged by some of the one-piece loungewear that celebs have shared on social media over the past couple of years. The holiday season is prime time for onesies, and A-listers have been bringing, well, their A-game.
From the forever adorable Kristen Bell and Dax Shepard to several members of the Kardashian Klan, here are 15 celebs who have rocked their onesie with pride during the holiday season. I mean, why wouldn't you want the world to know how cool your PJs are? I mean, as with everything, if Beyonce's in, I'm in.
Khloe Kardashian and Penelope Disick
Miley Cyrus
Liam Payne and Simon Cowell
Taylor Swift
Kendall Jenner and Khloe Kardashian (Again)
Jessica Biel
Jessica Alba, Cash Warren, and Kyle Newman
Beyonce
Dwayne Johnson, Kelly Ripa, and Michael Strahan
Kylie Jenner
Kristen Bell and Dax Shepard
And just in case you want to compare these with my snazzy new jammies (and selfie stick)...
Images: Instagram/@khloekardashian, @taylorswift, @kendalljenner, @jessicabiel, @jessicaalba, @beyonce, @kyliejenner, @alexatuckah; Twitter/@mileycyrus, @real_liam_payne, @jezebel, @daxshepard1