Which Clarisonic Brush Head Should You Use?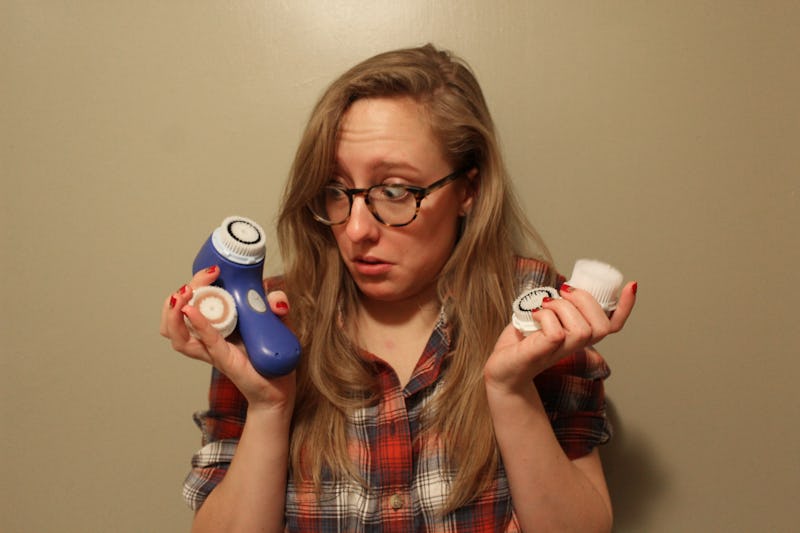 As far as beauty gifts go, there's none more worth the splurge (in my opinion) than a Clarisonic device. If you got one for the holidays this year, some congratulations is in order! Now that you've (finally) got your hands on one of these coveted skincare miracle workers, it's time to ask the really tough question: Which Clarisonic brush head should you use? There are waaaaay more choices than I ever realized before I acquired my own Mia 2, and at $27 a pop, you definitely don't need to be blindly buying one only to find out it's not the best for your skin type.
Try: Clarisonic Mia 2 Sonic Skin Cleansing System, $169, Amazon
Most of the models come default with the Sensitive Brush Head, but since you should be replacing them every few months or so, it's worth testing other types that may be more specifically catered to your skin woes. In general, I don't think any of the brushes will hurt your skin per se (except maybe the Normal Brush Head, which has the stiffest bristles of them all and definitely isn't recommended for anyone with acne or even slightly sensitive skin), but if you're dropping this much cash on your skincare routine, you might as well get the most for your money. Here, a handy little guide to the four most commonly used brush heads.
Sensitive Brush Head, $27, Amazon
This is my favorite of the bunch, which is convenient since it came with my Mia. It's got a little more scrubby power than the Delicate Brush Head (discussed below), but definitely doesn't irritate my usually-turns-red-at-even-a-gentle-graze-of-a-feather skin. I'd guess this works pretty well for most skin types, so it makes sense as the default brush for all the devices.
Radiance Brush Head, $23, Amazon
With super fine bristles, this one's great for gently exfoliating, especially if you're starting to see the first signs of fun little smile lines pop up. It doesn't tug at your skin in the slightest, but cleanses a little deeper than the super-soft luxe brushes.
Delicate Brush Head, $10, Amazon
Softer than the Sensitive Brush Head but no where near as cushy as the Cashmere Brush below, the Delicate is for, well, delicate skin. It's also the best option for dry skin, since the plush bristles won't tug at thin, flaky areas and make them worse. I definitely approve for the winter months.
Cashmere Cleanse Brush Head, $26, Amazon
The name of this is no freaking joke — it's literally like rubbing a cashmere sweater all over your face. That might sound a bit unnecessary, but the nice part is actually being able to use them to remove eye makeup. The rest of the brush heads are definitely too abrasive to use on the thin, delicate skin around your peepers, but the luxe version work wonders, and for only $3 more than the rest of the attachments.
Now that we've got all that sorted, it's time to figure out which face wash you should use with your Clarisonic. I know, I know — there are quite a few steps to getting settled with your new device, but trust me: it's worth it.
Images: Megan McGrath