Cayenne Pepper Could Cure Your Acne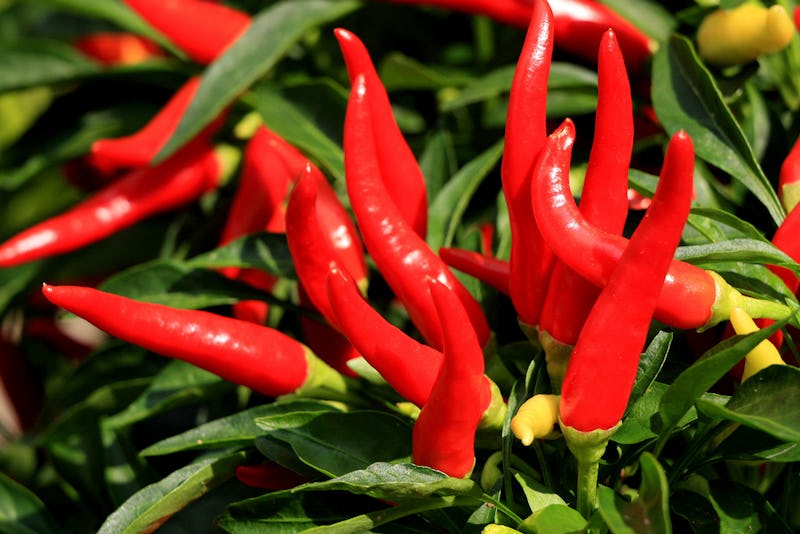 Readers, I'm here today to tell you all about the cayenne pepper benefits for hair and skin. I promise there are many, but first, I feel obligated to give a bit of warning. Honestly, the only thing that stops me from trying a natural beauty remedy once is my food allergies. Sure, I'd love to jump on the almond oil craze, but I'm not going to sacrifice my life for it. That being said, I've definitely tried some remedies out that have ended in tears. Of course, that doesn't mean that they didn't work for everyone, they just caused a rash or crazy breakout for me. Fortunately, these symptoms never last long and I still have no problem trying a random, off-beat remedy in the name of natural beauty. Even if it ends well... beauty-related tragedy.
The story of my cayenne pepper face mask debacle started innocently enough. I had sought comfort from cayenne pepper years ago after a wretched sore throat and found it actually brought down the inflammation pretty quickly. Obviously, when I started seeing articles that said cayenne pepper was a bomb acne and hair treatment I was literally skipping down my block to purchase cayenne pepper at my local grocery. Cayenne pepper is rich in vitamin C and E which are both ideal for ditching wrinkles, dark spots, and acne scars. I already use cayenne pepper in my cooking so I know my body is into it. What could possible go wrong?
According to Style Craze, cayenne pepper is called the prince of spices and has been used for a variety of ailments from sore throats to indigestion all the way to skin conditions. Cayenne pepper stimulates blood flow which helps nutrients get to skin cells allowing for healthy, flawless skin. Apparently, this spicy spice isn't just great for acne, it's also been used as a natural treatment for psoriasis as sources like NutraLegacy claim. Although cayenne pepper has some seemingly great properties that can relieve the appearance and pain of psoriasis, I strongly suggest doing a very small test patch because this spice can be pretty irritating for some people.
Now, I've had some real success with turmeric powder in resolving the genetic acne my father nicely passed down to me, so I went in with cayenne pepper ten-fold. This was obviously against my recommendations which is to always do a test patch on the inside of your arm to prevent irritation on your face. After I completely covered my face in cayenne pepper, the burning sensation was minimal on the rest of my face, but my open pimple that was cause for the experiment felt like a fiery hell spot. It definitely did not get better after the treatment. Despite this minor mishap, I wasn't completely ready to give up on cayenne forever. Cayenne pepper stimulates hair growth and can be a great addition for folks with moderate acne, dry skin, and uneven skin tone.
After much trial and error with proportions, I've discovered some recipes that actually do what they're supposed to, instead of burning your skin off. If you need more spice in your life, here are a few ways cayenne pepper can promote beautiful skin and hair in the new year — just please proceed with caution!
1. Add Hair Shine
Your hair can be looking all types of lackluster — even right after a deep condition — with all that dry winter air outside and dry heat in most restaurants and offices. To add some shine to those parched locks, mix about two tablespoons of cayenne pepper with two cups of extra virgin olive oil. Let the mixture steep for about two weeks for maximum hair benefits, then use it as a ten minute hair mask prior to shampoo and conditioning.
2. Plump Up Your Lips
There are some fab DIY lip plumping recipes on the internet, but a lot of them require a lot of leg work and time in your kitchen. For a great natural plumper that you can use quickly in between your face washing and makeup applying, cayenne pepper is going to be your jam. Use a teaspoon of cinnamon, a teaspoon of cayenne pepper, and cut it with all natural beeswax to form a thin paste. Apply this mixture directly on your lips and leave on for about five minutes. This time, that slight tingling sensation will work in your favor and plump your lips right up!
3. Treat Your Acne
This recipe from A Girl's Gotta Spa's website is perfect for an all natural acne facial that isn't going to irritate your face further, since the soothing avocado balances out the spicy cayenne. Use half of a ripe avocado, half a teaspoon of cayenne pepper, and one teaspoon of raw cocoa powder. Mix your ingredients vigorously and then apply directly on the infected area.
Image: James Diedrick, Maria Pontikis/Flickr; Giphy