Alicia Fox Has History with Other 'Total Divas'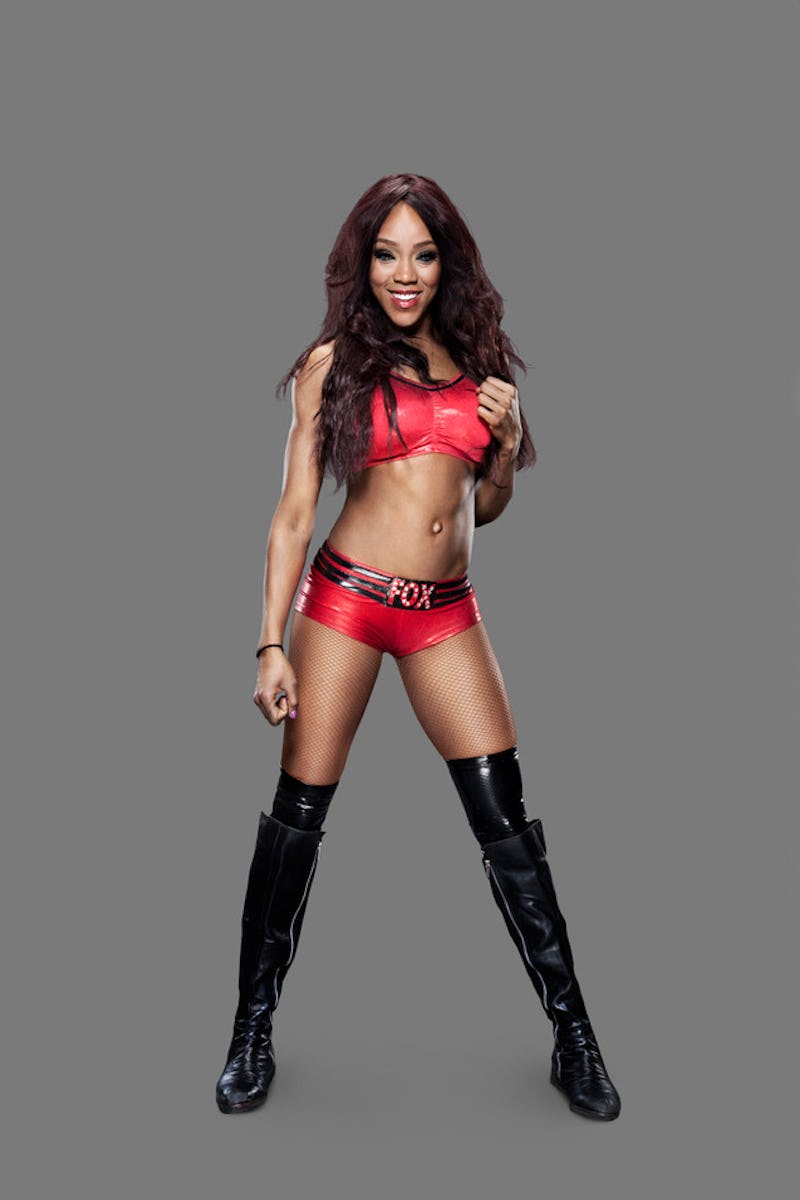 Two Divas out, two Divas in. With Naomi and Summer Rae apparently leaving the regular cast of Total Divas for the second half of Season 3, there's room for two more. In addition to firecracker anti-Diva Paige, the other top WWE Diva draft pick is Alicia Fox, who will join Total Divas for Season 3B. With a name like that, you know Fox has to be more sly than your average Diva, but most any WWE fan would probably take it a step further: Alicia Fox is entirely predictable; an eccentric in a room already full of the crazy folks.
Or at least that's the Alicia Fox that enters the WWE ring to fight for her claim to the Diva Champion title. But even though Alicia has appeared on past seasons of Total Divas, there's very little known about Fox outside of the ring in the way we've gotten to know the Bellas or Nattie. I know that Fox was introduced in her first WWE storyline as a wedding planner — which is fantastic — and that she could probably end my life with just one scissor-kick, but what do i know of her dreams, her passions, her dating history with other wrestlers?
Not enough, frankly. But that's to come in the latter half of Season 3, premiering Jan. 4 on E! Here's what you need to know about Fox's history with the Diva franchise and the complicated past she holds with the other Total Diva stars.
First African American Divas Champion
Fox may be the new kid in the Total Divas world, but she's already held the title of Divas Champion, a claim only a few other cast members can also call their own, including current Champion Nikki Bella, and other new girl, Paige. Even though she only reigned Head-Diva-in-Charge for just under two months, Alicia will forever go down in the record books as the first ever African American Divas Champion. Of course, she also considers herself the "most fierce Divas Champion in history," so that might tell you a little something about her own personal self-confidence.
Alicia + Paige = ?
What to say about Alicia Fox and Paige? In addition to being the two most recently anointed Total Divas, you might call them frienemies. These two misfits have been through the WWE ringer, but both have made it through as Divas Champion, and both share a sordid ring history with the other. Alicia became a Champion nearly four years before newcomer Paige, but most of the early half of this year saw a string of won battles against Paige, but not where it counted, in the Divas Championship at WWE Payback. So, Fox went a little off her rocker after that, as she does, but she and Paige were able to come together and form an in-the-ring friendship in the name of...
Enemies of the Divas
The most interesting thing about Paige and Fox joining Total Divas at the same time is that their WWE friendship was built on the foundation of destroying the Divas division, which includes, well, the entire cast of Total Divas. That mission didn't quite work out though, and Fox and Paige later had a friendship breakup when Paige slapped Fox after losing to Diva extraordinaire, AJ Lee.
Of course, this is all Alicia's persona in the ring, so we'll just have to wait and see where Total Divas finds the two former WWE pals in real life when the second half of Season 3 premieres on Sunday.
Image: E! Entertainment