The Winners of the Swarovski/CFDA Awards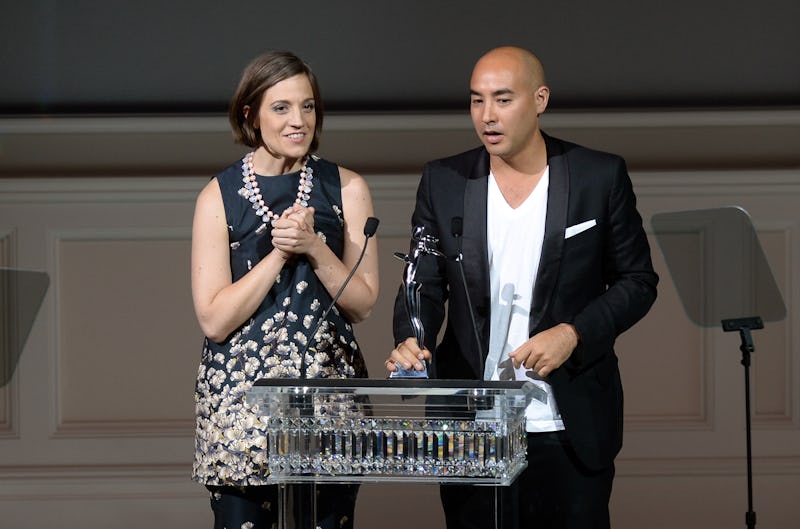 The CFDA Awards took place on Monday evening at Lincoln Center, honoring Proenza Schouler as Womenswear Designer of the Year, Thom Browne for Men's, and Phillip Lim for accessory design.
The CFDA also honored three designers for their work as emerging talent. Though the Swarovski honorees have been around for a multiple seasons, it doesn't hurt to get to know them a little better, especially when their work is strong enough that they've been recognized by the CFDA for their collections. These are the designers to watch and get to know better.
The Swarovski Award for emerging talent in womenswear went to Erin Beatty and Max Osterweis for Suno, whose intention with the label is to produce clothing with a conscience. The duo brings business to economically damaged areas by producing in countries like Kenya, Peru, and India. Their clothes are easily recognizable, with a variety of bright colors and patterns, mixing and matching. The Spring 2009 collection, their first, was created from Osterweis' collection of vintage Kenyan textiles. Shoppers can pick up their wares (including collaborations with fellow honoree Pamela Love) in shops like Opening Ceremony or on Net-a-Porter.
For emerging talent in menswear, the Swarovski Award went to Dao-Yi Chow and Maxwell Osborne from Public School. Though they source their fabrics globally, Public School is made in New York, the designers' home. Formerly members of CFDA's Incubator program, Public School recently relaunched after a two-year pause to refocus their efforts. The wait has proved worthwhile; Chow and Osborne's collection is a cultivation of cool, proportional play, and modern, tailored sportswear.
Pamela Love's eponymous collection won the Swarovski Award for emerging talent in accessories. Love's aesthetic is rooted in themes like alchemy, astrology, and cultural motifs; you'll find rings with Native American arrows, or cuffs with pentacles. She, too, makes an effort to produce domestically and using recycled metals, with the majority of the work taking place in her New York studio.
Other winners and honorees included Style.com's Tim Blanks, who received the Eugenia Sheppard Media Award, designer Vera Wang who was awarded the Geoffrey Beene Lifetime Achievement Award, and Givenchy's Riccardo Tisci, who was honored with the International Award.
Images: Getty Images