Sorry, No Hanks In 'Fargo' Season 2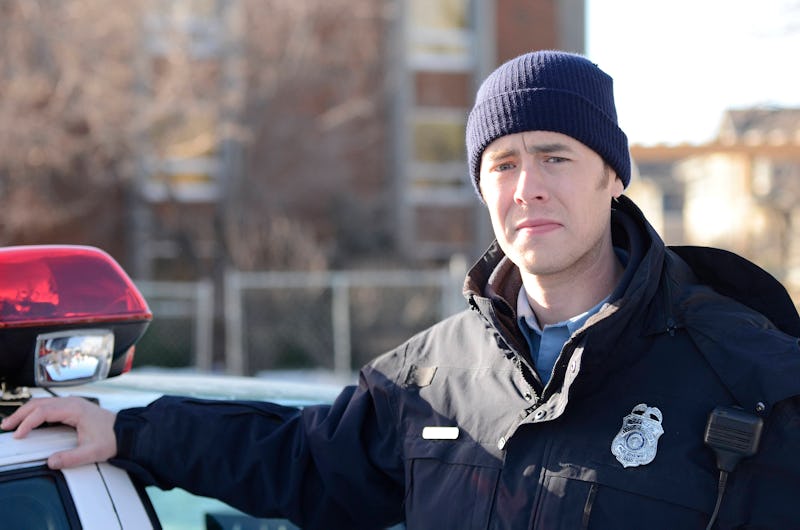 I worried for Gus Grimly, Colin Hanks' character in Fargo. The first season of the show wrapped up so nicely for him. His family was intact and safe. He had a job that he liked. His ending was a sigh of relief in a show that could be so dark. So before learning of Fargo's anthology series format, I worried that a second season of Fargo could take that nice ending away from me and plunge the Grimly-Solverson family back into random, meaningless chaos. But I can breathe easy: Colin Hanks' Gus Grimly won't be in Season 2 of Fargo ?
The Grimly-Solverson family is safe. In true Fargo fashion, the next season of the show will take place in a completely different time and setting, with only a couple of tangential connections to the first season. This time, Variety reports it'll take place in Sioux Falls, South Dakota in 1979. It'll mostly focus on Molly Solverson's father, Lou; Molly will be four years old. Grimly likely won't be in the show at all, but, if he is, he'll be a little kid.
But don't worry about Hanks, who says he is a fan of the self-contained seasons: "If it just kept going on and on," he told TheWrap, "it would be called CSI: Fargo ."
That doesn't mean that Hanks fans are totally out of luck. Here are some other places you can spot the actor in the wild:
He's Got a Guest Spot on Mom
Bad Teacher may be cancelled, but you can still see Hanks on CBS — at least once — when he guests on Mom. Chances are, he won't be investigating an almost magically evil contract killer on the Chuck Lorre show, but you won't have to worry that his character will be brutally murdered, either. From the looks of the script, Hanks will make an appearance in the episode titled "Godzilla and a Sprig of Mint," which looks like it'll air on January 8. As he says on Instagram, it'll be a little House Bunny reunion.
He's Doing an Indie Film
Speaking of The House Bunny, maybe romantic comedies are more Hanks' jam — they're certainly less anxiety-inducing than Fargo. Recently, Hanks filmed an indie rom-com, No Stranger to Love , with Community's Allison Brie. So far, there's no word on when the Canadian film will be released in the United States, so there's going to be at least a little bit of suspense for now.
He'll Be on the Jumbotron
If you can't see him on the real big screen, maybe he'll be on the Jumbotron? Hanks' Instagram is filled with the actor wearing various hats and jerseys for his favorite California teams, so your best bet might be to find him attending sports games all over California's lower half. So maybe it's a good thing he won't be in Fargo again — he'd have to get a jersey for the Sioux Falls Canaries.
Images: Chris Large/FX; Getty Images