Instagram Fashionistas to Blame for Days Wasted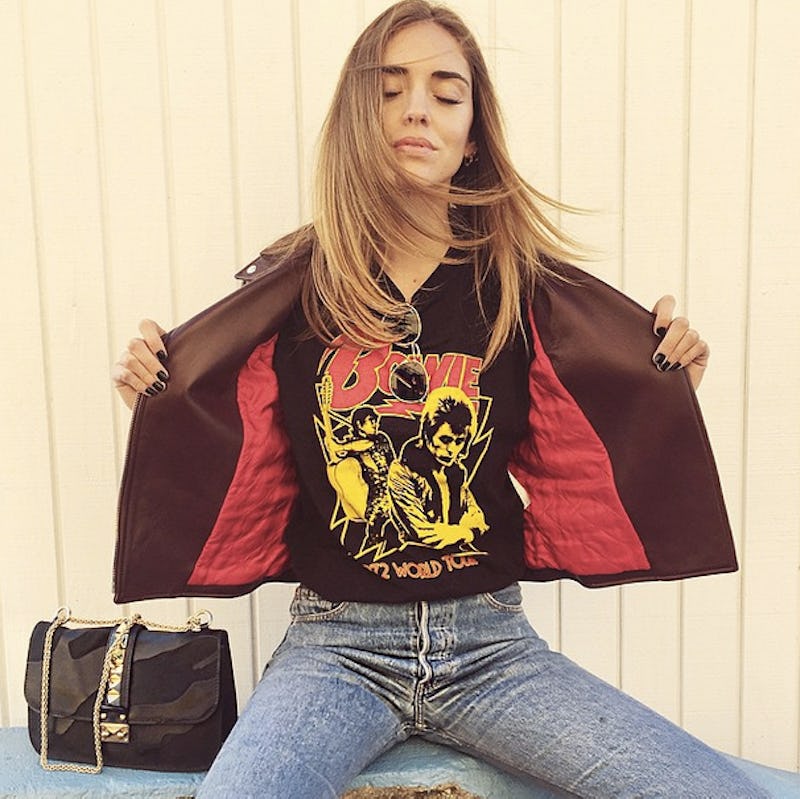 If you're a style or fashion-savvy individual, Instagram is probably your go-to app for keeping up-to-date and informed on the fashion industry. There's no doubt that the photo/video sharing platform makes it especially easy to share snaps from world-class runways or the inside of designer's studios. Not to mention to debut controversial magazine covers (here's to you, Kim Kardashian for Paper Mag ). So whether you're a frequent poster yourself, or simply more inclined to scroll and witness the magic, you've probably found yourself in something of a major Instagram trance. And it's all to blame on those darned fashion people.
Just imagine: You're waiting for your chestnut praline latte at Starbucks and you call on Instagram to help pass the time. You see the latest post from the bearer of arguably the best eyebrows in the business, Cara Delevingne. It's probably just a video of her younger relatives playing with remote-controlled minions, or the photo of a miniature plastic hand stuck in her belly button, but something prompts you to visit her profile. And without realizing, you've spent 15 minutes completely engrossed in personal and utterly ridiculous moments via posts from the British model's page. And, look at that, someone walked away with your latte when you weren't paying attention.
There, there. It happens to the best of us. Whether it's with Delevingne or any of the following fashion industry representatives, the following accounts probably contributed to your Instagram-induced state of unconsciousness.
1. EVA CHEN
Whether you follow her or not, you've probably heard of Eva Chen's major social media presence. When she first took over as Lucky Magazine's Editor-In-Chief, Chen's following increased dramatically and her account became an intimate glimpse into her daily chores and musings. Not only does she generously share her favorite beauty products on every trip she takes, but she is also the inventor of the #evachenpose, where she photographs the shoes and bags (and sometimes snacks) that she wears for the day.
2. ALEXA CHUNG
If you read her personal memoir, It, chances are you'll also enjoy Alexa Chung's Instagram account. Like her book, her posts explore random childhood memories and fashion and beauty inspirations, as well as her work as the face of brands like Longchamp and Eyeko London. This British beauty's not prone to posting selfies, but her occasional outfit shots are charming and refreshing, especially when she's wearing washed out denim overalls.
3. THE COVETEUR
If you're not the biggest Instagram user, but you're still obsessed with fashion and style, The Coveteur might become — if it isn't already — your favorite account. The website asks fashion industry big shots and celebrities to open their homes and allow them to photograph and share stories behind their most coveted material items. From Rosie Huntington-Whitely to Nicole Richie, their access to closets overflowing with designer items is unrivaled, and their Instagram does the best job at sharing the highlights. Prepare to be hypnotized by collections of Hermes, Chanel, and Christian Louboutin.
4. RACHEL ZOE
With 1.2 million followers, it's hard to be ignored. That's why Rachel Zoe's account (frequently updated with photos of luxury handbags and family members) is one that can easily put you in a trance. Zoe's job is to dress some of the biggest stars in Hollywood for some of the industry's biggest events, as well as design her own brand, and edit her own website, AND raise two children. Her bio says it all, because this woman truly does wear a ton of hats. But don't worry, they're all designer. Duh.
5. ZAC POSEN
His dresses are dreamy, and so are his Instagram photos. Designer Zac Posen is dressing some of the hottest stars as of late, including (but not limited to) Rihanna, Gwyneth Paltrow and Reese Witherspoon. His gowns have an ethereal quality that is perfectly showcased through personal studio photos. From videos of celebrity fittings to red carpet shots, you'll be dreaming for a Zac Posen dress by the fifth photo you scroll through. Excuse me while I cry over how that dress it prettier than me.
6. KARLIE KLOSS
Karlie Kloss quickly made her way to the top of the model-sphere and has sufficiently established herself as one of the most commercially familiar models today. Her fierce cheekbones and striking green eyes have made her a favorite at Vogue, Victoria's Secret, and now Instagram, with 1.7 million followers and counting. Although she may be adored by fashion industry officials and fans alike, her Instagram account proves she's just like you and me, frequently photographing yummy treats and giving props to her hometown football team.
7. CHIARA FERRAGNI
Brace yourself for the major envy you'll have for Chiara Ferragni's life after you scroll through her photos on Instagram. Her blog, The Blonde Salad, not only features the latest fashions and trends worn by Ferragni herself, but also serves as a platform for style inspiration, encouragement, and travel photography. Her Instagram account is an endless black hole of hatred because her life seems so fabulous that you'll just be upset you're not her. Unfortunately, the sad truth is that you — along with the other three million account users that follow her — are still probably going to double tap each photo she uploads. Sigh.
8. GIGI HADID
If you're (even somewhat) obsessed with the Kardashian's, Gigi Hadid's page is sure to be your new favorite Instagram account. This American model is best friends with Kendall Jenner and dating Cody Simpson. And with a feature on the Pirelli Sport Calendar and a new gig with Victoria's Secret Pink, Hadid has the potential to seriously eat up all your free time.
9. DEREK BLASBERG
Certainly as the Editor-at-Large of Harper's Bazaar, you're going to rub elbows with some stylish people. But Derek Blasberg is more than just an editor; he's the best fashion friend you've always wanted. In addition to his work at Harper's Bazaar, he also edits VMagazine and VMen, and has a New York Times best-selling book, Very Classy: Even More Exception Advice for the Extremely Modern Lady. Don't let his busy life fool you, though, because he has plenty of time to post selfies of himself anchored by Karlie Kloss and Joan Smalls, as well beautiful photos of art, food and life.
Are you still there? Probably not. Congratulations are in order because you have officially been sucked into the world of Instagram due to these annoyingly talented and entertaining fashion figures. Just take a deep breath and try not to cry. And also try not to be too upset about losing an afternoon to Instagram. Or a day. Or a week.
Images: Instagram