Leelah Alcorn Wanted Her Death To "Mean Something"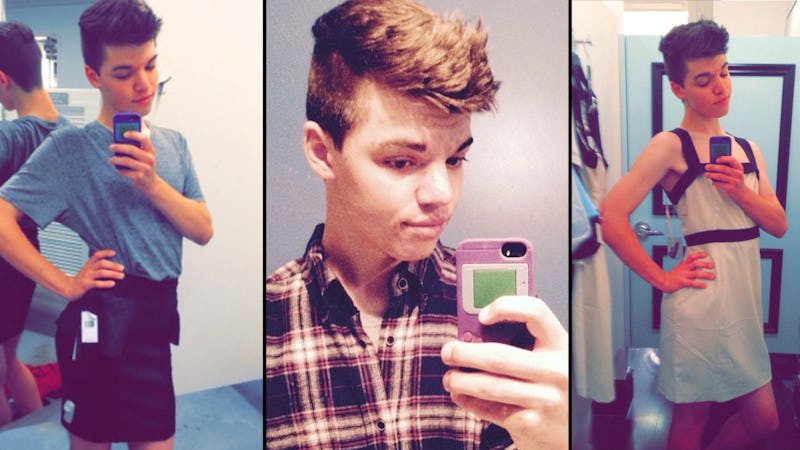 The world is a pretty hopeless place when a teenager feels so voiceless that she has to send a message through her death. 17-year-old Leelah Alcorn, who was assigned male at birth but identified as female, apparently took her own life over the weekend, leaving behind a suicide note which plead for other voiceless transgender individuals to be heard. On her Tumblr blog, which has since been taken down, Alcorn wrote, "My death needs to mean something." It does — profoundly — for many people.
On Sunday, Alcorn left her home in Cincinnati, Ohio and walked to Interstate 71 and was struck and killed by a tractor trailer. Before Alcorn's apparent suicide, she had scheduled a Tumblr post titled "Suicide Note" to publish on Tuesday.
In the heartbreaking note, she writes her personal story of being a transgender teen struggling with religious, unaccepting parents and unbearable loneliness.
When I was 14, I learned what transgender meant and cried of happiness. After 10 years of confusion I finally understood who I was. I immediately told my mom, and she reacted extremely negatively, telling me that it was a phase, that I would never truly be a girl, that God doesn't make mistakes, that I am wrong.
After years of feeling alone, Alcorn sadly felt she had only one option.
I'm never going to be happy. Either I live the rest of my life as a lonely man who wishes he were a woman or I live my life as a lonelier woman who hates herself. There's no winning.
And Alcorn reminds readers that she's far from alone in her pain. After all, almost two-thirds of the transgender community has thought about or considered suicide, according to some studies.
The only way I will rest in peace is if one day transgender people aren't treated the way I was, they're treated like humans, with valid feelings and human rights.
Ultimately, Alcorn wanted her death to help incite change.
My death needs to mean something. My death needs to be counted in the number of transgender people who commit suicide this year. I want someone to look at that number and say "that's fucked up" and fix it. Fix society. Please.
#LeelahAlcorn began trending on Twitter shortly afterwards, and many reached out to share their support and grief.
Sadly, Leelah's mother apparently refused to identify her daughter as female even after her suicide. According to a now-deleted Facebook post, she wrote, "My sweet 16 year old son, Joshua Ryan Alcorn went home to heaven this morning."
Images: Leelah Alcorn